Exeter Falcons Riders - I - L
---

Name.......INGRAM, PETER.
Seasons....1971/72.
Others.....Newport.
Peter had come to Exeter from Australia for the 1971 season, and was soon to establish himself firmly into the line up with some impressive riding. His second season saw Peter struggle to capture his earlier form, to the extent that he had considered pulling the plug on Speedway altogether, but he was persuaded to continue and his form was to improve.Despite his better showing Peter was to request a transfer at the end of 72 and opted to ride at Newport. Whilst with the Falcons he turned out for 74 meetings and scored 385 pts.
---
Name.......INNOCENT, BOB.
Seasons....1961/62.
Bob was another member of the ill-fated 61 side that saw riders carted of to hospital faster than they could be signed.It was actually bob who started the ball rolling when he broke his ankle whilst riding at Plymouth. He came back in 1962 for five meetings but only managed to average 1.09pts.
---

Name.......JEFFERY, PETER.
Seasons....1988/89/90/91/92/96/97/98
Others.....Swindon.
Peter was to break from the Juniors into the team in 88, as a reserve to make up the numbers, and his total commitment saw him claim his spot fully from there on in. It was on 21st May 1990 that he was to pick up his first of many maximums in a match against Long Eaton. His continuing good form saw him emerge as a heat leader for the "Falcons", despite the ups and downs of the teams form as a whole. As with so many other riders, the new pay structure in 1992 saw Peter pull out of the sport and he was to concentrate his efforts on grass track. He made a few appearances for Swindon at the start of 93 but was back at Exeter for the 1996 season.
---
Name.......JENSEN, FINN.
Seasons....1984.
Others.....Birmingham,Leicester,Cradley.
Finn had previously won the Danish Long Track Championship whilst with
Birmingham in 1980 and was to sign for Leicester in 81 for £5,000 where he
teamed up with future Falcon, Colin Cook.
---
Name.......JOHNSON, FRANKIE.
Seasons....1961.
Yet another cursed rider from the 1961 season, Frankie suffered a bad spill in July 1961 at the County Ground, only to repeat himself on August 8th at St.Austell, following which he decided to call it a day and apart from one meeting at Neath, he never ventured out again.
---
Name.......JONES, RICKY.
Seasons....1980.
The twenty year old Junior had disappeared from the scene for a couple of seasons prior to joining Exeter, following a road accident in which he broke both legs.He had been recommended by Kings Lynn boss Cyril Crane and a second half ride at Weymouth convinced the Falcons to bring him into the full team. Early into the season however, he was involved in a spill at Scunthorpe that was to result in a broken collarbone.
---

Name.......JULIAN, CHRIS.
Seasons....1970/71/72/73/74/75.
Others.....Newport,Mildenhall,Cradley,Bristol,Glasgow,Plymouth, St. Austell.
Born on March 4th 1937 in Cornwall, Chris was to start out on the grass track scene before having a shot at second half rides at Exeter as far back as 1958 and then at Plymouth between 61-62. Following his spell at Plymouth he was to return to Cornwall, and turned out for St.Austell, where in 63 matches he totted up some 195 pts. He was also to appear for a period at Southampton before coming full time to Exeter in 1970, where he was to remain for five seasons. Between 1970-1973 he appeared in 158 meetings and scored 700 pts, (we are unable to track how he faired in 1974) and he was to announce his retirement at the end of the 74 season. However, unable to get the sport out of his system, he made a return to the County Ground for a few weeks at the start of 1975 before opting to try his hand at the Mildenhall circuit.In May of 1997, Chris was to die in a tragic accident whilst flying an "Autogyro". So sadly, the world of Speedway lost one of its most colorful riders of the past.
---

Name.......KENNETT, GORDON.
Seasons....1993
Others.....Eastbourne,White City,Oxford,Swindon,Wolverhampton Wimbledon,Kings Lynn,Milton Keynes.
Born on September 2nd, 1953, Gordon's excellent career as a speedway rider began at Eastbourne in 1969, before switching to Oxford between 1972/75. But it was at White City where he moved to in 1976, that Gordon was to enjoy his best days in the Sport. As the captain, it was Gordon who led White City, British League Champion side of 1977, winning the title by just two points from.., who else but Exeter. Also in 77 he was in the Lions touring side against Australia the Aussies themselves containing a few former Falcons in the shape of Koppe, Farrell and Titman. But it was to be in 1978, when Gordon was runner up in the World Final to Ole Olsen, failing to win the coveted crown by a single point. It was in 1993 that the then veteran came to Exeter, but apart from a few glimpses of triumph, Gordon was clearly not settled around the County Ground and was to join the Wolves at the start of 1994.
---
Name.......KILBY, BOB.
Seasons....1971/72/73.
Others.....Swindon,Oxford.
Bob was to come to Exeter from Swindon, where he had been since 1965, in a swap deal with former skipper Martin Ashby, and soon established himself as one of Exeter's all time favourites.Capped many times at International level, he was the first rider to break the 70 second barrier at Exeter when he clocked a time of 69.2 secs, thus writing his name in the Guinness book of Records as Speedways fastest ever. He was to appear in 68 matches for the Falcons and scored highly with a total of 670 points, nearly an average of ten. Later he was to be involved in another swap deal with Oxford with the arrival of Tony Lomas.Bob was to later rejoin Swindon before eventually retiring from the sport in 1980 whilst at Poole. Made a brief reappearance with Swindon in 1983 after his haulage business ran into problems but called it a day before long.
---
Name.....KNIGHT, RICHARD.
Seasons.....1994
Others.....Junior.
Richard was to make several appearances in 1994 when he came up to replace out of form Tony Palmer.
---

Name.......KOPPE, STEVE.
Seasons....1976/77/78/79.
Others.....Swindon,Canterbury,Oxford.
Australian Steve started out as a junior with Exeter and had gone on to reach the Commonwealth Final of the World Championship in his first British League season. Along with team mate Les Rumsey he was loaned out to Canterbury for a spell and he was to win the National League Rider's Championship in the 1978 season. Back home, Steve had first started out riding at the ripe old age of fourteen, and was the North Queensland solo champion for five consecutive seasons and was to win several caps for his country, including the 1974-75 test series against the British Lions. Left Exeter along with Scott Autrey to join Swindon on Exeters switch to the National League in 1980.
---
Name.......KUDRNA, ZDNEK.
Seasons....1979.
Others.....Cradley,Red Star,Birmingham.
Probably more famed for his feats on the ice track, Zdnek had reached the Ice World Final in 1978 and was to have a spell with Cradley that same season. At the start of the 79 season he became the fourth Czech to appear in the Falcons line up along with the Verner bothers and Ales Dryml. During his spell with Exeter, he was to reach the World Final, finishing a creditable 7th with 8pts scored.The Exeter fans nicknamed him the Demon owing to his exciting style of riding. Later had a spell with Birmingham, but tragedy was to strike in 1982 when Zdnek was participating in a grass track meeting in Holland. He left the track during a race and crashed through a fence when he was impaled by a wooden stake and was to die from his injuries.
---
Name.......LANFEAR, STAN.
Seasons....1948/49.
Very little is known about Stan except that he had appeared in 42 matches for the Falcons and had scored a total of 145 pts.
---
Name.......LANHAM, LEIGH.
Seasons....1997.
With the Introduction of the new "Elite League in 1997, Leigh was snapped up on loan from Ipswich to assist Exeter in their quest for honours. Leigh had made the U-21's final in 96 and was seeded automatically for the 97 British final, that he went on to win. Settling in quickly around the County Ground, Leigh was soon to become the Falcon's top scoring rider.
---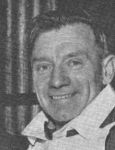 Name.......LANSDALE, PETE.
Seasons....1961/62/63.
Others.....Rayleigh,Plymouth,Walthamstow.
Pete's connection with Exeter was to span many years, not only as a rider of course but also as a very successful promoter, along with Wally Mawdsley. Had been at Walthamstow for the 51/52 seasons and other stops were Plymouth where he scored 1,549 pts from 170 outings and Rayleigh, where he notched up 669 pts from his 104 meetings there. Whilst with Exeter, Wally was to total 426 pts from his 56 appearances and was also to share the track with another promoter of later years, Len Silver. Had a few rides at West Ham in the mid-thirties but it was at Plymouth he started his speedway career proper.
Pete reckons that his funniest speedway incident occurred during a scratch race at Plymouth when he was leading Len Read. Len and Pete, although being team-mates in the Devils side, were always the greatest of rivals out on the track and in-this particular race Pete was doing his best to stop Len from passing. 'I was running out of tricks and just about to give in when I noticed that I had lost Len,' recalls Pete. 'I crossed the finishing line and then continued around the track to find Len crawling on hands and knees. 'What's up, Len' I asked. He replied in very ungentlemanly terms that I had filled him up with so much dirt that when he spat it out his teeth went as well' Pete joined Len in the search for the false teeth and supporters who are still wondering what they were doing crawling about the track that night now know the answer. . . .
---

Name.......LAESSING, TED.
Seasons....1966.
Others.....Poole, King's Lynn.
Spent just the one season at Exeter before going to King's Lynn in 1967 and then Poole in'68.
---
Name.......LEVER, ANDY.
Seasons....1980.
Others.....Swindon.
Andy had come to Exeter from the Swindon Juniors, but after only a couple of team rides it was decided that a longer spell with the Swindon junior team might be of benefit.
---
Name.......LEVER, NIGEL.
Seasons....1994.
Others.....Swindon, Cradley, Arena-Essex,Rye House,Belle Vue Wimbledon, Long Eaton, King's Lynn.
Much traveled Nigel was to spend one season at the County Ground following his move from Swindon. Had originally started out at Cradley in 1985-86 and was at Arena-Essex between 1986-87.
---

Name.......LOBB, GARY.
Seasons....1997,98
Others.....Western Warriors
Gary had started out on the Cornish Grass circuits before making the switch across to the shale. Began racing for the combined Newport/Exeter "Warriors" at Amateur level before an injury to Exeter's No.6 Paul Fudge, gave Gary the chance to establish himself in the full Team and was soon proving his worth. But a damaged wrist was to keep him out for most of the 1998 campaign and opened the door for Paul Oughton to take his place.
---

Name.......LOBB, ROGER.
Seasons....1998
Others.....Newport
Following a varying season at Newport, he switched to Exeter where he was to team up with his cousin, Gary Lobb. Despite a slow start whilst he recovered from a hip operation, Roger was to soon establish himself as a permanent team member and helped steer the "Falcons" to third position in the league, the best for many years.
---

Name.......LOMAS, TONY.
Seasons....1973/74.
Others.....Oxford,Leicster,Coventry,Weymouth,L.Eaton.
Tony was to be found at Coventry between 1968-1972, for whom he totaled 785 pts from 132 outings. During those years he had been also loaned out to both Weymouth and L.Eaton.Was later to make the switch to Oxford but was unsettled there and was involved in a swap deal with Exeter's Bob Kilby that herald the arrival of Tony to Exeter. His averages were fairly high, scoring some 419 pts from his 59 matches for the Falcons. Tony was to be reserve in the 1971 World Final but failed to get a ride.
---

LORAM, MARK.
Others.....Hackney, Ipswich,K.Lynn Seasons.....1995-96.
Born January 12th, 1971 in Malta, Mark was to make his debut to Speedway at Hackney aged just sixteen. Three times a World Finalist, a Commonwealth champion and capped many times for his country, apart from coming runner up in the world U21's in 1992, Mark was to give Exeter a much needed boost and scored highly consistently. The Introduction of the Elite league in 1997 meant that Mark was to go on loan to Bradford.
---
Name.......LUCKHURST, REG.
Seasons....1957. Others.....Swindon,Edinburgh,New Cross,Southampton,West Ham, Wimbledon,Canterbury.
Born November 11th,1935 in Ashford, Kent, Reg began his career as a junior with Exeter, and was to become a respected rider in the years to come. Apart from being capped many times for his country, he was to also reach the World Finals in 65.As well as riding at several clubs, he was even fortunate enough to ride in Majorcai in 72 ( do they have speedway there ?) and had also been an accomplished grass tracker with British Championship success in 1963 and 1964. In 1976, Reg was to become the rider/coach of Canterbury to mark his debut in the National League after a prolific first division career.
---

Name.......LUKEHURST, DES.
Seasons....1963/64/65.
Others.....New Cross,Oxford,Wembley,Hackney,L.Eaton,Romford.
Born October 3rd,1937 in Romney Marsh, Des had arrived at the County Ground following the closure of the New Cross camp, and his exciting and sometimes erratic style of riding made him a great favourite with the fans. At Exeter he was to appear in 52 matches for the Falcons and scored 202 pts, before switching to Oxford between 1966-68, where Des was to collect 255 pts from 68 meetings. His hair-raising style also followed him there and in July, 1966, part of the Cheetah's match against Long Eaton had to be postponed for safety reasons, when Des demolished a stretch of safety fencing, luckily avoiding injury.
Between 1968-69, Des was to try his luck at Hackney for whom he made 49 meetings and totaled 230 pts, and during the following season he was at Romford where he only appeared 18 times but scored a healthier 183.5 pts.