Engineering & Tuning service
And a collection of fabulous Norton machines...

The description "The Unapproachable" with respect to Norton motorcycles is, I believe, attributed to Rem Fowler after he won a trial in the Birmingham area of England, in 1908, where these fine sporting motorcycles were engineered. Mr. Fowler won the twin cylinder class of the first Tourist Trophy race at the Isle of Man in the previous year on a Peugeot engined V-twin Norton. I have numerous letters and postcards written to Jas.L.Norton dating back to 1905 from pioneer riders such as Dan Bradbury, D. Royce and Seymour Smith. This latter gentleman, who was the Midland agent for Patersons "Camp" coffee, was obviously a Norton enthusiast and continually wrote to Norton from 1906 about the magnificent feats he enjoyed on his latest "mount" from the Norton Manufacturing Co. In July 1908 he rode his machine from his home in Sutton Coldfield to Aberystwyth in Wales and wrote to Jas. L. from his boarding house at 43 Marine Parade.
"Machine ran beautifully, no trouble of any kind.
'The Unapproachable One' climbed everything in magnificent style".
yours faithully,
Seymour Smith
I wonder if this is the FIRST use of the term, or was he quoting from his fellow enthusiast?
---
... a picture of me on my 1952 Daytona Manx at Mallory Park in 2012. Pic by Dennis Lodge. (Daytona Manx 1952s.jpg img missing (×)
The pictures, courtesy Mykel Nickalou, are of the PSS MkI
( bobber 3s.jpg and bobber 1s.jpg img
missing (×)
---
This picture is of a very young Albert Denly on a 1920 Model 9 TT Norton. Courtesy the Marticelli Archives.
(1920 Model 9 Norton ONM-6 os Bert Denly 300dpi.jpg img
missing (×)
---
At the Stafford Show in October 2007 I put on a display of a 1926 Norton TT paddock...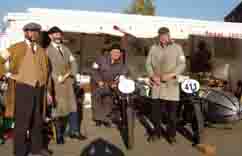 See how ridiculous we all looked; but it created a lot of laughs.
---
Two Nortons separated by 100 years!
Taken at Mallory Park in September 2007, the idea was to make a comparison track test between the 1907 Rem Fowler machine and the latest 2007 Rotary Norton, developed by Brian Crighton and financed by Roy Richards. Unfortunately it poured down all day and by the time it had dried out, all the marshals and medical teams had buggered off!
---
3 pictures of a circa 1951 40M I have just finished for my good friend, Bob. It took me about 6 years! Fairly original specification (bar the carb); magnesium cases and cambox, special cylinder head with Tufnel insert in inlet tract.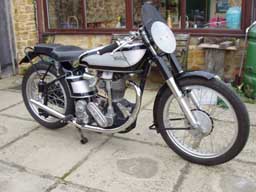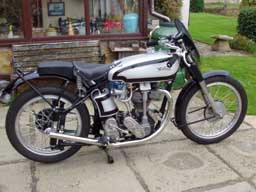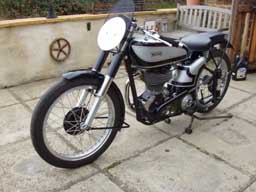 ---
Three terrific machines and three famous pilots! Taken Montlhéry, France 2003
---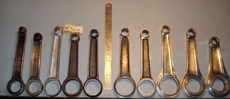 Ten Norton conrods - how many can you identify?
---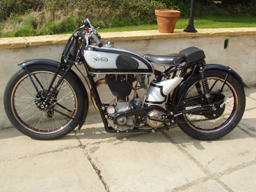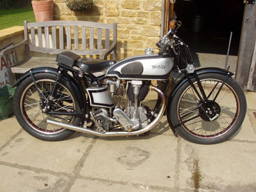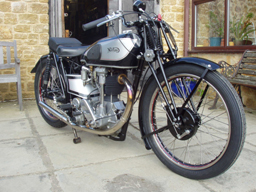 Three pictures of 1934 Model 30 with McCandless swinging arm conversion
Now at the NMM, Birmingham
---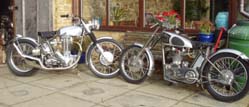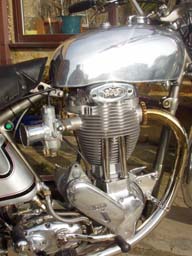 Another Norton built in Somerset... A Model 19CS
The CS stands for custom Special and this machine features many unique components put together by Clinton Alexander and me! A c1956 600 OHV engine.
Note the detail to the rocker box cover, the BSA petrol tank... the other machine is my 'Coronation Special' which is featured below.
The 600 is a slow revving 'plonker' and the short stroke Coronation Special revs to 7,500!
---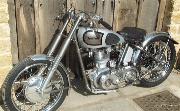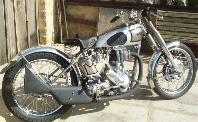 "Norton Queen Elizabeth Coronation Special"
---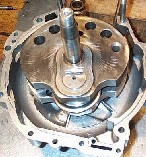 ... a very trick OHV motor. Originally built by Rodney Wright and re-engineered by me.
84mm X 79mm ( standard is 79 X 100 ); Special flywheels; JAWA big-end & rod; hot cams; downdraught head, twin plugs.
---
Picture courtesy of ace Norton man, Ken Mackintosh.
A bronze skull alloy Cammy cylinder head after it got very hot! (click for a bigger picture)
---
1957 Aston martin DB2/4 MkII
A straight 3 litre DOHC motor which is a bit like 6 Manx engines linked together by a relatively fragile bottom end. It is great fun to drive!
---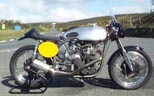 My 90 Bore Molnar Manx, at the Creg, IOM with Kate's Cottage in the background
---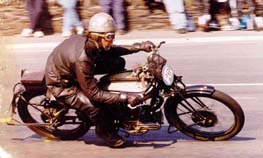 Another picture of me on my 1926 TT machine, at Sulby Bridge, IOM.
Alec Bennett would not have looked better!!
---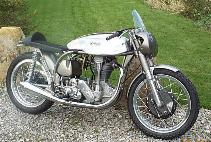 a 1953 International model 40, 350 cc OHC built up for a friend in the autumn of 2000. A very sweet machine. Note: Manx front hub, short circuit Lyta tank, and quality of the whole package.
---
A 1936 CJ, with factory option of large 3½ gallon tank.
A very original machine, bar the exhaust system which emits a very healthy bark!
I rebuilt this fine machine and the performance is excellent....a joy to ride!
---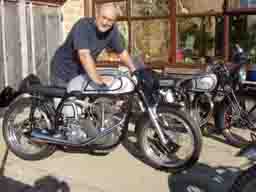 My very good friend, Bob Chapman, ready for the 'run and bump' on his c1952 Manx 350 long-stroke.
It took me 5 years to put this one together... a real beauty.
---
---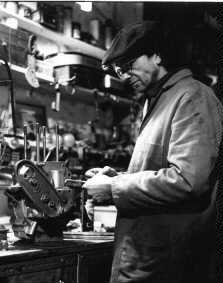 geo cohen...still learning
---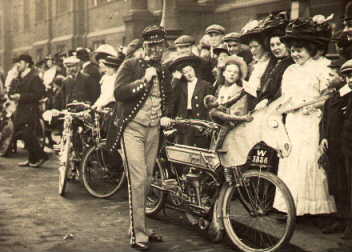 A very strange Edwardian Norton with Donkey head and monkey rider; photo taken in Sheffield
---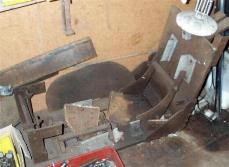 I am sure that most of you know the story behind the "featherbed" frame: designed by Rex McCandless and given its name by Harold Daniell, who described it as "riding on a featherbed" as opposed to riding the "garden gate" frame. That's the story, but a picture is sometimes worth a thousand words....and this is the actual jig McCandless used to make the first featherbed frames. It looks like a pile of rusty iron and in fact that is exactly what it is! It resides at a friends house.
---
A friend in the workshop for a "fitting" for his pre-war racer!!
---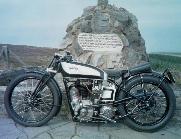 Steve Lacey 1931 Model 30, pictured at Guthrie's memorial, IOM; ridden by Ron Harris in the '31 Manx G.P. to 10th place ( after lying 4th for 5 laps.....did he fall off and remount during the final circuit of 37 miles or did he stop at the Creg for a few jugs of ale?)
The inscription on the monolith reads:
"James Guthrie 1897-1937. Erected to the memory of Jimmy Guthrie of Hawick. A brilliant motorcycle rider, famous on the Isle of Man course for his wonderful riding and great sportsmanship. He won the race six times, beat many world records, and was first in numerous foreign races. He died while upholding the honour of his country in the German Grand Prix, August 1937"
---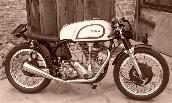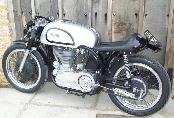 This machine is a 1956 Manx rolling chassis, fitted with a big fin Inter 500 motor, standard gearbox and prepared for the road.