NORTON MOTORCYCLES FOR SALE
"It is not enough to expect a man to pay for the best, you must also give him what he has paid for"
Alfred Dunhill
Also WANTED any old Norton motorcycles.
The mechanical efficiency of a machine is the ratio of useful work done by a machine to the amount of work given to the machine. Engineers always try to increase the efficiency of a machine by reducing to a minimum the frictional losses caused by the bearings, gear-wheels, moving parts and lubricant. Attention paid to the assembly of all components, and particularly that of the engine, is rewarded by more power and enhanced reliability.
PLEASE BE PATIENT FOR THE DOWN LOADING...
CLICK ON THUMBNAILS or jpgs. FOR LARGER PICTURES
---
FOR SALE
The Chassis
And two pictures (×) from the Dunhill drivers club at 2010 Goodwood FoS
Dunhill have made a new range of leather goods, bags, wallets etc called the 'Chassis'.
This is a high tech leather that looks like carbon fibre and has water resistant and many other desirable qualities.
For many years Dunhill have kindly asked me to display my motorcycles for them at various venues and that year I was back at the Goodwood FoS.
1936 Norton 'diamond frame', forks and gearbox
1948 500 OHV all alloy competition trials blue print motor.
Tallon hubs, wheels and disc brakes.
Brembo calipers
Newby primary drive
And a lot of aluminium and trick parts. Weight 244lbs (standard was about 400)
To be displayed at the Dunhill Drivers Club at Goodwoood FoS 2010.
I sold the bike to an elderly chap 2 years after the Festival of Speed, with the proviso that I could buy it back. He is now 82 years old and has only ridden the bike twice, once on the local coast to coast run and once round the block; I have just bought it back. It is still perfect, but the magneto is weak. So I will get the mag sorted and it is now for sale. £POA
---
FLAT TANK MODEL 18s
A very good friend of mine, who has sadly just passed away, has two circa 1926/7 Model 18s for sale.
The most expensive is a machine I totally rebuilt for him a couple of years ago and it completed the Banbury run last year.
It is a beauty and the sister bike to my 'Knickel Knob' which is featured on this web site. £30,000
The second is a restoration project; 95 % complete. £19,000
OHV Flat Tank Nortons are very rarely available, so be quick.
Contact me for further details.
---
'Cammy Specials'
On my website are a number of Specials I have built, including 'Cam-cam', 'The dunhill Flyer' and the 'Coronation Special'
All in different shades of Silver and Grey. Very light weight and very trick. OHC or OHV motors.
Each one is bespoke. Contact me for details.
---
New 30M Manx Norton
Made by Patrick Walker, who was trained by the great Doug Hele and is now a superb engineer in his own right, for Norton Motorcycles UK Ltd
A brand new Manx - this is not a Molnar, not a Summerfield, but a genuine NEW Works factory 30M Manx
see my links page for WORKS RACING LTD.
---
Sidecars
Debut at Goodwood Festival of Speed 2007
Made by skilled craftsmen in Lancashire and Somerset, 7 built and 6 gone immediately, which means there is only 1 left.
£POA (body only, chassis is extra)
The pictures show the sidecar almost complete; a few details need to be finished and then the aluminium polished to a mirror finish. The upholstery is very expensive red leather, but a choice of colour is available. The frame is ash and the aluminium is a 1mm skin.
The machine is a special made from a 1920 JAP 1000cc S.V. and a Norton rolling chassis. The nose fairing is from an airplane (I think either Spitfire Mk. 5 or Viscount?).
Peter Gagan from USA bought one to put on his Brough Superior,
here are the pictures of a fine outfit:
Gagan images missing (×)
---
Hailwood Manx For Sale, click for details (hailwoodmanx.jpg image missing (×)
---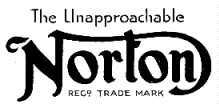 MOTORCYCLES ALWAYS WANTED...GOOD PRICE PAID
---