NORTON MOTORCYCLES FOR SALE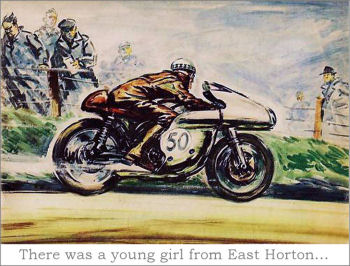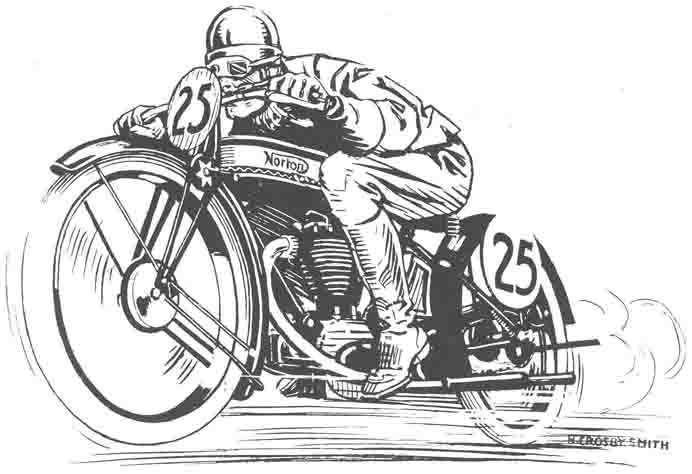 Refurbishing
Apologies for the dropsheets, paint tins and scattered detrius. More information...
"It is not enough to expect a man to pay for the best, you must also give him what he has paid for."
Alfred Dunhill
THE BIG NEWS IS THAT I AM SELLING UP
YUP THE WHOLE LOT
Unfortunately my health is currently not good and I have decided to sell, sell, sell
My machines, spares, tools and literature....
I have valued the whole lot at about £500,000.
Ideally I would like to sell the whole lot to one rich person. My guess is that this person does not exist, which means I will have to sell to numerous people. For me this is a drag. Currently I have not got the time or energy to deal with lots of people.
I will, however, sell to genuine persons.
My collection of Nortons is one of the best in the world.
My bikes are well sorted and well documented.
Most of the motorcycles can be seen somewhere on this website.
For more information scroll down to Collection for Sale.
---
The mechanical efficiency of a machine is the ratio of useful work done by a machine to the amount of work given to the machine. Engineers always try to increase the efficiency of a machine by reducing to a minimum the frictional losses caused by the bearings, gear-wheels, moving parts and lubricant. Attention paid to the assembly of all components, and particularly that of the engine, is rewarded by more power and enhanced reliability.
---
FOR SALE
The Chassis
And two pictures from the Dunhill drivers club at 2010 Goodwood FoS
Dunhill have made a new range of leather goods, bags, wallets etc called the 'Chassis'.
This is a high tech leather that looks like carbon fibre and has water resistant and many other desirable qualities.
For many years Dunhill have kindly asked me to display my motorcycles for them at various venues and that year I was back at the Goodwood FoS.
1936 Norton 'diamond frame', forks and gearbox
1948 500 OHV all alloy competition trials blue print motor.
Tallon hubs, wheels and disc brakes.
Brembo calipers
Newby primary drive
And a lot of aluminium and trick parts. Weight 244lbs (standard was about 400)
To be displayed at the Dunhill Drivers Club at Goodwoood FoS 2010.
I sold the bike to an elderly chap 2 years after the Festival of Speed, with the proviso that I could buy it back. He is now 82 years old and has only ridden the bike twice, once on the local coast to coast run and once round the block; I have just bought it back. It is still perfect, but the magneto is weak. So I will get the mag sorted and it is now for sale. £POA
---
FLAT TANK MODEL 18s
A very good friend of mine, who has sadly just passed away, has two circa 1926/7 Model 18s for sale.
The most expensive is a machine I totally rebuilt for him a couple of years ago and it completed the Banbury run last year.
It is a beauty and the sister bike to my 'Knickel Knob' which is featured on this web site. £30,000
The second is a restoration project; 95 % complete. £19,000
OHV Flat Tank Nortons are very rarely available, so be quick.
Contact me for further details.
---
'Cammy Specials'
On my website are a number of Specials I have built, including 'Cam-cam', 'The dunhill Flyer' and the 'Coronation Special'
All in different shades of Silver and Grey. Very light weight and very trick. OHC or OHV motors.
Each one is bespoke.
---
New 30M Manx Norton
Made by Patrick Walker, who was trained by the great Doug Hele and is now a superb engineer in his own right, for Norton Motorcycles UK Ltd
A brand new Manx - this is not a Molnar, not a Summerfield, but a genuine NEW Works factory 30M Manx
see my links page for WORKS RACING LTD.
---
Sidecars
Debut at Goodwood Festival of Speed 2007
Made by skilled craftsmen in Lancashire and Somerset, 7 built and 6 gone immediately, which means there is only 1 left.
£POA (body only, chassis is extra)
The pictures show the sidecar almost complete; a few details need to be finished and then the aluminium polished to a mirror finish. The upholstery is very expensive red leather, but a choice of colour is available. The frame is ash and the aluminium is a 1mm skin.
The machine is a special made from a 1920 JAP 1000cc S.V. and a Norton rolling chassis. The nose fairing is from an airplane (I think either Spitfire Mk. 5 or Viscount?).
Peter Gagan from USA bought one to put on his Brough Superior,
here are the pictures of a fine outfit:
Gagan images (missing)
---
Hailwood Manx For Sale, click for details - (hailwoodmanx.jpg image missing)
---
2016 Updates
Collection For Sale
1. My trailer; PRG Engineering, Crewe. Unladen 1200kg, Max gross "600kg. Galvanised chassis in perfect condition. No rust and no bashes. overall dimensions: 20ft long 7ft 4 inches wide and 8ft high. GH awning with sides 16 X 8ft carries 3 bikes easily. Sleeps two on bunks in front and as many as you like in the back! 3-way fridge, cooker and hob, 240 volt hook up, 12 volt leisure battery. About 15 years old. Kept under shelter. Used for Goodwood, Isle of Man, continental events etc Now a bit tatty around the edges. The awning has no tears. Needs new leisure battery, new tap and new igniter in the fridge. Complete with tie-downs, porta-loo kettle, kitchen stuff, and bog roll. Plus a day or two tidying up. Everything you need to go racing with your mates! A snip at £7,500. A rich friend of mine has just spent £30,000 having a similar one built.
---
2. My archive literature, originally bought from the Norton family about 40 years ago. Used for my book Flat Tank Norton. Hundreds of original documents going back to 1905, manuals, parts lists, sales catalogues, original correspondence to Jas L Norton, hundreds of original photographs. Using eBay as a price guide; I estimate that if you had the time to sell each item individually, there would be about £100,000 worth. But that would be a shame. The whole lot needs to go to one enthusiast. I would accept £25,000 for the lot; and there is a lot!!
3. c1906 Norton POA Two pictures of my latest find, a c1906 Norton with a 292cc JAP motor.
Norton used engines from Clement, Moto Reve, Peugeot, JAP and according to his advertising literature he would fit any type of engine the customer could supply. He used to call them "Norton"!!!!
In my book, FLAT TANK NORTON, on page 10 there is the original advertising for this machine.
5. c1927 Model 18; the very best Flat Tanker in the world; owned by me since 1985. £35,000; yup a lot of money but it is the very best. Ready to go, in perfect condition and will give the lucky new owner my complete spares kit which includes an engine, the original petrol tank (currently it has an aluminium tank that looks just like the original but it is not troubled by modern fuels and is a lot lighter).
6. Rigid Dommie Special £10,000
Dommie Bobber or Bommie Dobber
This is one of my latest Specials, a c1959 600 Model 99 motor,
dynamically balanced crank, blue print motor
Mid-fifties rigid frame, Long Roadholders
Fast and noisy!
7. c 1937 model 30 £25,000
The latest picture shows the engine at the beginning of September 2013 and just about ready for assembly. Everything has been scrumptiously cleaned, all the male and female threads cleaned (and occaisionally repaired). The crankcases have all the oil ways drilled out and blanking plugs re-fitted. New main bearings and retaining plates are ready to be fitted. The crank is ready, the big end was not replaced, because it was perfect on inspection and the flywheels are true to 0.001 inch. The exhaust port thread has been repaired. The cylinder head has been cleaned, the valve guide holes reamed to round and parallel and new guides made to suit. New valves and springs are ready to be fitted. The bevel housings and associated parts are all fettled and new bearings ready to be fitted. The piston will be either the modified 16H one which came out or probably a new 0.020 inch genuine Inter one. New little end and pin. Cambox is cleaned and fettled. Polished and lightened rockers with new adjusters and pads. Manx cams and new bearings, seals and corks all ready to go in.
I just picked up this fine looking machine which had been in a shed for the past thirty years. From the late thirties to the late seventies it was raced as a solo and with a sidecar. It won a lot of championships, Sand Races, Hill Climbs. Note the all alloy engine, large petrol and oil tanks, unusual spoke pattern on the front wheel. I plan to sort out all the engineering, but KEEP the tatty finish. What this space for regular updates.
The next 4 pictures show: the rolling chassis finished with fully rebuilt CR Manx gearbox, reconditioned forks, new bum pad and new patina red lining to the tanks.
---
4. 1952 Daytona Manx, Klamfoth's winning machine
£50,000
Now returned to original 1952 specification and ready to race again. Guaranteed entry at Goodwood Revival of Speed. Full documented history.
Goodwood Revival 2012
At the 2012 Goodwood Revival meeting, hosted by The Earl of March in impeccable style, I raced my 1952 Daytona Manx Norton with Maria Costello as my celebrity riding partner. We fulfilled our aim to finish both races. The weekend started badly with miserable rainy weather and a spark plug that fouled up after just 100 yards of our 30 minute practice and qualifying session. Hence no practice for me to check if the bike was running properly and even more significant was the fact that Maria never got to ride the bike before the race!
Maria is a top class rider of modern machines and she has made the podium in the Isle of Man TT races on two occasions. Her excellence for the sport has been recognized by an MBE, no less. A 'Garden Gate' Norton is a quite a different machine from a modern Japanese race bike; the gear change is on the other side, the brakes are almost useless, the power is about one quarter and the handling is terrible, all in comparison to a machine 60 years younger. But as far as old Norton race bikes go, I was confident that we had a solid mount for the event and I was equally sure that my partner would quickly adapt to an old 'plonker'. With no lap time we 'qualified' last, 30th position; it could only get better!
A new NGK was fitted and all our problems were solved and the engine was again sounded strong with a loud rasp from the megaphone.
The event involves two riders and two races, Maria to start on the Saturday race and hand over to me half way through the 25 minutes and vis a versa on the Sunday. There is a Le Mans type start with the rider running across the track to the running bike, being held ready by our faithful pit attendant, Clint Alexander. For both races our bike was in neutral, with Clint holding the throttle, and both Maria and I failed to engage first gear and we both mucked up the starts, leaving us trailing the field. In retrospect the bike should have been in first gear and the clutch held in, I think many of our competitors were using this tactic to get a super fast getaway.
From last on the grid the bike was as fast on the first lap as on our 28th and last and we finished both races to come in an overall 15th which was very pleasing. Despite the tendency to wobble in fast bends, a few missed gear changes, and a fair amount of vibration, the whole package held together, where as many other bikes dropped by the way side with either serious or minor ailments. The only spanner I used all weekend was the one to change the spark plug!
We were up against an MV Augusta, super quick BMWs, Rudges, Nortons (both original and newly made replicas), Velocettes, Vincents, Triumphs, BSA, Matchless and pilots with significant World Championship, Superbike and Isle of Man experience. I was undoubtedly the least experienced (and possibly the worst ) rider in the field.
Maria Costello, Classic TT 2015
"Give me Goodwood on a sunny day and you can forget the rest"

This delightful lady is Kitten Von Mews and she is posing outside my Goodwood Revival Shed
Norton International-Manx Special
Every part is brand new, bar the engine.
Frame is chrome-moly (T45) tube to Manx specification.
New Short Roadholder forks, Works Racing billet yokes.
New ally Manx type hubs and new wheels.
New 5 speed, Hemmings gearbox with kickstart.
New bespoke aluminium tanks, front cowling, seat
New leather seat.
New ally clip ons, levers and controls.
Titanium exhaust system
Electronic ignition
New Bob Newby belt drive and clutch
Engine is a SOHC International with Manx type head and barrel (large fins).
It was completely rebuilt by me (all new bearings, pistons, valves etc) and has been carefully run in, by me for about 300 miles in another rolling chassis. It performs very well indeed. I have ridden the machine on various runs and trips to the pub this past summer.
It is an absolute hit every where!
Much easier and better for the road than a DOHC short stroke.
---
VALENTINO ROSSI on my Norton lowboy at Goodwood Festival of Speed 2015 with another Yamaha star, PHIL READ (images missing)
John McGuiness (21 times an IOM TT winner) on my c1937 Norton at the Goodwood Festival of Speed. (image missing)
---
Karl-Heinz Kalbfell (1949-2013)
On the 17th August 2013 my good friend Karl-Heinz was competing at Brands Hatch in the Lansdowne series on his Matchless G50 when he slid off exiting Druids corner and was hit my another rider sustaining fatal injuries. He was a great man who loved riding old bikes both on and off the race track. My deepest sympathies to his family.
RIP Karl-Heinz.
---
There was a young girl from East Horton
With odd tits, one long and one short'un
On top of that
She had a huge great twat
And a fart like a 500 Norton
---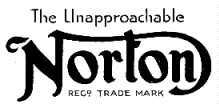 "We desire to emphasize, as we have done in the past, that Norton machines are not built to a price. The finest possible materials procurable and the highest quality workmanship are used throughout in the manufacture of these".
A quote from the 1926 catalogue.
---