Tales from a Somerset Shed
all the LATEST NEWS
A sort of BLOG or perhaps it is a BLAG
See new stuff at the top and older tales by scrolling to the bottom......
Please scroll down the page... it is long, but packed full of good stories!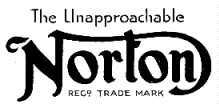 "We desire to emphasize, as we have done in the past, that Norton machines are not built to a price. The finest possible materials procurable and the highest quality workmanship are used throughout in the manufacture of these".
A quote from the 1926 catalogue.
Latest Machines from the shed:
I had already built a 350 OHC machine for number 2 daughter, Camilla, called 'Cam-Cam'; so now was the time to build another for my youngest, Tom who is 13 and has been riding bikes since he was 5 and is now showing interest in the workshop. I have called this one 'Tom-Tom'! He is helping me build it.
It has a works Daytona 1950 engine and gearbox, disc brakes and lots of aluminium and titanium parts. Plan is for 40BHP and 250lbs weight; so should be good for about 120mph!
The Silver Manx features many aluminium parts and a radical exhaust system.[1]
2012 EVENTS ITINERARY
In 2012 I plan to:
Go to the Classic le Mans 24 hour race as grease monkey for a couple of mates who are racing a Aston Martin DBR1
Go the Manx Grand Prix to act as grease monkey for John L-P on a works Manx Norton and attend as many Lansdowne race meetings to help JLP.
I have been invited to ride at the Goodwood Festival of Speed; on Daytona Manx
I have been invited to race at the Goodwood Revival on a Daytona Manx with the legendary STU ROGERS
And build some bikes......
And watch Somerset at Cricket, drink some wine and ride my bikes and drive my cars....
---
Selling Spares on Ebay from early May 2012
Lots Of Cammy stuff.[1]
---
Norton and Honda 4 cylinder motorcycle engines
For the past 35 years I have messed around with single cylinder Norton machines in side- valve, over-head valve and single and double over-head cam configuration. I have rebuilt, repaired and wrecked hundreds of them; all in the quest for more power and reliability. I have also read with interest over the same period of time numerous articles pertaining to the experimental 4 cylinder engine of the early fifties. Up until very recently, I had always lamented the fact that this engine was never seen fighting the multi-cylinder machines from MV, Gilera and Honda. That was until a few months ago, but first a preamble to my story.
Manx Nortons dominated motorcycle racing before and after the second world war, but by 1950 the Italian 4 cylinder engines were becoming a considerable threat to the trusty single cylinder unit.
"Tony" Vandervell, who was part of the works Norton Isle of Man TT racing team in the early twenties (alongside Murray Walker's father, Graham), was Nortons major shareholder after WW II and he also had a great passion for racing cars. He was one of the major financial backers of BRM and commissioned them to develop a watercooled double over head cam four cylinder, 500cc engine for Norton in 1951. Numerous problems relating to engineering design failures, personality clashes and finally financial cut backs meant that the project failed, for three main reasons.
Firstly, BRM failed to take into consideration the need to mount the engine in a motorcycle frame and the development was brought back to the experimental department at Bracebridge St, Birmingham. Here, Leo Kuzmicki, who was a former Polish fighter pilot, was found to be sweeping the floor far too slowly for the likes of the head of the department, a fiery Irishman and tuning maestro, Joe Craig. After a good telling off, Craig was told that this floor sweeper was a senior lecture on internal combustion engines at Warsaw University before the war. Soon, Kuzmicki was put into the drawing office where his genius on cam profiles, combustion chamber shapes, valve timing and porting soon paid dividends on the Manx engine, especially the 350 cc version. He also started work on the 4 cylinder engine.
Secondly, Vandervell fell out with Raymond Mays at BRM and subsequently continued to develop his Thinwall specials, named after his very successful closed caged 'Thin-wall' bearings business.
Thirdly, as a consequence of Nortons financial difficulties they were bought by Associated Motorcycles (AMC) in 1953. The financial backers at AMC were appalled at how such a large slice of the cake was being put into the racing machines to the detriment of developing better machines for the road. They pulled the plug on the racing department. No more works team, no more works machines and finally no more Leo Kuzmicki, who was given a much larger wage packet by Vandervell at his new venture the Vanwall Specials. It is ironic that the 2 litre Vanwall engine was essentially four 500 cc Manx Norton engines on a common crankcase.
So Norton did try with a multi cylinder machine and the prototype engine and drawings can be seen at Sammy Miller's museum, but I am now bloody glad that it never materialized.
Why the change of mind, you may ask?
Last summer a conversation with my 23 year old daughter, Camilla, went along the lines of:
"Dad, my bike has not got lights and sometimes it won't start".
"That's about par for a thirties 350 Norton International, live with it".
"I've seen a 1972 Honda 500 4 on ebay, its got lights and an electric start"
"Oh no!"
To cut a long story short, a week later we had this motorcycle in the shed. Camilla rode it for 900 miles over the next few months and I even had a ride down to the seaside on it. Not as fast as a 500 International and a lot heavier, but at least it started every time and you could stay late at the pub, because of the reliable lighting system.
So far so good, but the next week the oil pressure light remained on and to my untrained ear the engine sounded like the proverbial bag of nails. So we bought a Haynes manual, a set of metric spanners and a good bottle of wine and proceeded to pull the thing apart. A hundred hours later, struggling with thousands of cross head 6 mm bolts, primary thrunging sprockets, bizarre gear change mechanisms, tiny little gudgeon pin circlips which were flying around the shed as we snapped at them with tweezers and a manual which even the most intelligent of grease monkeys could not follow we had the bloody engine down to its bare bones.
I could not find a fault anywhere! All journals, shafts and wot-nots , miked up to the manufacturers specification. Another million hours later we managed to get it all back together and squeezed it back into the frame. According to my research on Google and at the local Bike Club, it is apparently almost impossible to get the four carbs onto the inlet manifold rubbers and air box at the same time without resorting to a combination of wooden wedges, big hammers and plenty of Vaseline. To my surprise, my daughter and I managed to do this within the hour and eventually the heavy machine was taken out of the shed and replenished with fresh oil. It worked perfectly, the oil light went off and the engine sounded sweet.
So far this Honda engine has consumed the time it would take me to build a trillion Manx Norton engines and we never did find out the problem. Perhaps it was just a faulty switch, which would have taken just a few hours to replace, instead of weeks of work.
So the moral of this story ends with the thought: Would I have been able to spanner a four cylinder Norton engine?
Perhaps with practice I might have of got the hang of it, but I am mighty pleased that a Manx Norton engine has only got one piston, two valves and Whitworth nuts and bolts.
This Honda is now for sale; see machines for sale page
---
This is called the 'Rat'
It is a 16H frame, an ex-works trials 500 OHV motor
Parker tanks and a nose cone from a fifties airplane.
This is a Dommie Special
I know I am only meant to do single cylinder machines, but I fancied something different.
An early fifties cradle frame, 600 Dominator motor, laydown box
I am going to try and fit an electric start.....
---
---
1948 Daytona Manx
This Billy Mathews 2nd place Manx from the 1948 Daytona Race.[1]
From 1937 the beach at Daytona, Florida, USA hosted a 200 mile motorcycle race until 1961, when the venue was moved to a purpose built track with steep banking, some 15 miles inland. The seaside circuit was basically a 4 mile loop with a two mile straight on pavement linked to a two mile beach straight on damp sand by North and South banked turns; a track for tough guys and strong motorcycles!
The last race before the Americans entered the arena of the 2nd W.W. was in 1941 and the Canadian Billy Mathews won against all the odds and the factory Harley Davidsons, it was the first victory by a foreign rider and the first win for a non- American motorcycle, a 1939 International, to Manx specification. This victory at Daytona was totally unexpected since the Harley-Davidson and Indian factory efforts were at the race in full force. Harley was debuting its new WRTT model and was on a three-race winning streak at Daytona. Mathews took the early lead in the race on his Norton, but crashed in the early stages and fell behind the leaders. Fortunately for Mathews, his motorcycle wasn't damaged and he continued the race. He charged back through the field and worked his way back up to second behind Indian's Jimmy Kelly. Kelly looked to have a safe lead, but with just four laps to go his engine quit and Mathews moved ahead and cruised to victory. Despite crashing, Mathews set a new record speed for the 200 averaging 78.08 mph. His Norton Manx's 500cc engine was the smallest to win Daytona to that point.
After World War II, Mathews accepted an invitation to race in Great Britain for a speedway team called the West Ham Hammers for the 1947 season. He returned to Daytona in 1948 and nearly won again on a Single OHC International built to Manx specification and run under the careful eye of Steve Lancefield, who used J.M. McGill, the Norton distributor for Canada and North America as his p re-Florida base. In that race, he battled with Floyd Emde, on an Indian riding out from Springfield Massachussetts, for the lead until having trouble during a pit stop. Mathews had difficulty finding his pit stop among the crews of the other 154 entries. One of his crew spilled gas while fuelling and Mathews had to shut off the Norton. The team had trouble getting the big single restarted on the wet sand and Mathews fell behind. Towards the end of the race Mathews closed in on the leader Emde. The fans came to their feet in the closing laps. Rarely did they ever get to see riders battling so closely for the lead in the closing stages of the 200. At the finish there was confusion over who had taken the victory spoils; initially the winner was deemed to be Mathews, but the Indian team made a protest and after 7 hours of deliberation and argument and numerous checks on the lap scoring charts, the final results gave the victory to Emde and the gallant Canadian accepted second place with honour.
---
ANOTHER SPECIAL
Assembled from a collection of parts I have had lying around for many years, this machine has been built for a good friend of mine who races Historic Aston Martins. It is a 1938 16H frame with Manx type forks from Norton guru, Mick Hemmings. The engine is an ex- Shane Lockley VMMC championship winning unit that has very few Norton parts inside. The flywheels and rod are steel JAP, the piston is BSA B44 slipper type (C.R. is about 9.5 to 1), the cylinder head is worked, the cam timing is close to Manx, and all moving parts are lightened.
The petrol and oil tanks are my own design (inspired by the 'chopper brigade'), the clutch and primary are from Bob Newby, the rear hub is modified Triumph conical and the rest is made in my shed. [1]
---
Latest projects being built in my shed are 4 more 'Cammy Specials'; here are four pictures to show that I have been very busy making parts and hence why sometimes I do not reply to e-mails immediately...
Further pictures will appear as the builds progress.......
---
---
The Chassis
Dunhill have you new range of leather goods, bags, wallets etc called the 'Chassis'.
This is a high tech leather that looks like carbon fibre and has water resistant and many other desirable qualities.
For many years Dunhill have kindly asked me to display my motorcycles for them at various venues and this year I was back at the Goodwood FoS.
1936 Norton 'diamond frame', forks and gearbox
1948 500 OHV all alloy competition trials blue print motor.
Tallon hubs, wheels and disc brakes.
Brembo calipers
Newby primary drive
And a lot of aluminium and trick parts. Weight 244lbs (standard was about 400)
To be displayed at the Dunhill Drivers Club at Goodwoood FoS 2010.
Already SOLD, a few more being built.[1]
---
WANTED
My next book will be about Cammy Nortons from 1927 to 1963.
My book on Flat Tank Nortons was made possible because I collected over 100 photographs, many articles and numerous stories, which were all previously unpublished.
I am currently working on my new publication, called ' Cammy Nortons' . All OHC machines from 1927 to 1963. I need unpublished period photographs, stories and any relevant literature and information pertaining to this subject. For material supplied, you will receive an acknowledgement in the book and a complimentary copy. I will buy, beg, borrow or steal. I would also like to talk to anyone who worked at Bracebridge Street, to listen to their recollections and stories.
I want pictures like this one of Ted Sturgess on an Inter at a dirt track meeting in the late forties.
Picture courtesy of Barry Brown. [1]
---
Two Nortons just finished
For the Vintage Motorcycle Club, a c1928 CS1 which was kindly donated to the club by the spouse of a late member. It had been in the Donnington Park museum for many years and requires careful re-commissioning - what ever that means! It goes very well and has a 4 speed box. The other machine is a same year ES2, which shares the 3 stay frame with its 'Cammy' sibling. It took almost 200 hours of work to turn it from a wreck to a beauty. After its second test ride, I thought this to be the smoothest running OHV motor I have ever ridden.
[Images] show my new 1934 Inter and the ES2.[1]
---
New Manx Norton wins again
See links page for new web site
Glenda' and the Works Norton back on top at Brands Hatch 7/8 th August 2010
Round 6 of the Bonhams British Historic GP Championship saw the Works-Norton team return to Brands to support the ever popular BSB. However, such was the quality of the two classic races; it looked a little as though it was the BSB races that were the support.
The success of the Works Norton 30M this year has certainly upset the establishment and consequently the opposition wheeled out their big guns, in the form of super- quick riders Luke Notton and Steve Tombes, for what is probably the premier round of the season. Race 1 started in damp conditions, but Glen 'Glenda' English cruised the early stages holding 2nd place while the track dried. He was cannily saving himself for the inevitable last lap show down, and what a show down it was. Tombes showed his hand on lap 5 of the 6 and allowed English to get the measure of his bike. Lap 6 saw the pair in a full on dog fight with absolutely no quarter given. As they entered the final corner, Tombes was a couple of bike lengths ahead and looked to have it in the bag, but English used the shear grunt of the Works engine to drive straight past and win by 0.011 seconds at the line!
Overnight tweaking, with the team's super new King Dick equipped paddock workshop, ensured the Works-Norton was ready for more of the same in Sunday's race 2. And that is exactly what it got, only this time it was a 4 or even 5 bike race long scrap. The final lap was an epic of Rossi/Gibernau proportions, with English and Tombes fitting for every inch of track, pushing their super- sticky Avons to the limit. Again the pair entered Clearways with Tombes ahead, and again Glen and the Works-Norton simply powered past to win by 0.093 seconds this time.
At the Easter meeting (4/4/2010) at Brands Hatch, Glen English won both races of the opening round of the British Historic Championship aboard the New Manx. And two weeks later at Oulton Park, another two wins. 4 out of 4, not bad eh! Pictures and further details soon.
---
New Manx Norton at Mallory Park
Today, March 24th 20010 saw the first track outing for the New Manx Norton. After many months of intensive testing on the engine bench and dynamometer, Patrick Walker, the design engineer and builder of the new motor, and world renowned engine tuner Fred Walmsley are happy their new baby is ready for cut and thrust of the race track.
Ridden by current Lansdowne Champion, Glen English, the new machine took to the tarmac of Mallory Park today. Built to much the same specification of the last batch of 'square' bore and stroke Manx engine to leave the Birmingham factory in 1963, these new units incorporate the advantages of 21st century engineering, CNC design and machining, and of course great advances in metallurgy. There are subtle changes in the oil pump, oil system and a few more top secret places. With plenty of British Horses on tap, Mr. Walmsley keeps the Norton tradition of never giving his power figures. James Lansdowne, himself, always used to say: "The speed is the difference and the difference is the speed"
With the engine warmed up to the correct temperature, English took to the track, but after just 2 laps an incontinent petrol tank curtailed the initial session. After a few more teething problems with the clutch and carburation, the machine began to really fly and within 10 laps the new Manx Norton was just as fast as other machines from rival camps. In the post practice de-brief, English confirmed that the super smooth engine gave plenty of power and with a few more 'tweaks' from the grease monkeys, should see the machine a winner in the near future.
The first round of this year's Lansdowne race series, now renamed as the 'British Historic Championship', takes place at Brands Hatch on Easter weekend, as part of the British Super Bike meeting. I bet Mr. English will only be a few seconds slower per lap than Ji Sung Takamati on his 4 cylinder Kawasukiondahaha!
For further details on how to order one of these new machines or just an engine: Please contact Patrick Walker at worksracing at hotmail.com
The images show Walker's tatty van with the bike, the customer engine and a new cylinder head, ready for the Walmsley 'magic wand'.[1]
---
A couple of machines I have just finished; a 1937 TT Model 40, ex-Bryant and a 1953 Manx with Beart barrel and Jackson con-rod.[1]

---
---
Ralph Cawthorne was the first man to ride an OHV Norton in the TT in 1922.
His son Roger has kindly given me his father's photographic album which contains many great pictures.
They would have been a great addition to my book.
Anyway, one of the best is this shot of Ralph at Cronky Mona (just after Hillberry)
Just LOOK at the road SURFACE![1]
---
New 30M Manx Norton
Made by Patrick Walker, who was trained by the great Doug Hele and is now a superb engineer in his own right, for Norton Motorcycles UK Ltd.[1]
More details will appear soon; see Machines for Sale page
this is not a Molnar, not a Summerfield, but a genuine NEW Works factory 30M Manx
Orders being taken now; email me for further details.
---
Two pictures from the Stafford Show, April 2009 and a couple of pictures from the Dunhill Drivers Club at Goodwood FoS 2007.[1]
---
'Cam-Cam'
Made from a 1946 Es2 frame, 1930 front forks, 8 inch post war front brake, 350 International motor, dolls head box, Newby clutch, BTH electronic sparks and many hours on the lathe and milling machine; this is the result, built for my second daughter, Camilla, this bike is named 'Camilla's Cammy' or 'Cam-Cam' for short.......click on the html jpeg links for stunning pictures.[1]
---
Sensational Somerset Shed Find
Lying in a Farm shed in Somerset for about 80 years, a unique racing Norton motorcycle has been found. Thought to be 'Nickel-Knob', this old Flat Tank Norton was once raced at Brooklands by Baroness Lil Bacey in the late twenties and early thirties.
The all silver machine glistens with aluminium, and nickel plate and subtle touches of black, brass and copper. The 500 cc OHV engine has special flywheels, a later type conrod, hot cams, lumpy piston and tuned top end. A later 4 speed gearbox and minimal weight give a top speed of over 100mph.
As with all stories about pioneer vehicles and despite the evidence that this machine is an old historic racer, there is a rumour that this motorcycle was built in 2008. From a collection of NOS (New Old Stock) Vintage Norton parts, newly fabricated bits and bobs and a lot of hours in the shed, this machine could have been built at Brooklands, but in fact was built by me in Somerset!
---
1952 Daytona Manx
My latest bike is one of the 3 Works bikes for the 1952 Daytona 200.
It is Dick Klamfoth's winning machine.
Features a double knocker motor and magnesium bits everywhere, including a magnesium NTT1 magneto.
Full story to come sometime!
---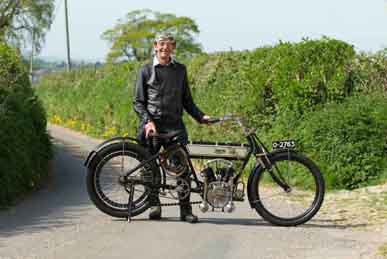 This is a picture of me posing with "Rem" in May 2007 (photo courtesy Paul Dickson)
---
Two Nortons separated by 100 years of development.
...and this is a picture I took at Mallory Park on a very wet day in July 2007.
Brian Crighton's fabulous rotary machine, funded by Roy Richards and the National Motorcycle Museum, this rocket has 170 BHP, carbon fibre wheels and other bits, fly-by-wire everything and more gizmos and electronics than your average space ship!
Unfortunately it pissed down all day (slicks on the 2007 bike and 'sweet fanny adams' on t'other mount) and when the sun finally came out at tea time, not only had the medical services buggered off but so had the famous motorcycle riders who were present to test them!
Still, Alan Cathcart and his intrepid photographer, Naka were present to conduct a photo shoot and the road test of both machines will have to wait for a drier day!
---
Isle of Man TT centenary
3 pictures at the Centenary.
First picture is courtesy of Ian Allen and is taken at the Devil's elbow.
Second is at the start at St. John's
Third is finishing line; first machine home just as in 1907![1]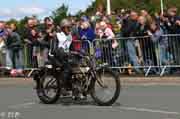 Celebrating 100 years of TT racing in the Isle of Man.
On the 28th May 2007, exactly one hundred years after Rem Fowler sat astride the V twin Norton, waiting to start the first ever TT race, I was doing the same. Many of the large crowd and the officials at St.John's were dressed in Edwardian attire and the atmosphere was electric. Everyone was excited and I was just a little apprehensive. I had rebuilt the National Motorcycle Museum machine a few years previously and had practiced around the narrow and very bumpy lanes of Somerset over the previous six weeks. I knew the engine was strong and the brakes useless, the handling a tad wobbly and the throttle response unpredictable, but I was ready for the 'Race'.
Next to me on the start line was Mr. Chris Read with his 1907 Vindec, the very machine which came second to Fowler in the original race and which was piloted by the American, Billy Wells; he was 30 minutes adrift in 1907! The Vindec used the same engine as the Norton; a 684cc Peugeot 45 degrees V-twin. Chris had fitted a later two-speed hub and a clutch mechanism, and this meant he was able to line up with a running motor. My direct drive mount was to be pushed into life by Dave Roper (the only American to have ever won a TT race). Behind us, were 98 other machines, spanning a period from 1908 to 1938; the last away was to be Manxman, Milky Quale, a multiple TT winner, aboard his George Fornby ' Shuttleworth Snap'. Pairs were sent off at 30 second intervals. My only criticism of the whole event was that there were not more Edwardian machines in keeping with the period of the original TT course (the mountain circuit was first used in 1911).
Geoff Duke dropped the starting flag and we were away! The Vindec sped off in front of me and I followed well behind. As the engine chimed in and I adjusted the twin handlebar levers to give the carburettor its optimum setting, I slowly caught the Vindec by Ballacraine corner, a 90 degree left on this course. I was in front and round the sweeping bends of Laurel Bank and Glen Helen, the long wheel base of the Norton provided me with a surprisingly stable ride. I soon realised that the smooth road surface compared with my local Somerset lanes was extremely significant and my initial apprehension was replaced by a growing confidence. I approached the sweeping uphill left hander at the bottom of Creg Whilys Hill with the thought that many of the pioneer riders had to resort to 'LPA', Light Pedal Assistance or dismount here and run alongside their machines to climb the steep gradient. Apparently Fowler had climbed the hill easily, but this motorcycle was 100 years old. I need not have worried, because I roared up past Sarah's Cottage and onto the long Cronky Voddy straight, where I had time to play with the twin levers to give me maximum performance. Approaching the end of the straight, I looked over my shoulder to establish where the others were; not a soul in sight!
Now was the time to give the engine some oil; about 60 cc delivered by a petrol tank mounted 'syringe' which needed to be slowly pushed in by the right hand. Along the bumpy lanes of my practising in Somerset, I had either stopped or performed this operation with my foot. Taking a hand off the handlebar was certainly not an option because of the tendency for the machine to either violently wobble or 'tank slap'. I tried removing my right hand away from the handlebar grip by an inch, then two and finally well away and enough to give the spectators a wave. I could ride this one handed! So there was plenty of time to plunge the plunger and give the engine its 'life blood'. I also recollected the story of how James Lansdowne Norton, himself, had shown a board to Fowler at the end of the first lap with the word' OIL' scribbled on it. This is the first report of the ubiquitous 'pit signal.
Through Handley's Bend, the top of Barregow and down the fast hill to the bottom.... Would I make it without throttling back and pulling on the valve lifter? My mind was in perfect harmony with Rem, the machine running like a thoroughbred and we sped through like a true racer. Tearing into Kirkmichael at well above the 30 mph speed limit, I throttled back and pulled in the valve lifter for the very sharp downhill left-hander. As I zoomed around the corner, I caught glimpses of the crowd waving as we sped out of the village. Along the next straight I was passed by a speeding Triumph Speed Twin;"who was that", I thought. With the rich blue sea to my right and the grassy banks to my left, I tore along the narrow coast road towards the 'Devils Elbow', a sharp left-right-left bend, akin to the numerous chicanes on modern race circuits. With a reduced throttle, the left peddle in the 'UP' position, I negotiated the first left hander, forgetting to rotate the pedals by 180 degrees, meant that the right pedal grounded the tarmac as I made the right but I was sailing again for the next left! Phew!
The adrenaline was coming on strong now, my confidence in the machine and my riding technique growing, and the sheer thrill of what was happening was close to nirvana. Into Peel, I came down the hill to the acute left hander at the chip shop. The crowds were waving manically and I caught the moment with a period foot down and banked slide to round the corner in just the style they used to do it! Another right, then out of the village and back towards the end of the lap and as I rounded the next corner I could see a Marshal frantically waving a Red Flag. Fortunately I had ample time to close the throttle, lift the valve decompressor and slide to a halt with two large leather boots on the tarmac. Next to me was waiting, Guy Martin (later to lap in the proper races at a 129mph average speed!); I had no idea why we were being stopped.
With 100 riders leaving in pairs at 30 second intervals, this meant that it took 25 minutes to start the event and Guy and I were only a mile from the finish of the 16 mile course. For what seemed like an eternity, and with a couple of other riders arriving at the stoppage point, I was eventually allowed to proceed. With a slight uphill gradient, I demanded the assistance of a push from a bewildered Marshall and I was away at full pace.
I swept into St.John's and with the huge crowd waving enthusiastically and the V-twin engine spinning like a turbine, I crossed the line. First away and first home, what a thrill, what a race... I was ready for the second lap, but to my horror another red flag! With 50 mph on the go, no brakes and this crazy Marshall waving his flag at me I gesticulated for them to get out of the way. I eventually stopped some yards past them to learn that our second circuit had been cancelled due to a technicality relating to the closed roads permit.
It was great fun and a privilege to be involved and I thank Roy Richards for lending me his very precious motorcycle.
P.S. Fowlers fastest lap in 1907 was 21 minutes; average speed of almost 43 mph. I was about the same. In 1907 the roads were terrible, loose stones, horse shoe nails everywhere and even acid sprayed on them to curb the dust!
George Cohen. 12th June 2007
---
The c1903 Energette, Norton's first motorcycle.
Latest restoration.
The story of this machine and others are to be found in my book.[1]
---
National Motorcycle Museum Tragedy Click here to Download Video (video missing) of the Rem Fowler Norton at the post-TT meeting at Mallory Park in June 2005. I am in the leathers with no head and ex-sidecar world champion, Stan Dibben, is helping.
Roy Richards, the museum owner, gave me three of the Flat Tank Nortons to repair, they were in a sorry state. A c1927 Model 21, a c1921 Brooklands side valve racer and Rem Fowler's 1907 TT winning machine Click on thumb nails to see the mess!
Progress at 22.4.2004:
My first impression, when seeing these burnt wrecks was of sadness and despair; it looked as if nothing could be saved. A few months down the road and my initial attitude has dramatically changed. With the help of a few friends who are experts with welding torches, hammers and dollies, wire brushes, polishing mops, and magic wands, we have managed to salvage parts which looked as if they were only fit for the scrap yard. All three frames are now straight and I reckon the Fowler frame now has more straight tubes and perpendicular alignments than it ever had!
When the motorcycles arrived, they were covered in ash and the tool I used most frequently in the first few days was the vacuum cleaner! Everything was dismantled and methodically put into dozens of labelled boxes. So far I have taken over 100 photographs, which has proved invaluable now that I have started to re- assemble, and I have also made a research of the relevant literature at the Beaulieu Museum Library.
One of the most remarkable findings was related to the nickel plated parts. It appears that the shiny nickel had 'reflected' the heat away and both the underlying metal and the plate are preserved, although it has taken a lot of 'elbow grease' to return them to their former glory. I tried various methods of cleaning; vapour blasting, with and without different types of 'grit', different solvents, different cleaners, different polishing mops and their complimentary 'pastes'. Eventually the best result achieved was using a combination of well used 'scotch bright', a small amount of 'Solvol Autosol' and a considerable amount of the aforementioned elbow grease. Components such as girder fork links which looked like barbecued ribs have not only come up like new, but the old nickel has retained a beautiful patina of age; they look superb.
The Fowler machine, as most of you surely must know is powered by a Peugeot V twin engine and is, fortunately, not too badly damaged. There are a couple of cracks on the D/S flywheel and the T/S crank case half is also cracked. These faults are not as a consequence of the fire, but are as a consequence of hard use in the past. Rem gave this machine a jolly good thrashing, both in the 1907 TT race and other competitive events in 1907 and 1908. The flywheels are very heavy, the main shafts tiny in diameter (running in main bearings which are just bronze bushes) and the crankcase walls are unbelievably thin. Remember this is very early automotive engineering and they were yet to comprehend the forces involved in anything rotating faster than a stationery engine! Apparently Rem was revving this engine to 4,000 rpm! No wonder it is cracked. I hope to repair both the cases and the flywheels, but if any ones knows of a spare set then please let me or Roy know.
Some parts on the Model 21 and Brooklands racer are well beyond repair, Best and Lloyd oil pumps have melted away, alloy gearbox casings disappeared, and petrol tanks vanished! I have been able to find some replacements at autojumbles, but I am looking for some real 'rocking horse manure' in the form of dry sump crank cases, gearbox shells and petrol tanks.
The Rem Fowler machine,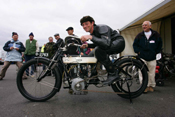 (larger img missing (×)
Pictured at the post TT meeting, Mallory Park, June 2005.
In background to the right is Stan Dibbens, world side car champion with Eric Oliver in 1953
Update at on August 8th FINISHED !!
Made up some new parts for the Brown & Barlow Carb and fitted it to the machine. To my utter amazement not only did it fire up first pedal with this old carb on but it ran more sweetly than with the Amal and even had a tick over!
This machine is now back at the museum.
Update at July 27th
The video clip , shows the engine running. There are air leaks on the rear pot inlet manifold which means she alternates between a single and a twin! I have now repaired these and the bike runs superbly. Very fast and with no brakes it is quite a challenge! To be returned to the museum on August 10th.
Update at 7th May 2005. FIRED UP & RUNNING TODAY!!!
I have temporarily given up with trying to fix the circa 1907 Brown & Barlow carb and have fitted an Amal 276....
Primed the crank cases with Castrol 'R' and with a help of a couple of friends to spin the rear wheel.....dropped the valve lifter and the engine fired up immediately and on both cylinders. Despite fitting a much larger crankcase breather the pressure in the cases builds up and oil was spurting from everywhere! I need to make a few adjustments. I took her for a small jaunt down the lane but the engine was missing on the rear pot.
Update at 8th April: the hardest part, the engine is almost finished and with a bit of luck should be running by the Stafford show. There was very little fire damage, but the engine was in bad shape and John Griffiths never got it to run. If he had it would have gone with a big bang! Both flywheels were cracked where the main shafts located and on one side the big end pin location was also cracked. Consequently the main shafts were well out of true. This meant that the crankcases were subjected to, when it last ran, massive stresses and were seriously cracked.
Although, my overall philosophy was to retain as much of the components as possible, in accordance with 'conservative repair' ideal and the concept of originality, I decided that I wanted to make the machine a runner. Hopefully, if I can persuade a few bods, I will demonstrate the machine at the Post TT Mallory Park meeting at the beginning of June.
New cases have been cast, using the originals as patterns and machine by the Wizard of the Bridgeport mill, Denny Able, who has also made new flywheels from En 8 billet and shafts from En24. We have replaced the phos' bronze main bearings with new ball bearing races, made new big end bushes while retaining the original pin, which was round, true and hard! A few other bits have been machined to fit perfectly. The con-rods, pistons and barrels have not been replaced.
More news soon.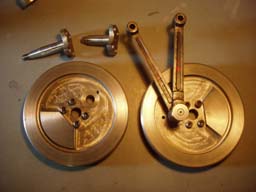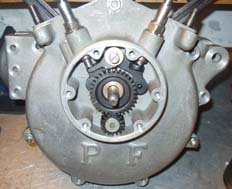 This is what it looked like after the fire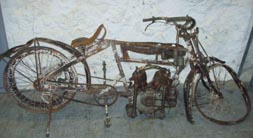 .....and this is what it looks like now.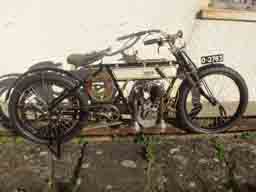 Not Rem Fowler, but your scribe at the re-opening of the NMM....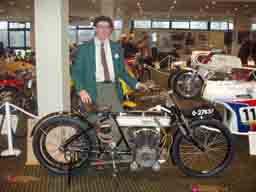 (larger images missing (×)
I have learnt a considerable amount about Edwardian Nortons in the last six months and I am now beginning to piece the story together. This machine (with two other veterans) was discovered in Burwash, Sussex by the late Dereck Hilton of Maidstone (as yet year unknown) and purchased in a very sorry state by Percy Webb, also of >Maidstone in the mid-fifties. Webb restored the machine (see The Classic Motorcycle, Aug. 1985) and sold it John Griffiths on the 30th April 1957 for just £ 45. Griffiths had a few components nickel plated at Barrel and Clerkenwell Plating, Finsbury, and on the 5th May 1957 he re-assembled the machine with the help of his neighbour, John Edmunds. John telephoned me in late July 2004 and told me that he had kept a diary all his life and on that day he had written: "helped John rebuild Rem's motorcycle....." The following Sunday, John took the machine to Rem's home in Shirley, Birmingham and the story of that meeting is told in Griffith's article in the MotorCycling, 16th May 1957
Rem's 1907 TT machine is not entirely the motorcycle in my work shop, but what racing machine retains its components? From 1907 to the current day, racing motorcycles get crashed, thrashed and bashed. Engines blow up and are replaced by updated units, frames break and are also replaced, leaky petrol tanks get replaced by new ones and so on. Rem, himself , told John Griffiths in 1957 (reference: Motor Cycling 16.5.57) that the frames used to break on the 1907 models at the steering head, and were often replaced by the stronger 1908 types which had extra bracing around the steering head. Rem recognised the engine as being from his 1907 mount and both Griffiths and myself have spotted the "07" on the fork crown lug.
I have recently spoken with Titch Allen about the machine and he agrees with me that there are very many stories about this famous machine: "it was run over by a bus", "it was sold to Australia", "it was run over and then burnt", "it was a fake by Bill Fruin ", "it was broken up at the factory", "it was a replica.....". Rem is no longer with us, but he told Titch and he has told me!
As I repair and fettle every single component in my workshop, research the literature in the motoring libraries, and listen to more stories, I am getting to know the 'Rem Fowler Norton' very well. I feel quite honoured to be involved with its history and I am very excited about the fact that I will be riding it this year!
Fired up the Brooklands machine three times now and all appears to be well; staccato, staccato, staccato... blat-blat-blat.....and a good waft of Castrol 'R'!!! Need to do some carburettor/float tuning and then a test run this weekend. I have returned the OHV machine and the Brooklands to the Museum.
Testing the carb, float, tap and piping for leaks prior to final fitting on the Brooklands bike. The carb is a TT Amac and is entirely the one rescued from the fire. The solder had melted from the float bowl, which was consequently in two pieces and the body of the carb was bent, bashed and distorted. Inevitably the slide was well stuck and the top ring threads on the piss! I have managed to repair it and the photo shows the final test. I like to use 'Old Virginia' rather than petrol for this operation. More often than not the system usually dribbles from somewhere and instead of getting smelly petrol all over your hands, you can just lick those fingers and slurp down the spills! In this case, I only needed to 'lap in' (using solvol autosol) the bottom of the float bowl union to 'carb jet holder bolt'.
Close detail of the Brooklands machine, compare with the 'burnt out wreck' photo lower down the page.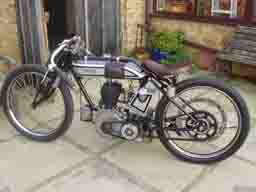 The engine fired up after a good flooding on the float, but died after a few seconds; repeated the scenario again, so I guess I need to look out the float height. This is now sorted.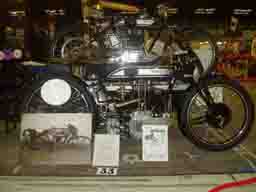 OHV and SV at the recent Stafford Show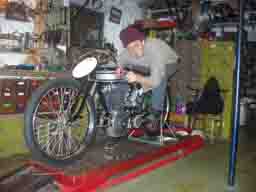 Brooklands machine being bench tested.[1]
Finished!!!!
All six wheels have now been completed and this has been one of the hardest jobs. The rim supplier, a chap to drill the holes in the correct place, to the nickel platers, to the paintman for striping, to the wheelbuilder, to the tool maker, to the tyre man and back to me! I have retained the original rim, belt rim and spokes from Rem's rear and even retained the spindle, cup and cones. Just some new balls, a splash of paint and a true up! The other five have new rims, spokes, spindles and an update on the bearings.
The Brooklands machine will be the first finished. All the parts for the engine have been done and it looks like new inside! A new big end from EN36, has been machined, then sent for carburising, then thread cutting, then heat treatment, then grinding.....all work is perfect (the heat treatment done thru' the 'back door' by the chaps who do Formula One cam shaft heat treatment!!!!)...only the best! Also a new small end, pin and piston. This engine is to total Dan O'Donovan specification! and I will assemble it soon. Next main job is to make/buy/borrow/steal all the various nuts, bolts, washers, fasteners, do-das and little bits which I have been unable to retain from the machines and send them off for nickel plating.
I have made it my philosophy to retain as much as I can and have only replaced parts which were either worn out from previous use or too badly fire damaged. I hope to have this machine running at the Stafford Bike show in October.
The Model 21 has become a Model 18, because I was unable to find a replacement for the dry sump cases. This was by far the most fire damaged machine of the three and is consequently proving to be the most difficult.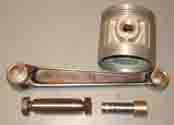 Brooklands rod and new ends.....
Engine should be a flyer!!!!!!!
Just some of the Cammy engines currently in my workshop. CJ. Model 30s and 40s. A 40M and a 30M. Every time I rebuild an engine I learn something new. It is amazing how many variations appear on the common theme, a consequence of both factory specifications changes and years of abuse from mechanics who know how to bodge things!
Beware to those who are trying an OHC rebuild for the first time... there are many traps!
The crash helmet is important workshop safety equipment used to avoid injury from falling spare parts.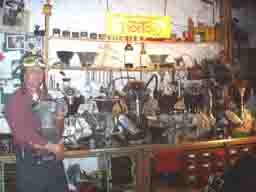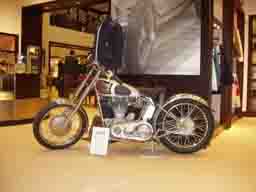 The fabulous "Easy Two" Special on show at Dunhill's, Jermyn St. London!
My long time friend, Dickeo Mileo de Raceo, ( alias Dick Miles ) is featured on this page. Dick lives in Coatesville, PA. U.S.A.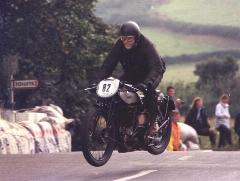 Dick takes Ballaugh Bridge at the Isle of Man on his 1932 Norton in 1998![1]
ULSTER GRAND PRIX 2001
The three Nortons in this picture:
No.26 is a 90 bore Molnar Manx, kindly loaned to us by Andy Molnar of "Stainless Eng. Co." ( see links page to get to his web site where you can buy everything for a Manx Norton; from a single nut to a complete machine ). This machine is the ultimate development of the Manx and was ridden by my friend John Leigh-Pemberton. He was 3rd fastest in practice but unfortunately the race was cancelled, for various reasons. No.30 is my long- stroke Manx and I rode it in the parade laps. The third machine is the Steve Spray championship winning rotary The chap in the hat is me!!!!
I was kindly invited, by Mike Jackson (new president of the NOC), to the Louis Vitton classic on 3rd June 2000. This is me pretending to be Tazio Nuvolari with my 1926 TT Norton. Click on image for larger picture!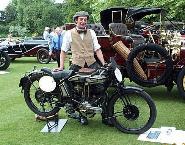 BARRY SHEENE MBE 1950 - 2003
Motorcycling has lost one of the all-time great British sporting heroes, with the passing of Barry Sheene MBE, on the 10th of March 2003, following a 12 month illness of cancer of the stomach. Although, associated with Suzukis during his all conquering years, Barry rode Manx Norton's for the past four seasons and he rode them very fast and with great style. As a very young motorcyclist, Sheene was my hero and I used to read about his early racing successes every Wednesday in the motorcycling papers. I watched him during the seventies, when he had his epic battles with Kenny Roberts in the world championship races and when he won most of the transatlantic match races. As a track side Medical Officer, I would see him flash by, just a few feet away, and I recall our horror when he had his big Silverstone crash in 1982. Barry was a frequent visitor to the orthopaedic (bone-man) departments, at hospitals all over the world. He must have been close to death on at least two occasions. Barry told me, last September, that his body was so full of metal bits that that the diagnosis of cancer should be changed to 'rust'!*
About five years ago, Barry returned to his 'nadir' and started competing in a few Classic races on a Manx Norton, a type of machine he had never ridden before; four stroke and one pot, vis a vis, two stroke and a lots of pots! Watching him lean a Manx over on the approach to Woodcote, at Goodwood last year, was breathtaking. Barry won his last race on a Norton, just six months ago, at the famous Sussex circuit. I knew he was ill and I guess Barry did as well, but nobody would have guessed he was so close to death. He was laughing, joking, the very personification of the 'cheeky Cockney', and signing autographs by the thousand. Barry was the BIG attraction at a meeting which was swarming with famous motor racing stars. Most famous people are distant; success and all its trappings move them onto a different wave length from 'Joe Public'. Barry remained on the same 'channel' from his first motorcycling days to his last; he entertained the crowds on the track and in the paddock.
A top man in every way, Barry we will miss you very much.
Click on the thumbnails...[1]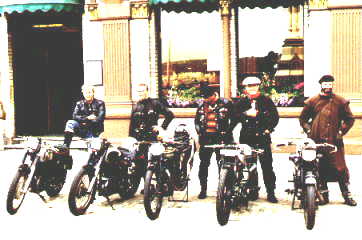 TEAM NORTON MANX GRAND PRIX 1989
Guss Buttler, Guss Cohen, Geo Cohen, Dick Miles, Flash Gordon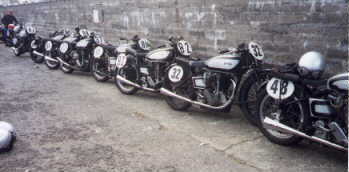 A LINE UP OF CAMMY NORTONS AFTER THE 1997 TT IOM PARADE LAP; IT COULD ALMOST BE FORTY YEARS AGO....If you want to join in the fun then please let me know!
NOC team of pre-war cammies win Moto Challenge of GB Classic trophy
Norton Owners Club "pre-war cammy" team win
Moto Challenge Trophy
Glorious weather greeted the entrants to Nick Saunders 'Moto Challenge of Great Britain' arriving at Santa Pod Raceway, near Bedford, for a series of timed quarter mile sprints. 61 modern 'bikes' and three REAL MOTORCYCLES.
Myself, 1937 Norton CS1; Simon 'Kipper' Fisher, 1933 Model 30 and Miles 'Slapper' Robinson, 1934 Model 30, had entered this gruelling challenge aboard a trio of Bracebridge Streets finest sporting mounts. These were basically the same machines which the likes of Woods and Guthrie were winning all the TT and GP races of the era. Lovingly prepared and after weeks of intensive practicing and training, the NOC team repeatedly thrashed their machines down the black strip at the 'Pod'. All the modern bikes looked a lot faster, but we were the centre of interest. After the 'racing', we topped up the oil and petrol tanks and consumed vast quantities of IPA and look forward to the following day.
Up at the crack of dawn, we left the Pod at 7am and 170 miles and four hours later we were at the Bryn Bach Parc Hill Climb, near Merthyr Tydfil. We would have done it in three, but there were numerous breaks to replenish Nicotine levels and my gear box change return spring had to be replaced; fortunately we had a spare and the job took as long as brewing up a cuppa! We then each made four runs up the hill and after lunch took the machines back to the public roads. An outstanding route, with all three ' Cammies' on full chat, took us through mid Wales to the Bwych-y-Groes Pass, which is the highest road pass in Wales. With an average gradient of 1 in 7 and a maximum of 1 in 5, and 1 ½ miles in length, it remains a Challenge to this day, just as it was to the competitors of the Maudes trophy and the pioneer motorcyclists. A few runs up the pass, one of which was filmed by Mr. Saunders, riding pillion 'back to front', the scenery was outstanding and our machines ran perfectly. Over 300 road miles, and two events in one day was a good challenge and we completed it without mishap. The three OHC Nortons were well and truly thrashed and at the end of the day our efforts were rewarded by winning the BIG trophy, presented by Holden's! The 61 riders of modern machines were amazed at both the speed and reliability of machines, which to the majority of them were looked upon as museum pieces. We were noisy, we polluted the air with Castrol 'R' fumes and we had a great time!
Dr. 'Norton' George Cohen.
Four photographs of 1926 model 44, which was the OHV, 588cc, four speed mount used to pull a chair; in this case a Norton Sports Special. The outfit is built as a Tourist Trophy Replica and the action shots are taken during the VMCC closed roads run at the Manx Grand Prix in 1994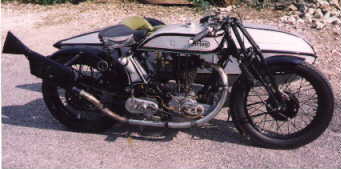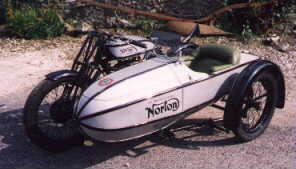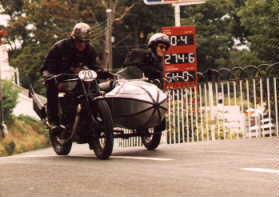 George Cohen with Sarah Pearce in the hot seat at Ballaugh Bridge and the approach to Braddan Bridge.[1]
---
This web-site has been fired up since November 1997 and I have already made many new friends from all over the globe....and we share an enthusiasm for noisy, oily and old Nortons . They are, quite simply, one of the best ways to have a good time. All the best friends that I have made in the last thirty years have been via a motorcycle connection....howdy to you all!!!!
PLEASE can I remind you be specific about your email enquiries; no more questions about Commandos (they have TWO cylinders and my area of knowledge is about SINGLES). It is also useful to know from what part of the universe you are calling from and if you have the time, to let me know how you located my site. Thank you.

Notes
1. Larger versions of many images are missing (×)
---