LITERATURE & MEMORABILIA
Flat Tank Norton Book.
Refurbishing
Apologies for the dropsheets, paint tins and scattered detrius. More information...
260 pages, 600 photographs/illustrations hardback, £35. Contains all my archive material.
95% of the pictures and most of the material are previously unpublished.
Many stories from the likes of Rem Fowler, Dan O'Donovan, Rex Judd, Pat Driscoll, Dan Bradbury and of course letters and lectures by James Lansdowne Norton himself.
Limited edition of 2,000; 1,800 sold so far. JUST 200 left. Since October 2006.
100 signed & numbered Leather-bound copies at £100 SOLD OUT
REVIEWS and TESTIMONIALS:
"an absolutely stunning book, a definitive masterpiece". --- Murray Walker.
"Flat Tank Norton is arguably the best pre-1930 publication, about any brand, to date". --- Mike Jackson
"fantastic". --- Hugo Wilson
To Order a copy:
Post and pack': £7 to UK, £13 Europe and £19 to Rest of World. (Book weighs 1.34kg!)
Insurance is £1 extra for UK, £3 for Europe and £5 for rest of the world. I send by the Post Office, which appears to be 99.5 % safe (one book out of about 200 gets lost or is damaged). The insurance is the buyers responsibility.
When requesting a copy of the book, please title your email as 'flat tank book' and please make sure that if you are from outside the U.K. that all currency exchange fees are made by you.
Payment by :Personal cheque, payable to J. C. COHEN; (provided it is from a UK bank)
PayPal(please add £2 for this service) THIS IS EASIEST WAY if you from abroad.
ordirect Bank transfer (I will reply with bank transfer details) to:
Nortongeorge Publishing, Manor Farm, Chillington, Ilminster, Somerset TA19 0PU U.K.
No credit cards
Leatherbound is Black Antelope with Silver foil lettering, red ribbon book mark and silver stitched binding.
Just 100 numbered copies and ALL NOW SOLD
This picture shows my daughter, Camilla and her friend Mary at the book launch in October 2006. (×)
During the Edwardian era, Norton machines were consistently winning many speed trials and hill climbs. When James Lansdowne Norton was asked on how he managed to obtain such power and results, the cagey engineer would reply:
"THE SPEED IS THE DIFFERENCE AND THE DIFFERENCE IS THE SPEED!".
He would never give details of his design to the press!!
LITERATURE & MEMORABILIA LIST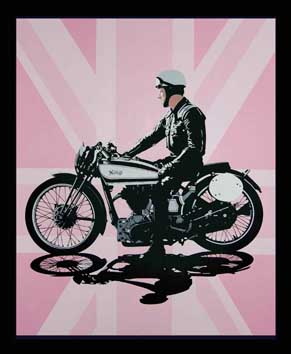 Norton Jack
By Conrad Leach
£550.00 plus £50.00 delivery in UK .
Box framed 46 X 34 inches.
Float mounted
Edition of 30.
Giclee on archival paper stock.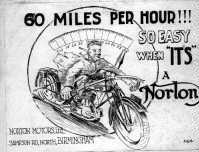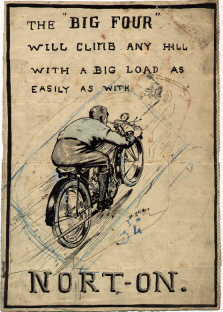 TWO ORIGINAL DRAWINGS FOR ADVERTISEMENTS, 1916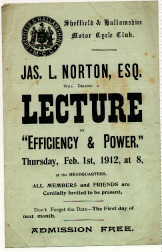 1912 LECTURE POSTER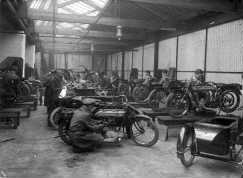 INSIDE THE ASSEMBLY SHOP,1920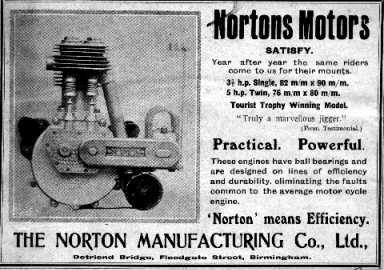 ADVERTISEMENT FROM "THE MOTOR CYCLE", 6th May 1908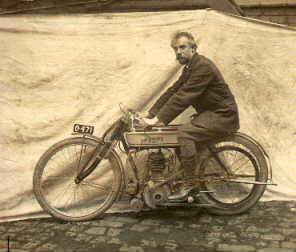 This is a picture of Jas. L. Norton on his 1909 tourist trophy mount, it was the first single cylinder norton machine to be used at the isle of man and had dimensions of 82mm x 94mm, giving a capacity of 496 cc. He retired on the penultimate lap, but did better in the hill climb that year by coming in seventh.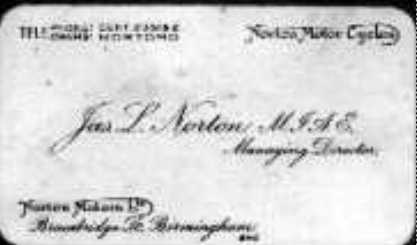 Jas.L.Norton's business card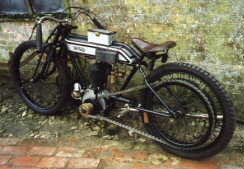 My 1920 Brooklands Racer