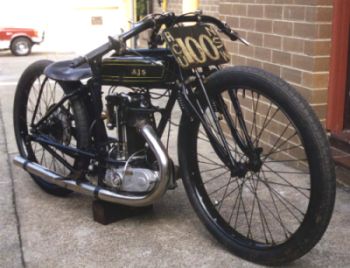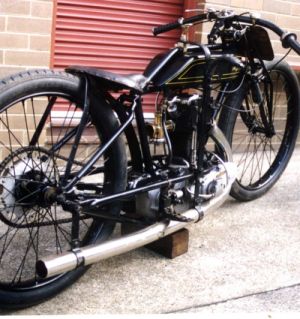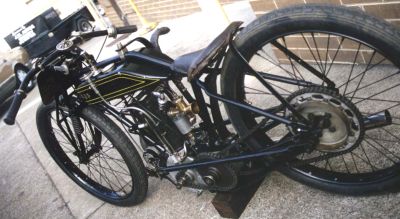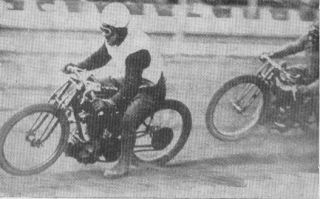 The AJS GR7
The following pictures and accompanying story were kindly sent to me by Steve Magro from Australia, many thanks indeed Steve for this Classic Machine.
Is this the world's oldest speedway bike?
The AJS 'Special Racing' GR7 Big Port is quite possibly the oldest surviving relic of a bygone era: before the term "speedway" was devised , in order to describe a sport where four dare-devil men tear around dirt tracks with no brakes, thick black leathers, trailing their left steel capped shoes behind them.
The 1926 model AJS, owned and carefully restored by Paul Reed of Mount Crosby in Queensland, Australia, is only 350cc (just like the Harley Davidson 'Peashooter'). But it turns heads when it roars into life - its bellowing noise heard from afar.
The bike had been stored under a house for some years by Jean Batros, the wife of deceased owner and Lebanese/Australian dirt track racer Tony Batros. Way back in 1925, Batros was sponsored by the Texaco Oil as well as P&R Williams (Sydney), the AJS distributors who also sponsored legendary pioneer ace Billy Lamont.
Lamont and Batros became good friends and it was not uncommon to see them arrive together at popular speedways, in a Model-T Ford truck, their two AJS machines strapped down tightly in the back.
So what made the AJS 'GR7' the rocket ship of the twenties? The engine came from the factory in England with a special hand finished cylinder head, featuring an exhaust port two inches in diameter (thus the term 'Big Port') which protruded out and faced downward.
The engine's cam spindles utilized ball bearings, unlike other models which had brass bushes. The cams themselves, curiously, were stock standard (dating back to side valve days). However most owners had them re-ground for better performance.
As with other '7' AJS models, the push rods, rocker arms and valve spring retainers were all alloy. The 'Binks' racing carburetor had a one inch (25.4mm)inlet, utilising two jets but no needle. Original compression ratio was 6.5 to 1 (suited to much lower-than-today 70 octane petrol), although 8.5 to 1 pistons were made available for alcohol fuel.
The AJS GR7 was listed in the official factory catalogue as 'Special Racing' as most were sold to selected dealers as 'motor only'. Only 137 units were built and most went to the leading riders of the day, such as Billy Lamont. In 1927 P&R Williams supplied Batros with a fresh motor, which he slotted into his existing E7 chassis.
From that day until his death in 1978, the bike remained a treasured part of the Batros household. Back in '27 it was about the time when shorter quarter-mile(400metre)tracks came into Vogue. While Batros apparently struggled once he moved from the big half-milers, Lamont adapted to the smaller tracks to win in major cities, thrilling the crowds with his death defying antics leg trailing on deep cinder tracks.
Soon Lamont concluded that the standard AJS frame needed to be shortened and lowered for the shorter tracks - Both bikes were recalled by the P&R Williams Racing Team and in the workshop their frame experts shortened the chassis by a massive four inches. Additional tubes were also mounted, from the rear wheel spindle to both front and rear crankcase bolts, which helped keep the frame stiff and helped prevent chains from coming adrift. The front forks were also shortened and a leg-trailing knee hook was fitted to the right side of the machine. According to Lamont, the braced and shorter front forks meant that the 'springs' were in fact made rigid, to stop the front wheel from hitting the steering head!
But despite enduring what must have been a VERY rough ride, Lamont claimed that once a rider had mastered the technique he would go faster because their was more traction.
They sure were tough old nuts in Speedway's early days! Reed agrees: "The bike has no fork springs, or seat springs.In fact the only springs that work are the valve springs. It breaks into a slide very easily with the narrow high pressure tyres as well." Other peculiarities: The clutch consists of an alloy sprocket with one studded plate made of dry cork(!), squeezed between two alloy plates and one coil spring. The bike had a hand change three speed gearbox which obviously was left in top gear for speedway. There is an oil hand pump on top of the fuel tank which needed to be pumped before each race to lubricate engine parts. A grease gun was carried to race meetings to grease the exposed rocker arms, while an oil can is used to oil the valve stems and pushrods (all of these components can be seen moving whilst the engine is running).
The bike has no air cleaner, exhaust muffler of rear mud guard. In fact, the rider's seat is mounted perilously close to the rear wheel! Tony Batros ventured to Sydney in January 1926, to contest the 350cc 100 mile race at the perilously-banked concrete saucer: Maroubra Speedway. But his day came to an end after enduring problems with his earlier-model AJS 'E7'. The race was won by Bill Pole (who rode a GR7), posting an average speed of 72mph - which was faster than the 500cc race!
Two months later the Newcastle Speedway (then half-mile) featured a special match race: Kev Carmody's 500cc mount was challenged and beaten by local star Ross Williamson riding a GR7. Williamson also reportedly broke the 'world record' for six laps on a half mile track - which is quite amazing when you consider the GR7 is only a 350cc machine. AJS utilised this record to capture the imagination of potential customers by taking out full-page advertisements in British motorcycle newspapers. It was quite a feat at the time.
Those were the days when people in the street recognised the stars (and bikes) of the speedways - brands like Harley Davidson, Ariel, Douglas and of course AJS.
The famous daredevils included 'Cyclone' Lamont, Vic Huxley, Buzz Hibberd, Frank Pearce, Charlie Spinks, Dicky Smythe, Paddy Dean and Frank Arthur. Arthur, in fact, rode a GR7 almost identical to that of Tony Batros.

LEFT: Early days at Harringay, and AJS mounted American Cecil Brown being pursued by Vic Huxley.
So what ever happened to Batros?
Based at Cootamundra in rural New South Wales, he raced at various tracks including Wagga, Newcastle and Penrth. He continued racing his GR7 until 1930, but on December 27th that year his close friend Buzz Hibberd, aged 27 of Bankstown in Sydney, was killed at 'Wentworth Oval Speedway' (now Sydney's Wentworth Park Greyhound Stadium). During a race the American star Ray Tauser "slowed suddenly" in front of Hibberd. The local rider collided with Tauser's machine, sustaining fatal head injuries. Batros was so affected by his friend's death that he never raced again.
Despite hard times in more recent years, Batros steadfastly refused to part with his beloved and precious AJS. According to his widow, until his death Batros would frequently spend a quiet hour by his classic steed, reliving the roaring, fabulous 1920's.

The G. R. 7. and G.10 models which are the racing 350 c.c. and 500 c.c. machines differ from standard in having roller main bearings and ball-bearings for the camshafts, and the G. 10 frame is somewhat shorter than the G.8. Both engines have slightly different heads with larger exhaust ports, otherwise the machines are almost standard. The G.10 is still somewhat experimental and is only produced in small numbers as yet, but the G.R. 7. is fully in production.
85 m.p.h. should be fairly easily obtained from the G.6., and I have been timed over a flying quarter-mile on several different occasions at 75 m.p.h. on a sidevalve A. J.S. using 19 tooth engine sprocket giving engine speed in top just under 6,000 r.p.m. The engine must not be more than just warm when starting, as when it gets really hot it will settle down to a maximum sustained speed of just over 6o m.p.h. on the level, though down hill about 8o m.p.h. can be obtained all right, e.g., coming down Snaefell in the I.O.M.
Excerpt from Tuning A.J.S. Motor Cycles for Competition Work by T. G. ROOK. August 1926
Sources: Motor Sport Magazine