Lohner Scooters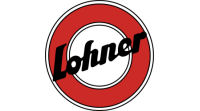 A Brief History of the Marque
Lohner 1950-1958
Lohner scooters had 98 and 123cc Rotax-Sachs and 198cc ILO engines.
Richard Lohner and Ing. Kauba designed their first scooter in 1949, which appeared as the L98 in 1950. By this time Kauba had left to join Kosty. The L98 was followed in 1953 by the L200 and L200S, the latter capable of just over 60 km/h. Sidecars were available, and there was a model which had the sidecar integral - that is, fixed to the body of the scooter.
1954 saw the arrival of the L125, which was to become their most famous and popular model, and in 1958 the L150 appeared, sporting a 4-speed gearbox and good for 85 km/h.
Sissy
The ILO-engined "Sissy" Mopedroller (moped-scooter) appeared in 1957 with a dual seat, dual shock absorbers and leading link forks. This was followed by the Sissy 60 (Sissy II), Sissy 61 (Sissy III), and he last of the Sissy models the Sissy S (Sissy IV), which appeared in 1963. The rather odd looking fuel tank fitted to many machines is actually a removable luggage compartment. The actual fuel tank is directly below the seat.
Established in Vienna by Jacob Lohner, the firm built aircraft in the early 20th century, and after WWI built trams. They produced first-class car bodies and also and an electric automobile designed by Ferdinand Porsche c1900.
After WWII they began building scooters and mopeds and in 1959 merged with the Rotax engine company to form Lohner-Rotax. This firm was acquired by Bombardier of Canada, and was renamed Bombardier-Rotax GmbH.
An E-bike was announced in late 2014, the Lohner Stroler.
German literature refers to Lohner Großroller
Sources: Tragatsch, motomobil.at, mvca.at, et al.
---
Date: Mon, 24 Jul 2017
ilias.karagiorgos at gmail.com
Restoration Lohner sissy
Hello from Greece! I found my grandfather's old scooter , which is a lohner sissy. I don't know the age and the year of the model. I can send you a photo of this scooter and you can help me if I can restorate. I want to ask if I can find used or new parts of this scooter or a book from his history. Please contact me for more details in my e-mail. Thank you..
Ilias karagiorgos
Athens Greece
Please send photos along with engine and frame number. An image of the manufacturer ID plate would be particularly helpful.
---
Wed Jul 29 2009
alsenor at ggholidaydot com
my old Lohner 125
Lohner 125
you asked for it
Oregon, USA
.........
Well, I lived in Vienna when I had the Lohner.
BTW, I just looked at the HMW page (I had a HMW Supersport before the Lohner), and noticed my very first Moped wasn't listed as a user of the Halleiner motor. It was a small bicycle builder in my district of the city, by the name of Delta Gnom, who built a very sporty looking moped with HMW motors. I had one in silver, with a tiny standard fairing on it, and a swing fork in front.
A.W.
Sun Sep 14 2008
jmvillani at aoldot com
Lohner scooter
Lohner not sure
I have inheirited this scooter and would like to find information about its restored value. Thanks
Joe Villani
Maine, USA
---
Fri Sep 29 2006
vasmos at otenet.gr
looking for manufacturers colors
lohner sissy 2 mod:1960
I find this bike in a dump but somebody paint with a brush.you please can send me a color photo. i wand see the colors i thing is two.thang you!!
Greece



Lohner Sissy 1960
---
Fri Jan 27 2006
peter.waschka at hotkey.net.au
Austrian Motorcycles
There was a company in Vienna, Lohner, who made scooters 125ccm
If you have a query about Lohner Scooters, or wish to share some information about these classic Austrian machines, please contact us
---