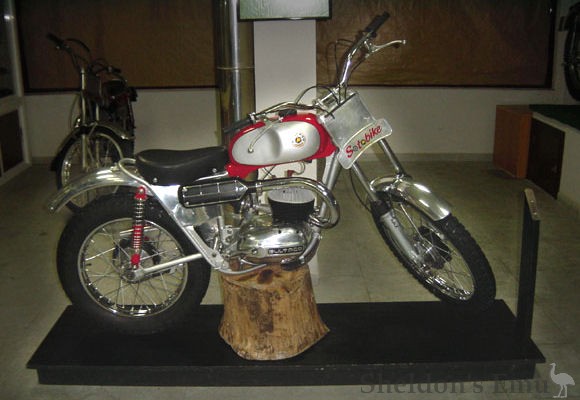 Bultaco Sherpa T Sammy Miller 1964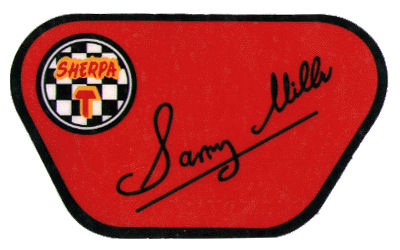 Bultaco Sherpa T Sammy Miller 1964
Propietario: Manuel Casado
Corrían los años 60, el deporte del Trial se gestaba en Inglaterra, derivado de otras disciplinas del motociclismo de montaña. Por aquella época, no había motos desarrolladas específicamente para la practica del Trial, los pilotos competían con motos de las marcas Ariel, BSA, AJS, Royal Enfield Etc. Eran motos de carretera, con pesados motores de cuatro tiempos, que se modificaban para la práctica de este deporte, pero el peso y la falta de manejabilidad, hacían que estas motos no fueran la mejor herramienta para la practica del este deporte.
En 1.963, durante los ISDT, Sammy Miller solicitó a D. Paco Bultó el diseño de una nueva moto de Trial, D. Paco aceptó, y en poco más de una semana, Alberto Nomen, terminó el primer prototipo de la moto que iba a revolucionar este deporte.
Basada en la Sherpa N, con motor San Antonio 1, aumentado a 250 c.c., del que hay que destacar su curiosa culata de aletas radiales, cambio de 4 velocidades y escape adaptados a su nueva utilización, y la mayor entrega de potencia del momento para un motor de su cilindrada, 18 C.V. a 8.000 r.p.m.
Tras casi un año de desarrollo del prototipo a cargo de Bultaco, Sammy Miller y los Hermanos Rickman (Importadores de Bultaco en Inglaterra), la versión definitiva apareció, por primera vez, en un ensayo de la revista Motor Cycling, el 16 de Enero de 1.965, siendo su presentación al público en el Salón del Automóvil de Barcelona de 1965.
Sammy Miller ganaba los Seis Días de Trial de Escocia, siendo la primera vez en la historia, que una motocicleta extranjera y con motor de dos tiempos, ganaba aquella dura prueba. Así mismo, Sammy Miller consiguió él titulo del campeonato de Trial Británico de aquél año ganando las 15 pruebas de que constaba.
Había nacido la SHERPA T, y con ella un nuevo concepto de este deporte.
Algunas imágenes de Sammy Miller con la Sherpa en acción:
Recopilación de Datos: Felix García
---
Some information about the model:
It was the 60s, the sport of Trial was born in England, derived from other disciplines of mountain motorcycling. At that time, there were no motorcycles specifically developed for the practice of Trial, the pilots competed with motorcycles of the Ariel, BSA, AJS, Royal Enfield Etc. brands. They were road motorcycles, with heavy four-stroke engines, which were modified for the practice of this sport, but the weight and the lack of maneuverability made these motorcycles not the best tool for the practice of this sport.
During the 1963 ISDT Sammy Miller asked D. Paco Bultó to design a new trials motorcycle, D. Paco accepted, and in just over a week Alberto Nomen finished the first prototype of the motorcycle that would revolutionize this sport.
Based on the Sherpa N, with a San Antonio 1 engine increased to 250 c.c.. Notable for its curious cylinder head with radial fins, it had 4-speed transmission and an exhaust adapted to the purpose. The engine delivered considerable power for one of that displacement: 18 C.V. at 8,000 r.p.m.
After almost a year of developing the prototype by Bultaco, Sammy Miller and the Rickman Brothers (Bultaco Importers in England), the final version appeared for the first time in an essay in Motor Cycling magazine on January 16, 1965, and was presented at the Barcelona Motor Show later in the year.
Sammy Miller won the Scottish Six Days Trial, the first time in history that a foreign motorcycle with a two-stroke engine won that gruelling event. Likewise, Sammy Miller won the title of the British Trial Championship that year, winning all 15 events in the series.
The SHERPA T was born, and with it a new concept of this sport.
Some images of Sammy Miller with the Sherpa in action:
Ficha técnica (ES/English)
Modelo 10.
Fabricación: 1964 – 1967
Numeración: 10.000.001
Motor San Antonio 1.
Monocilindrico / dos tiempos / refrigerado por aire.
Cilindrada 244,29 c.c.
Diámetro / Carrera 72 x 60 mm.
Compresión 8:1.
Potencia máxima 18 CV a 8.000 r.p.m.
Carburador IRZ Tipo 24EC 24 m.m.
Encendido FEMSA VAR 125-4.
Bujía KLG FE55P.
Carburante: mezcla de gasolina con aceite.
Velocidades: 4 (0,350/0,454/0,831/1).
Transmisión primaria por cadena.
Transmisión secundaria por cadena.
Embrague discos múltiples en baño de aceite.
Bastidor simple cuna.
Suspensión delantera horquilla telescópica Bultaco.
Suspensión trasera Basculante + Amortiguadores Betor.
Frenos de tambor.
Ruedas ant. 2,75" x 21", post. 4,00" x 18".
Deposito de 8 L.
Source: Motocra
---