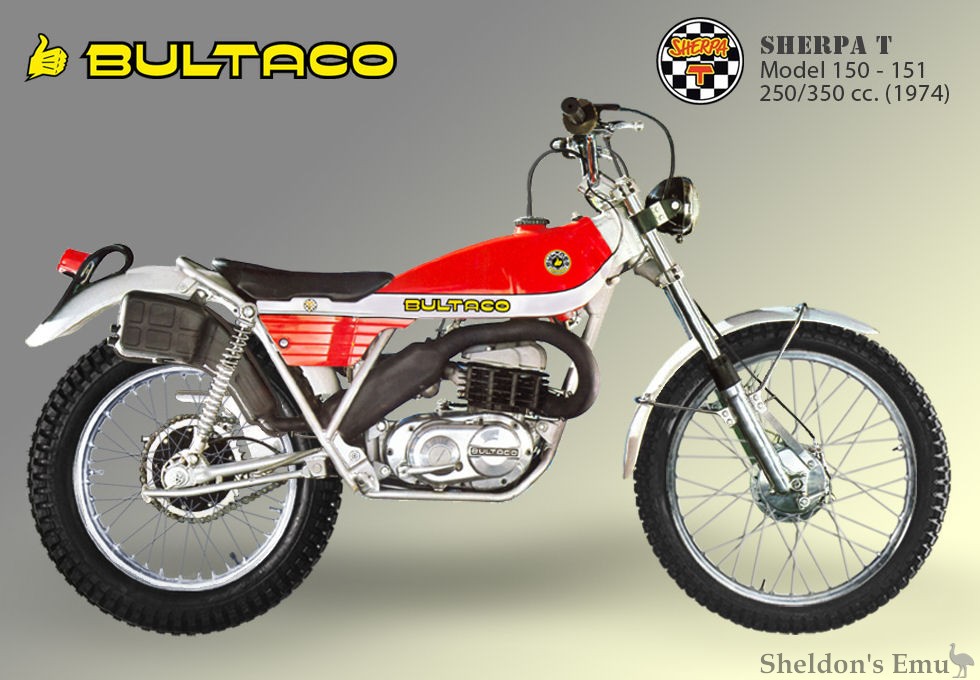 Bultaco Sherpa T 350 M.151 1974
Model history:
The Model 151 continues to use the Champion kit (seat tank assembly) and undergoes certain modifications with respect to the 73 model, such as reinforcement of the chassis, cylinder head to chassis brace, a new clutch cover and a more efficient silencer with a different shape to the muffler. With this model Martin Lampkin won the World Championship in 1975.
Bultaco Sherpa T 350 mod. 151 "kit Campeón" 1974
Propietario: Alberto Curieses
Historia del modelo :
Sigue utilizando el kit campeón (conjunto depósito asiento) y sufre ciertas modificaciones con respecto al modelo del 73 como el refuerzo del chasis, la fijación culata- chásis, un nuevo carter de embrague y un silencioso más eficaz pero con diferente forma en su parte final. Con ella Martin Lampkin ganaba en 1975 el primer Campeonato del mundo que se disputaba.
Alberto Curieses
---
Source: Motocra Archive
Image is from wikitrials.org (original missing from archive)
---