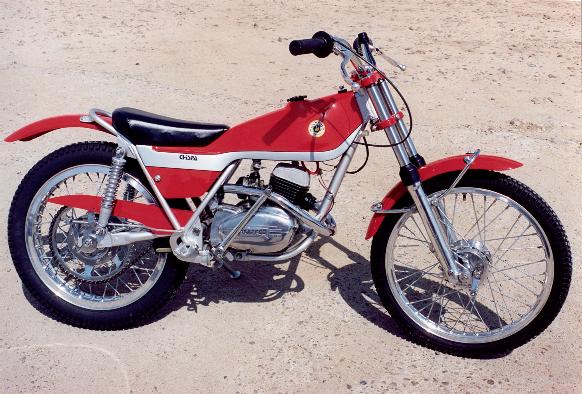 Bultaco Chispa 49 1974
Bultaco Chispa 50
Propietario: Jose Manuel Durante
Historia del modelo:
Esta unidad fue el modelo 111... de fabricación y se fabrico entre el 74 y el 79.Fue un producto solicitado a Bultó por sus distribuidores debido al exito que su homologa Cota 25 estaba teniendo en el mercado y puesta a punto por los hijos de Bultó. Su motor es un Ducati de 49 c.c. adaptado al trial,siendo una copia de la Sherpa T pero a escala infantil, una autentica moto de trial. Desarrolla 2cv y tiene un carburador Dell´Orto 14/12y ruedas de 2.00/16 delante y 2.5/15 en la trasera.
---
Model Information
This unit was model 111 manufactured between 1974 and 1979. It was a product requested from Bultaco by its distributors due to the success that its counterpart Cota 25 was having in the market. Fine-tuned by the children of Bultó, the engine is a Ducati 49 c.c. adapted to trial, being a scaled down copy of the Sherpa T, and is an authentic trials bike. It develops 2 h.p. and has a Dell'Orto 14/12 carburettor, with wheels of 2.00/16 at the front and 2.5/15 at the rear.
Source: Motocra
---