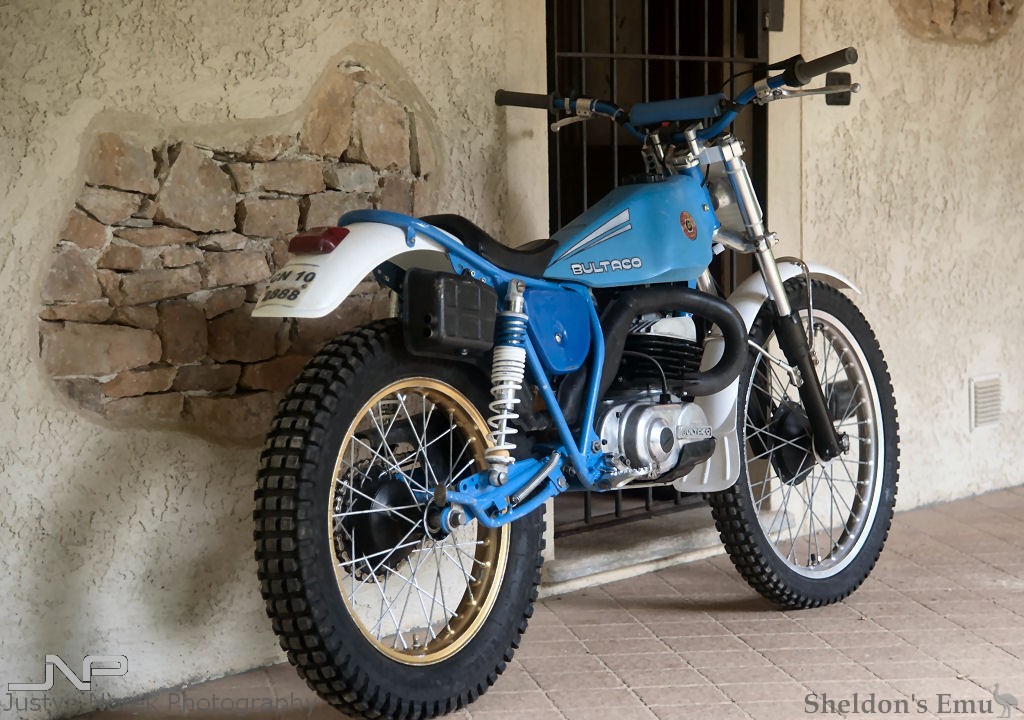 Bultaco Sherpa T 350 M199A 1980
Propietario: Felix García (1) Modelo 199A "A FONDO": Modelo modificado por A FONDO, (empresa especializada en preparaciones de motos de competición) este modelo tiene el chasis recortado y filtro de aire con mayor capacidad de aspiración.
---
Model 199A "A FONDO":
Modified model by A FONDO, (a company specializing in preparations for competition motorcycles) this model has a shortened chassis and an air filter with greater suction capacity.
Ficha Técnica (ES/EN)

Motor:

dos tiempos / refrigerado por aire

Carrera y diámetro:

83,2 x 60 mm.

Cubicaje:

326,2 c.c.

Relación de compresión:

9:1

Potencia:

20,8 CV a 6.500 r.p.m.

Carburador:

Bing 84 - 28 m.m.

Engrase:

mezcla de gasolina super con aceite 2T al 5%

Cambio:

5 velocidades

Encendido:

volante magnético con bobina de 6V, 40W.

Frenos:

tambor de 125 x 25 m.m.

Ruedas:

2,75" x 21", post. 4,00" x 18".

Capacidad de deposito:

5 L.

Peso:

92,5 Kg.
N.B. 1. The Spanish text gives Felix García as the owner. The original image is missing from the archive, and the machine pictured is from the collection of Riccardo Aime, photographed by Justyn Norek and referred to in this article: Three Generations
Source: Motocra