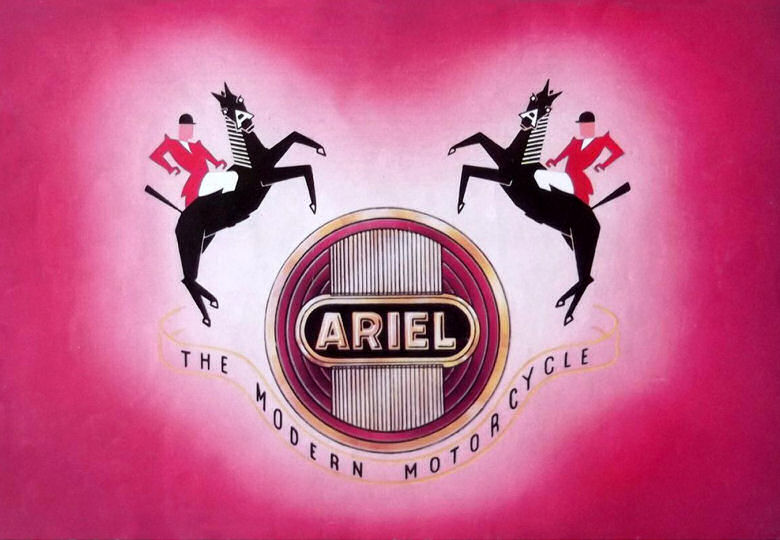 Ariel Motorcycles
Models Produced from 1898 to 1965
1898 Ariel De-Dion Tricycle
1901 Ariel £50
1903 Ariel 2¾ h.p.
1903 Ariel Minerva 47 Guineas
1906 Ariel Magneto ignition
1908 Ariel 2¾ h.p. and 3¼ h.p.
1913 Ariel 3.5 hp 499cc, single-cylinder sv four-stroke
1914 Ariel 350cc 2T
1915 Ariel 1915 V-Twin
1918 Ariel 4 hp White and Poppe engine
1920 Ariel 4½hp 585cc single, 795cc 6-7hp V-twin, 3½hp 498cc sv. 1920 Models
1922 Ariel 8hp MAG Twin, 499cc Sports single. 1922 Models
1923 Ariel 249cc Blackburne, 949cc IOE MAG V-twin, 796cc 6/7hp Twin. 1923 Models
1926 Ariel Model D 500cc Four-stroke OHV single
1926-59 Ariel VB 598cc sv single
1926-35 Ariel 557cc sidevalve singles models A, B, SB, VA
1929 Models
550cc Side Valve, Standard Model A 550cc Side Valve, De Luxe Model B
500cc Two Port O.H.V. Standard Model E
500cc Two Port O.H.V. De Luxe Model F
250cc Side Valve De Luxe Model LB
250cc Two Port O.H.V. De Luxe Model LF
Ariel 1929 Models
1929-32 Ariel LB 250cc side-valve
1929-32 Ariel LF & LG 250cc OHV "Colt"
1940 Ariel VA 500cc Side Valve
1940-45 Ariel W/NG 350cc (Military)
1948 Ariel KG & KH 500cc Twins
1947-58 Ariel VB 598cc sv single
1949-53 Ariel Square Four Mark I 995cc
1949-1953 Ariel VCH 500cc competition
1953 Ariel KHA alloy barrel and head
1952-1953 Ariel VHA 500cc alloy barrel and head
1953-58 Square Four 995cc
1954-1958 Ariel HS Hunter Scrambler 500cc 34bhp
1954 Ariel FH 650cc Huntmaster twin (BSA A10 engine)
1954 Ariel 350cc HT3 Competition Trials
1954-59 Ariel 500cc HT5 Trials
1958-1965 Ariel Leader 250cc two-stroke
1963 Ariel Golden Arrow 250cc
1967 Ariel Arrow 200cc
1969 Ariel 3 Three-wheeler, 50cc Anker engine
---