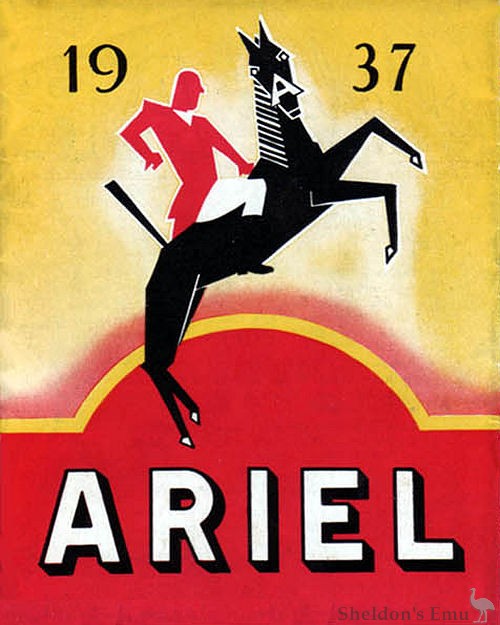 Ariel Models 1937
General Specification for all Models
FRAME - Cradle type. Built of Aero quality tubes. All joints brazed, giving the greatest possible strength and torsional stiffness. Special lugs are provided for sidecar attachment.
FORKS - Steel taper tube girders with massive bridges giving great rigidity for solo or sidecar use. Large central compression spring and hand- controlled friction damper of large area.
STEERING DAMPER - Serrated control knob which will stay at any desired degree of adjustment. Four friction surfaces.
HANDLEBAR - Patent rubber Insulated mounting. Adjustable. Sports pattern grips.
WHEELS - Immensely strong, with butted spokes. Hubs mounted on large diameter taper roller bearings. Rear chain sprocket detachable. Instantly detachable rear wheel can be fitted to any model at an extra charge. (Standard on models 4F and 4G.)
BRAKES - Both brakes 7 in. diameter internal expanding. Millenite drums. Extra wide shoes with fulcrum adjustment for rear brake. Smooth and powerful in operation, with long wearing qualities.
STANDS - Forged steel girder "spring-up" rear, and strong tubular front. Lifting handle on rear mudguard.
FOOTRESTS - Adjustable over wide range. Special lugs are provided on chain stays for pillion footrests.
CONTROLS - Twist grip throttle control. Hand-controlled clutch. All other controls adjustable to suit individual requirements.
SADDLE - Aero elastic soft top. Adjustable.
INSTRUMENT PANEL - Rubber Insulated tank mounting. The panel incorporates the car type oil pressure gauge and the quick release cam- operated filler cap. Provision is also made for gearbox-driven speedometer and clock (see Extras). The panel light, which illuminates all instruments, is detachable for use as an inspection lamp.
IGNITION AND LIGHTING - Lucas 6-volt Magdyno equipment with large 8 in. head lamp, handlebar-controlled dimmer, tail light and automatic voltage control. The battery is mounted on a strong steel platform under the saddle, is easily accessible and is entirely free from vibration.
HORN - Electric, mounted on special bracket in protected position in front of the engine.
EQUIPMENT - Large all-steel tool box with (except on model LG) central screw fastening and water excluding rubber beading. Complete kit of tools, grease gun and tyre inflator.
FINISH - "Three coats of finest black enamel on cosletized (anti-rust) base. All bright parts heavily chromium plated. Tanks are superbly finished according to specification. The "ARIEL" permanent enamel name badges on the tank and on the rear mudguard, give the whole machine an air of great distinction.