Healey Motorcycles
Healey of Worcestershire produced motorcycles between 1971 and 1976.[1]
G. C. & T. Healey
Bartleet Road
Washford Industrial Estate
Redditch B98 0DQ
England
Telephone: Ipsley 3315
After Ariel stopped producing the Square Four in 1959, the Healey Brothers (George and Tim) went foraging for spares and amassed a considerable collection to feed their addiction - they raced Square Fours through the Sixties, including a supercharged sprinter. Before long they began making their own parts and eventually went into business to supply others. That led to the construction, in 1971, of a complete machine by adapting an Egli spine frame from Roger Slater, and using conventional swinging-arm rear suspension rather than the Anstey Link plunger rear suspension, designed by Frank Anstey in 1939 and still in use when the last of the Square Fours left the factory. The frame also carried the engine oil, there was a front tie-bar to support the engine and Metal Profiles forks were fitted. By using wire wheels with Italian hubs and alloy rims, the result combined the old Squariel looks in a modern chassis.
1973 By now, they were fitting disc front brakes.
1974 Alternators were used.
1976 The machines were fitted with cast-alloy wheels and a rear disc-brake. There were also styling changes. However, because of the limited market and the expense of production, no more were made beyond the end of the year. In total, 28 Healey Fours were built.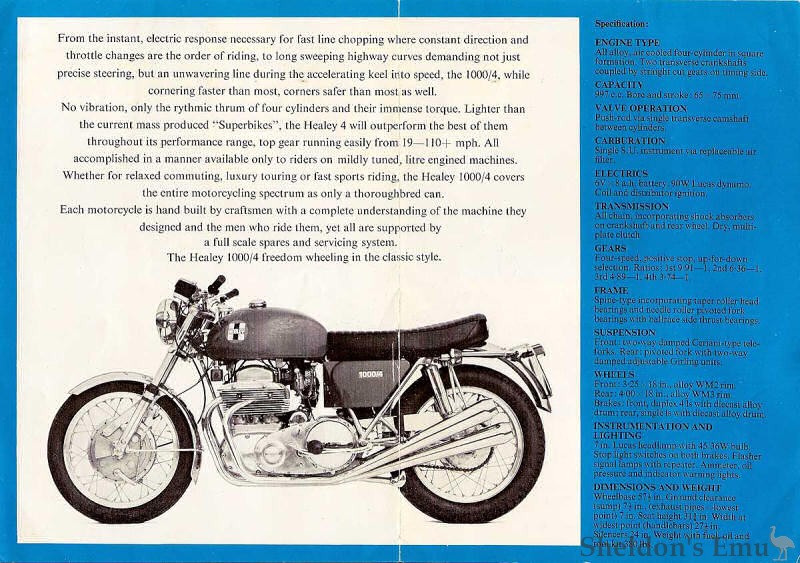 From the instant, electric response necessary for fast line chopping where constant direction and throttle changes are the order of riding, to long sweeping highway curves demanding not just precise steering, but an unwavering line during the accelerating keel into speed, the 1000/4, while cornering faster than most, corners safer than most as well.
No vibration, only the rythmic thrum of four cylinders and their immense torque. Lighter than the current mass produced "Superbikes", the Healey 4 will outperform the best of them throughout its performance range, top gear running easily from 19—110+ mph. All accomplished in a manner available only to riders on mildly tuned, litre engined machines, Whether for relaxed commuting, luxury touring or fast sports riding, the Healey 1000/4 covers the entire motorcycling spectrum as only a thoroughbred can. Each motorcycle is hand built by craftsmen with a complete understanding of the machine they designed and the men who ride them, yet all are supported by a full scale spares and servicing system.
The Healey 1000/4 freedom wheeling in the classic style.
Notes.
1. Possibly 1977
Roger Slater, UK importer of Egli-Vincents, owned the UK manufacturing rights to the Fritz Egli frame.
Sources: Graces Guide, Bonhams.
---
If you have a query about about this page, or have some information to add, please contact us