Motorcycles Built in Czechoslovakia
Notes on some of the rarer Czech marques
This page lists brands of which little historical information is currently available.
For a more complete listing visit the Czech Index.
A
Avon
Marketed by Augustin Vondrich, Prague-Karlín, Vinohradská tr.9, a bicycle dealer, this was a rebranded Premier 98cc Sachs.
Source: South-Bohemian MC Museum, et al.
---
B
Barry
Manufactured by the brothers Bardas in Moravia, 1932-1939
Friedrich Drkosch designed racing motorcycles with 247cc engines, and also the 98cc two-stroke "Barry Volksmotorrad".
Sources: GTU Oldtimerservice
---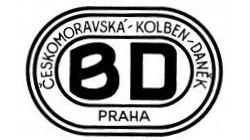 BD
Manufactured by Breitfeld & Danek, Prague 1927-1929
Designed by the famed JF Koch the BD unit-construction DOHC 498cc single quickly became a very popular mount.
BD also built sidecars and sidecar combinations. In 1928 they supplied the police force with 30 such outfits, and 40 solos went to the military.
The firm was purchased by Praga and the BD became the Praga BD - and a legend was born.
Source: South-Bohemian MC Museum
---
Bekamo (CZ)
The Czech branch of the German firm used the Westendarp & Pieper TX machines as the basis for their 129 cc and 173 cc motorcycles, using German Bekamo engines until 1925 when the engines were built locally. There is a suggestion of the use of frames built by Aeros of Kaaden.
The Bekamo factory in Czechoslovakia was active from about 1923 until 1930.

Sources: GTU Oldtimerservice
---
Bezdez
Manufactured in Bezdezem 1923-1926
The Czech factory built auxiliary bicycle engines and light motorcycles with 145cc single-cylinder engines.
Sources: GTU Oldtimerservice
---
Blata
Founded by Pavel Blata in Blansko, production began in the 1980s of scooters and minibikes. Blata himself had been a competition rider in off-road and endurance events. The firm remains active and markets 30 to 40cc machines.
Sources: www.blata.cz, wikipedia
---
BV
Manufactured by Balzer & Vemola, Prostejova 1923-1930
The firm produced almost all components, including engines and gearboxes, in their own factory.
They built a 173 cc two-stroke, along with 346 cc and 496 cc single cylinder four-strokes, and in 1925 an OHC 496cc racing motorcycle.
Sources: GTU Oldtimerservice
---
C
CAS
Manufactured by Ceska Automobilova Spolecnost, Prague 1921-1924
Designed by J. Reichzeigel, the firm produced two-stroke motorcycles and scooters of 173cc and 225cc, some of which were distinctive with their full disc wheels. The scooter was lean, long and low, with the engine mounted behind the forks at the rider's feet, and were built under licence to Autoped of New York where the scooter became notorious as the getaway choice for the world's first bikey gangs.
Cas scooter (1921) - 180cc, 0,9 kW, 35 km/h max speed, weight 48 kg.
The same scooter was also built in the UK, and in Germany by Krupp.
CAS also built microcars powered by 129cc and 147cc boxer-twin engines.
Sources: GTU Oldtimerservice, Tragatsch p 101, oldbike.eu, et al.
---
Caslavia
Manufactured by Buhumil Hudec Velocipedy, Caslav 1902-1903
No further information at present.
Sources: GTU Oldtimerservice
---
D
Dálník
Manufactured by Jan Anderle, Prague
Dálník 250 Prototyp (circa 1942) 248.5cc, 9 hp, weight 120 kg.
Sources: GTU Oldtimerservice
NB. Dalnik is a generic term meaning cabin motorcycle, referred to in German as "einspurauto".
---
E
Eisler
Manufactured by Tovarna na Stroje, Eisler & Spol., Morava 1920-1926
Established as a manufacturer of agricultural machinery, production of auxiliary bicycle engines began around 1920. These 148cc two-strokes were used in their motorcycles which had a bright red chassis.
Sources: GTU Oldtimerservice
---
ESO
Manufactured by Eso (Jawa), Divisov 1949-1969
Built speedway, moto-cross and road-going motorcycles with OHV engines of 250cc to 500cc. Early in the 1960s production was devoted entirely to speedway machines, and this factory was taken over by Jawa in 1969. Production of the speedway bikes continued but under the Jawa name.
See also ESO Joli
Sources: GTU Oldtimerservice
---
H
Hurikan
---
I
Itar
Manufactured by Jaroslav Janatka, Automontage, Prague, 1920s
Itar motorcycles were initially supplied almost exclusively to the Czech armed forces, but orders ceased in 1926 and the firm experience difficulties. It was taken over, and construction was limited to single cylinder models of the British fashion. Production stopped in 1930.
Itar 710 of 1924: 706 cm3, 14 hp, 90 km/h max speed, 170 kg weight. Boxer engine positioned longitudinally.
Itar 1926-1930. JAP ohv engine, 350cc and 500cc, Burman Gearbox, drum brakes front and rear (1929).
Source: South-Bohemian MC Museum
---
J
JAC
Manufactured by Tovarna na Motocykly, JA Cvach, Horazdovice 1929-1932
The motorcycle has a unit-construction 498cc engine with cardan shaft drive and a steel frame, and a very low saddle.
Sources: GTU Oldtimerservice
---
Jelinek
Manufactured by Josef Jelinek, Vyroba Motocyklu, Prague 1902-1908
The motorcycles used engines from Orion, Minerva and Fafnir. A Fafnir model is on display at the Museum Burg Kámen.
Jelinek 1904 397cc, 2.5 hp, 60 km/h max speed, 65 kg weight. An example of this machine is exhibited at the National Technical Museum, Prague.
Sources: GTU Oldtimerservice
K
Kohout
Manufactured by Petr Kohout & Co., Brno 1905-1907
Motorcycles were built using single-cylinder Minerva and Fafnir engines of 2.5 hp and 2.75 hp.
Sources: GTU Oldtimerservice
---
L
Linser, Zeus
Manufactured by 1902-1910 Christian Linser, Reichenberg, Bohemia
Founded in 1858, the company was one of the oldest metalwork factories in the Austro-Hungarian realm, and had its own foundry.
Their first 492cc single-cylinder motorcycles were marketed under the name Zeus, which they changed in 1906 to Linser after which they produced mainly 618cc V-twins until 1912. They then produced automotive parts for other manufacturers.
Sources: GTU Oldtimerservice, Tragatsch p194, wikipedia.nl
---
M
Merfait
Manufactured by Bedrich Merfait, Prague 1905-1916
Presented the 2hp belt-drive v-twin motorcycle at the 1905 Prague Motor Show,
Sources: GTU Oldtimerservice
---
Motor Company

Built by Motor Company, Prague
These were the most expensive motorcycles built in the country at the time. They used JAP engines, Sturmey Archer transmissions and Brampton forks. Production figures were low.
Motor Company 1000 (1924) 980cc, 22 hp, 100 km/h max speed, weight 177 kg. An example of this machine is exhibited at the
National Technical Museum, Prague
.
---
N
Nawratil
Manufactured by Emanuel Nawratil, Dombrová 1907-1908
The 3 hp motorcycle ran an evaporative carburettor.
Sources: GTU Oldtimerservice
---
O
Orlice
Manufactured by Rudolf Stásek, Týniste nad Orlice, 1904-1908
These were unremarkable single cylinder machines with magneto ignition. The firm also produced bicycles, continuing until 1939.
Sources: GTU Oldtimerservice
---
P
Pavlicek
Manufactured by Hynek Pavlicek, Tischnowitz 1909-1913
Using Kohout engines, the firm built motorcycles with a very long wheelbase requiring very long handlebars as the saddle was situated well to the rear.
Sources: GTU Oldtimerservice
---
Perun
---
Polanecky
Manufactured by Zdenek Polanecký, Prague 1913-1915
The small firm produced motorcycles with its own patented engines.
Source: GTU Oldtimerservice
---
Poustka

Built by František Poustka, Prague, 1924-1934
Poustka 150 (1923) Villiers 147cc, 4.7 hp, 60 km/h max speed, weight 68 kg.
Source: jawaczclub.nl
---
Premier of Czechoslovia
---
R
Republic
---
Rösler & Jauernig
Manufactured in Aussig 1903-1907
The Rösler & Jauernig bicycle factory created an automobile and motorcycle division in 1903. Motorcycles came in three single-cylinder versions: 2.5, 2.75 and 3.5 hp, with a capacity of 317cc or 427cc. They were fitted with a modern carburetor, Bosch magneto ignition and, unusual for the time, chain drive.
Sources: GTU Oldtimerservice
---
Rozehnal
Manufactured by Vladimir Rozehnal, Paskau 1905-1909
The entire motorcycle including the engine was built in the small factory. The engines were vertical singles with an external flywheel and transmission was by belt.
Sources: GTU Oldtimerservice
---
S
Satan
Built by Šikýř-Rott (Sikyr-Rott), Prague
Satan (1930) 540cc sidevalve, 10 hp, 90 km/h max speed, weight 158 kg. Saddle tank and two seats each suspended by long thin shock absorbers.
Sources:
South-Bohemian MC Museum
, Tragatsch p269, et al.
---
Schmidt
Manufactured by Adolf Schmidt, Bohemian-Leipa 1901-1902
The second-oldest motorcycle firm in Czechoslovakia, their machines used frames from Dürkopp and Styria fitted with Kelecom engines.
There was also a Schmidt marque in Germany in the 1920s.
Sources: GTU Oldtimerservice
---
Sirocco
Built by the Gustav Heinz using Villiers engines of 147cc to 346cc. Heinz also built the Velalmos
Source: Tragatsch p274.
---
Slavia
---
Stefania
Manufactured by Möldner & Skreta, Liberec 1903-1904
The Czech bicycle factory briefly built motorcycles with 305cc engines.
Sources: GTU Oldtimerservice
---
SRK
Stanislav and Rudolf Kubicek from Ceské Budejovice built a single example of a two-stroke motorcycle. It is worthy of mention because of the interesting tale with which it is involved.
Source: South-Bohemian MC Museum
---
Sumava
Built by Jaroslav Pichner, Klatovy, Šumava, 1938
The small firm produced a lightweight pedal-assisted 98cc Sachs machine.
As the machines were very similar to the Tripoli of 1938 built in nearby Rokycany, it is likely that the two firms co-operated. Both were bicycle manufacturers.
Sources: South-Bohemian MC Museum, http://historickakolapisek.cz.
---
T
---
Tripol
Built by Tripol Fahrradfabrik GmbH., Rokycan (near Pilsen), 1925~1938
The small firm produced motorcycles with 246 cc Villiers engines, and in 1938 marketed a pedal-assisted 2-speed 98cc Sachs machine.
Sources: South-Bohemian MC Museum, Tragatsch p284.
---
V
Vechet
Manufactured by Vojmir Vechet, Nymburk 1906-1908
The majority of the motorcycles produced by the factory were sidecar combinations with engines which were most likely from Laurin & Klement.
Sources: GTU Oldtimerservice
---
Velamos
Built by the Gustav Heinz, who also built the Sirocco, the motorcycles were powered by their own 3 port deflector piston type two-stroke engines of 246, 346 and 496cc. They were raced by Kliwar Zesper and Heinz. Production of bicycles continued after the Russians seized control of the country.
Sources: sterba-bike.cz, Tragatsch p.259
---
Vulcan (Vulkan)
Manufactured from 1904 to 1907 in Turnau (Turnov)
Founded by cousins Josef and František Žďárský (Zdarsky), the firm changed hands in 1906 with Karel Růžička (Ruzicka) the new owner. Models include the single-cylinder Type B 3.5 hp and the Type CD 4.5 hp V-twin, both of 1904, and a Type C 3.5 hp single in 1905.
Tragatsch gives manufacture dates of 1904-1924, and indicates that Josef Zdarsky then built Perun motorcycles until 1926.
Sources: GTU Oldtimerservice, idnes.cz, Tragatsch p293.
---
W
Wacek
Manufactured by Augustin Wacek, Pecha 1908-1914
The small firm marketed modified rebadged Orlice motorcycles.
Sources: GTU Oldtimerservice
---
Walter
---
Weber & Reichmann
Manufactured by Weber & Reichmann, Maschinen- und Kettenfabrik, Warnsdorf (1923-1926)
Built 142cc and 172 cc two-stroke motorcycles with pressed metal frames under DKW licence.
Source: Tragatsch p295
---
---
If you have a query about Czech machines, please contact us