Motorcycles Built in Germany (T)
Motorräder Hergestellt in Deutschland: Notes on some of the rarer German marques
This page lists brands beginning with the letter "T" for which we currently have only an historical precis. For a more complete listing visit the German Index.
T
Tamag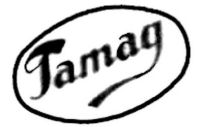 Manufactured by Ernst Wilhelm Taschner G.m.b.H., Krefeld. 1932-1934
Displayed at the Berlin auto show of 1933 was a Lastendreiräder (cargo tricycle) with a 750kg payload powered by 200cc two-stroke engines from JLO and DKW. Other models of up to 600cc were constructed, some with water-cooled engines, and large trailers could be fitted to some models. Most had the engine mounted above the front wheel.
Source: Axel Oskar Mathieu Archive
---
---
Tautz
Manufactured by Franz Tautz of Leipzig, 1921-1923
The firm produced a small scooter powered by a 2.5hp engine and later a light sports motorcycle appeared with a 5hp engine. Both engines were of their own manufacture.
Concurrently DKW released their own scooters, making it very difficult for Tautz to compete.
Source: motorräder-aus-leipzig.de
---
Teco 1920-1926
---
Teddy
Manufactured by Berliner Mopedbau H. Meyer, Berlin-Reinickendorf, 1951-1955
Designed to be marketed to women, the mopeds were powered by AMO two-strokes similar to the Victoria FM38.
They were also known as the Meyfa Teddy, and were sold under the Meyfa brand.
Sources: GTU Oldtimerservice, mo-ped.se
---
Tetge
1923-26
Built motorcycles with 148 and 172cc sidevalve engines and also MAG 597cc V-twins
Source: Tragatsch p282
---
Teufel
Manufactured by Motorfahrzeug G.m.b.H Teufel-Motorrad of Richard-Wagner-Straße, Leipzig, c1923.
The Teufel is believed to have had a DKW bicycle engine and was was fitted with a Steigboy vacuum exhaust.
Source: motorräder-aus-leipzig.de
---
Thumann
1925-26
Meteor Elektronische- & Fahrzeugfabrik GmbH, Hannover
Fitted their own 246cc and 346cc sv engines to motorcycles of limited production
Source: Tragatsch p283, motor-hist-foto.de.
---
Tiger
Manufactured by Johann Bartholomä of Gurtweil.
The youngest of 11 children, Johann's parents had an early interest in motorcycles and no doubt encouraged him when he began repairing and selling motorcycles, including the Luwe.
N.B. There was another Tiger brand, built in Sweden in the 1950s.
Source: autohaus-bartholomae.de
---
Tika
Designed and manufactured by Hermann Tietz of of Bielfeld, 1920-1924
The motorcycles were powered by four-stroke 196cc Gruhn engines and featured on some models disc wheels which were probably spoked wheels with covers.
Source: GTU Oldtimerservice
---
Tornado 1950s
---
Torpedo
1901~1907*
Geestemünde firm built motorcycles using singles and twins from Zedel and Fafnir.
Tragatsch gives dates of 1901~1907, but notes on a machine at the PS-Speicher Museum indicate 1903-1912.
There is also a Czech Torpedo built around the same time - see Disambiguation
Sources: Tragatsch p284, Michael Zacher
---
Torpedo 1928-56 (Frankfurt)
---
Tourist / Torpedo
Manufactured by "Tourist" Automobil-Werke G.m.b.H., Berlin-Tempelhof, Ringbahnstrasse 36, founded in 1909.
Karl Hübscher built a two- and three-seater three-wheeler and a delivery van, each powered by an air-cooled 6/7 hp V-twin four-stroke engine located behind the front wheel and housed under a hood.
Tourist AutomobilWerke filed for bankruptcy in the autumn of 1911, and in May 1912 the Berliner Automobilfabrik (Baf) took over production and and named the vehicles "Torpedo". In 1920 the company name changed to Berliner Automobilfabrik Torpedo G.m.b.H.
Source: Axel Oskar Mathieu Archive
---
Transporette
Manufactured by Maschinenfabrik Fr. (anz) Schwabenthan & Gomann A.-G., Berlin, 1924 to 1926.
These were light motor-tricycles with a payload of 100 to 115kg powered by an air-cooled engine mounted above the front wheel.
Source: Axel Oskar Mathieu Archive
---
Tremo
Manufactured by Hermann C. Treptau of Berlin, 1925-1927
The firm produced limited numbers of motorcycles with their own engines of 308cc which were only sold locally.
Source: GTU Oldtimerservice
---
Trianon
Manufactured by Trianon Fahrradwerke Heinrich Wittler jr., of Herford (near Bielefeld), 1922-1924
The bicycle firm produced 198cc and 233cc motorcycles which did well in competition.
Source: GTU Oldtimerservice
---
Trinks
Manufactured by Otto Trinks Maschinenfabrik, Berlin Marienfelde, 1924-1925
This is most likely the same Otto Trinks who was known in the aviation industry as a designer and would have required another line of work after the Versailles Treaty prevented the manufacture of aircraft in Germany after the war.
The three-wheeler carried two people. The 7hp 610cc engine was housed between the two front wheels and drove the rear wheel. Dry weight was said to be 275kg.
Sources: Oldtimerclub Lachendorf, de.wikipedia.org et al
---
Triomobil
Manufactured by Otto Spieß, Spandau, Schönwalderstrasse 105. 1905-1909
Their goods delivery motor-tricycle had a 4.5 h.p. air-cooled engine mounted above the front wheel, which it drove by chain. Steered using a long handle, it is not clear from the photograph how the goods compartment was afixed to the chassis.
Source: Axel Oskar Mathieu Archive
---
Trionette
Manufactured by Trionette-Gesellschaft mbH of Bremen, 1921 to 1930.
This was a kit to convert a motorcycle into a three-wheeler.
Sources: Oldtimerclub Lachendorf, et al
---
Triro 1949-1953
---
Tritomobil 1924-1930
---
Tropfen 1923-1924
---
TS 1929
---
TX
Manufactured by Westendarp & Pieper GmbH of Berlin, 1924-1926
A commercial clockmaker, the company built motorcycles with 132 and 173cc engines from Bekamo and 247cc Rocanova powerplants. Some models were designed for competition.
There is an association with the AMO brand.
Source: GTU Oldtimerservice
---
Rarer German Marques