Motorcycles Built in Germany (E)
Motorräder Hergestellt in Deutschland: Notes on some of the rarer German marques
This page lists brand names beginning with the letter "E" for which we currently have only an historical precis.
For a more complete listing visit the German Index.
E
Eber
Built by Eber Motorradbau, Eibau (Sachsen), 1924-1928
Used 347cc and 497cc engines from JAP and Blackburne, and later ohv Kühne and ohc Küchen.
Sources: GTU Oldtimerservice, Tragatsch p124.
---
EBS 1924-1930
---
EBW
1924-1926
Lightweights using Bekamo engines, probably 139cc.
Source: Tragatsch p125
---
ECA
1923-1924
Built 142cc 1.5ps two-stroke motorcycles. Limited production.
Source: Tragatsch p125
---
Eceka
Manufactured by Emil C. Kretzschmar, Berlin, 1924-1925
The Eceka light motor was offered with the option of a 145cc or 173cc engine produced by Richard Gruhn of Berlin, with component parts from Charlett and Kurier. The frames were apparently from Gruhn's brother Hugo who supplied many other Berlin motorcycle manufacturers.
Sources: GTU Oldtimerservice, Tragatsch p125
---
Eckl
1923-1926
Hugo Eckl built bicycle attachment engines and later a 198cc ohv engine which powered his own lightweight motorcycles.
Source: Tragatsch p125
---
ED by Eberwein & Diener 1925~1927
---
EGA
Manufactured by Eisenwerke Gaggenau AG, 1923-1926
The 246 and 346cc models had two-stroke engines of their own construction with two-speed gearboxes, very heavily ribbed cylinders and alloy cylinder heads. Although the EGA was one of the best two-stroke engines of the time, it was never built in significant quantities. In 1926, the EGA production was discontinued. Remaining stocks came on the market at Eichler & Co. in Munich under the name Gaggenau, according to GTU, but Eichler & Co. were in Berlin so perhaps it was a company branch.
Sources: GTU Oldtimerservice; Tragatsch p125.
---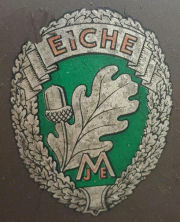 Eiche
Manufactured by Johann Eickhaus, Moers, 1950s
Began trading as a bicycle wholesaler in Moers in 1919, and later also sold motorcycles. The firm built (or possibly sold rebadged) mopeds in the 1950s.
Johann Eickhaus was born on March 11, 1887 in Vluyn, today Neukirchen-Vluyn, and died on February 20, 1962 in Moers.
Source: Farben-Schiessl.
---
Eichelsdörfer
Manufactured 1929-1932
Willy & Josef Eichelsdörfer, Nuremberg
Constructed motorcycles using smaller JAP ohv (and possibly sidevalve) engines and Burman gearboxes along with other British components including Druid forks. They were hand-built and apparently of very good quality.
Source: meisterdinger.de, Tragatsch p125
---
Eisenhammer 1923-1926
---
Ekamobil
Manufactured by Ing. Erhard Brandis of Berlin
Tricycles built from 1908 to 1914, these were elongated motorcycles with the rear wheel replaced with an axle and two wheels, a bench seat above. The handlebars were replaced with a long steering lever. Later models looked more like motor cars, and single cylinder and v-twin engines of up to 498cc were employed.
Source: wikipedia/de
---
---
Elfe 1923-25
---
---
Elster
1924-1926
Built light motorcycles powered by 197cc engines designed and built in-house.
Source: Tragatsch p126
---
EMA
Manufactured by Eduard Molito of Aalen from 1922 to 1925 using two-stroke engines from DKW, some of which may have been 148cc horizontal types.
Sources: Tragatsch p126, period advertising.
---
E.M.A.G.
Manufactured by Erlanger Motoren Aktiengesellschaft of Erlangen 1923-c1932
Early in the piece the brand name was changed to Ermag.
Designed by Albert Roder, who is also credited with the Ziro and the NSU Max, the firm produced high-performance OHV engines with hairpin valve springs.
Source: deacademic.com
---
Emefbe
Built in Leipzig around 1924, these were lightweight motorcycles advertised as Leichtkraft-Räder and fitted with engines of up to 200cc.
Source: motorräder-aus-leipzig.de
---
EMH
Manufactured by Motorradbau Ernst Megg, Hamburg, from 1927 to 1929.
These were sports machines powered by OHC engines of 348 and 498cc built by Kürchen.
Source: Tragatsch p126
---
E.M.W. (Leipzig) 1925~1930
---
EMWE
1924-1925. EMWE Motoren-Gesellschaft, Stettin, Barnimstraße 17. Built motorcycles using a welded box frame fitted with a 293cc two-stroke engine of their own design.
Sources: Tragatsch p127, prawobrzeze.eu
---
ENAG
Manufactured by Erle & Nestler AG, Maschinenfabrik, Nuremberg, 1924-1926
Built motorcycles powered by their own 248cc and 348cc two-stroke engines which had water-cooled cylinders and air-cooled cylinder heads. Chain drive via two-speed and three-speed gearbox was adopted in 1925. The engines were designed by Theo Steininger.
In 1925 they acquired Sept & Unger and built a few machines under that brand.
NB. GTU gives dates of 1923-1925
Source: meisterdinger.de, GTU Oldtimerservice, Tragatsch p127
---
Engel
Manufactured by Gustav Engel Söhne, Motorfahrzeugbau, Merseburg
Production began in 1925, just as hyperinflation began to bite, of comparitively expensive 350cc machines with engines from Kühne. As did a large number of other small manufacturers, the factory closed the same year.
Engel is German for Angel.
Source: wikipedia.nl, Tragatsch p127 (referred to as Engee)
---
EO (Elite-Opel)
1930-1931 or 32.
Very similar in appearance to the Opel, it used a Duralumin frame designed by Newmann-Neander fitted with 348cc and 498cc ohc Kurchen engines. Very few were built.
See also Elite.
Source: Tragatsch p127
---
EPA 1924-1929
---
Ergo
Manufactured by Hilmar Linker at Jägerstraße 15, Leipzig-Gohlis from 1924 to 1925.
A motorcycle with a 346cc ohv single-cylinder engine was produced but it was of awkward design and did not fare well in the marketplace. Linker-built 250 and 350cc machines competed in events such as the Marienberger Dreieck.
Sources: motorräder-aus-leipzig.de, wikipedia.de.
---
Erka
1924-25
269cc two-stroke machine built in small numbers.
Source: Tragatsch p127
---
Erko
1922-24
Built a modest numbers of DKW-powered 145cc two-stroke machines.
Source: Tragatsch p127
---
Ermag 1923-1930
---
Eichler & Bachmann 1923-1927 (Eibach)
---
Ernst-MAG 1926-1930
---
Esbe
Engine builder who supplied 130cc and 160cc two-strokes to firms such as GE MA HI, JOKA, ERAD and others in the mid-1920s.
Source: motor-hist-foto.de
---
Eschag
Manufactured 1923-1925, Nuremburg
The firm built motorcycles with 298cc two-stroke engines and belt drive.
Source: meisterdinger.de
---
Esch-Record 1927-1930
---
---
Europa
Manufactured by Europa Motorenbau, Munich, 1931-1933
Max Vorbauer produced his first model in 1931 powered by a 98cc Villiers two-stroke engine. This was followed by the Europa 200 and the Europa 150 twin powered by Schliha two-stroke engines. The company did not have a sales network, production was limited. Max Vorbauer closed his business in 1933.
Sources: GTU Oldtimerservice; Tragatsch p 129.
---
Evans-Pondorf
Manufactured in Berlin 1924-1925 based on the Evans machine from the United States, but with several improvements and a larger engine. It remained in production until 1925.
European manufacturers and agents for Evans Motorcycles
Source: GTU Oldtimerservice
---
EVO
1923-1925
Designed and built by Eduard Voight of Hannover, well-known as a writer for motorcycle journals, these light motorcycles were powereed by 146cc JLO engines along with those of their own manufacture.
Source: Tragatsch p129
---
Ewabra
Manufactured in Milspe, Westphalia, 1921-1924
Ewald Brackelsberg, a cousin of Bugatti racer Karl Brackelsberg, produced a 550cc single.
Their designer, Otto Karpe, went on to become a major player with Tornax.
Sources: GTU Oldtimerservice; tornaxig.de; Tragatsch p129.
---
Excelsior
1923-24
This small firm in Munich built 245cc two-strokes. Unrelated to the long-established Excelsior of Brandenburg.
Source: Tragatsch p131
---
Rarer German Marques

---