Motorcycles Built in Germany (O)
Motorräder Hergestellt in Deutschland: Notes on some of the rarer German marques
This page lists brand names beginning with the letter "O" for which we currently have only an historical precis. See also the List of German Motorcycles.
O
Oberle
1927-29
Singen-Hohentwiel, Hegaustraße 9
Motorcycle racer Eugene Oberle built machines using Villiers 147cc and 172c two-stroke engines.
An example has been displayed at Oldtimer Museum Meßkirch.
Source: Tragatsch p234, motor-hist-foto.de.
---
Oberwetter
Manufactured by Vahle & Oberwetter of Bielefeld, 1921-1942
Initially a producer of frames and chassis components, the partnership ceased in 1925 and Heinrich Oberwetter began building complete motorcycles using mostly Kühne engines of up to 500cc until at least 1928. Component production continued until 1942.
Three-wheeled vehicles for the disabled ("Krankenfahrstühle") were produced from around 1927 until at least 1938.
Sources: GTU Oldtimerservice, Automobilia 85-45.
---
Ocra
Ottmar Cramer, Kleinkraftradfabrik, Untere Turmstraße 16, Nuremberg. 1923 - 1925
The first Ocra machines used 137cc two-stroke clip-on engines mounted high in the frame and inclined around 45 degrees. Later he built JAP 298, 346 and 490cc machines, both sidevalve and OHV.
Cramer was also the owner of Lloyd Motorradfabrik, and similar motorcycles were built under that marque.
Source: meisterdinger.de
N.B. For Lloyd Maschinenfabrik GmbH of Bremen see also Goliath
---
Odin
Manufactured in Schwabach by Karl Ludwig Konrad from 1923 to 1925.
Built 125cc two-stroke motorcycles with a two-speed gearbox and block brake on the rear wheel.
Source: de.wikipedia.org
---
ODA
Oda Werke AG, Hamburg 1925-1926
Built lightweights and bicycle attachement engines of 183cc
Source: motor-hist-foto.de
---
Ofran
1923-25
Built motorcycles using a 425cc three-port two-stroke of their own manufacture.
Source: Tragatsch p236
---
OGE
Built in Leipzig-Gohlis, 1921-1924
The O.G.E. motorcycle had an air-cooled two-stroke engine mounted above the front wheel, which was driven by chain. The fuel tank was mounted in front of the handlebars, above the engine.
Early advertising used the name Bachmann & Giebel Motorfabrik of Leipzig-Vo., and later it was listed as Motorfahrzeug & Maschinenbau GmbH, Leipzig-Gohlis.
Source: motorräder-aus-leipzig.de
---
OHB
1927-28
Otto Hoffmann designed this motorcycle which used a 490cc JAP sidevalve engine.
Source: Tragatsch p237
---
OM
1923-25
Using JAP 173, 346 and 490cc sidevalve and ohv engines, the firm produced motorcycles in limited numbers.
Source: Tragatsch p238
---
Omnia
1931-33
Lightweights powered by Villiers 98cc and 147cc two-strokes, and also Bark engines (Tragatsch suggests the Bark was built by Imperia at Bad Godesburg, but this may be an error)
Source: Tragatsch p239
---
ORI
1923-25
Otto Rierl & Co., Präzisionswerk, Brake in Westfalen
Built lightweights with 145cc 3.5ps two-stroke engines mounted horizontally.
Sources: Tragatsch p240, motor-hist-foto.de
---
Original Nofa
Manufactured by Johann Lehmkuhl Großhandel, Oldenburg
Often referred to as just "Nofa", numerous moped models were built in the 1950s and 60s.
In 1921 they were dealers for a number of motorcycle and bicycle brands including Bismarck, Cito and Opel.
The firm began building bicycles in 1922, and possibly built lightweight motorcycles in the late 1930s. The substantial Oldenburg factory was destroyed in a bombing raid during WWII.
Models
Avus GS III
Avus GS IV
Luxus
Luxus Super
Stabil (1954)
Standard
Touren
Transport
Motorrad (1951)
The Avus model name was also used by Goebel.
Sources: alt-oldenburg.de, mo-ped.se, Farben-Schiessl.
---
ORUK
1922-24
Manufactured by Oruk Motorradwerke AG, Chemnitz-Altendorf, Burgstraße 5.
Described as "ohne Riemen und Kette" (without belt and chain), the scooter-like machine had a 192cc two-stroke engine mounted adjacent to the rear wheel. Possibly also known as OKUR.
Sources: Tragatsch p243, motor-hist-foto.de.
---
Oscha
1924-1925
---
Orial
1929-1931
---
Ortloff
Manufactured by Ortloff Automobil AG, Berlin, 1924-1925
Believed to have used engines from Cambra and Alba of 185cc to 198cc mounted in frames from the Berlin-based Hugo Gruhn firm.
Source: GTU Oldtimerservice
---
Osning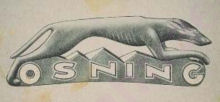 Manufactured by Osning-Fahrradbau Wilhelm Wellerdiek. Brackwede Bei Bielefeld
Their 1939 bicycle catalogue lists one motorcycle, a 100cc model with pedals.
Source: nw.de
---
Otto
Manufactured in Munich from 1921 to 1937 by Otto-Werke GmbH, a German aircraft manufacturer.
Gustav Otto, son of Nikolaus Otto of "Otto-cycle" fame, produced an auxiliary bicycle engine in 1921, followed in 1924 by motorcycles marketed under the Flottweg marque. These were also sold under the name Otto from 1928 to 1930. It is understood that they employed JAP SV engines of 198cc and 293cc.
The firm also built a limited number of luxurious 6¾ litre automobiles in 1923/24.
Gustav Otto fell into depression and committed suicide in 1926 at the age of 43.
Sources: wikipedia.de, Tragatsch p244.
---
ÖWA
Manufactured in the 1950s under licence from the Austrian Motoren Werke Arsenal, the 83cc ÖWA Hillfsmotor was built in the mid 1920s.
Source: Bjorn's Story
---
OWB Sidecars
Manufactured by Otto-Wilmsen G.-Buer am Schlesischer Ring
The sidecars were similar to the Steib LS200 and were suitable for lighter motorcycles of 125 to 350cc. It is believed they were the main suppliers for Hoffmann.
Source: gelsenkirchener-geschichten.de
---
---
Rarer German Marques