Motorcycles Built in Germany (H)
Motorräder Hergestellt in Deutschland: Notes on some of the rarer German marques
This page lists brand names beginning with the letter "H" for which we currently have only an historical precis.
For a more complete listing visit the German Index.
H
Hagel
Hagel Kraftradbau AG, Nuremberg, 1923 to 1925
Built limited numbers of 247cc motorcycles with engines of their own design, and others, using an inexpensive frame.
Source: meisterdinger.de
---
Haja
1924-25
Haja Motorradbau GmbH, Sendenhorst in Westfalen
Hansa and F&S 1.8 and 1/4 hp engines, some with gears. One was described as having "rear frame suspension".
Sources: Tragatsch p154 motor-hist-foto.de
---
Hako
1924-26
Hans Korn, Motorradbau, Rothenburg ob der Tauber
Very similar to the famed Howard R. Davies machines, using the same JAP 348cc and 490cc ohv engines. Only 10 machines were built before the name was changed to H.K.R. in 1925.
Sources: Tragatsch p154 & p163, motorradphoto.de
---
Halumo
1923-26
Hasselmayer & Luber GmbH, München, Mozartstraße 13
Built motorcyclew with 147cc two-strokes and 146cc and 198cc ohv engines of their own manufacture.
The Type C had a 2 1/2 ps engine available with a 2-speed gearbox.
Sources: Tragatsch p154, motor-hist-foto.de
---
Hanke & Warneke
Bremer Fahrzeugbau, Rembertistraße 28 Bremen
Built the Helios de Luxe JLO-powered moped in the 1950s
Source: Moped Archive
---
Hansa
Built by Hansa Präzisionswerke AG of Bielefeld, 1922~1927
147cc, 198cc and 246cc machines, two-stroke and four-stroke. They supplied 246cc OHV engines to AFW, and also to Bimofa
NB. The firm is not related to automobile manufacturer Hansa-Lloyd of Bremen.
Sources: GTU Oldtimerservice, Tragatsch p154
---
Hapamee
Hans and Paul Meinke, from whose names the brand name was derived, built some 800 motorcycles in Salzwedel from 1922 to 1926. The machines had tubular frames and were powered by 196cc and 246cc engines with magneto ignition and a two-speed gearbox.
Source: GTU Oldtimerservice
Harborn
Also known as the Berliner this was an electric runabout built around 1909. It was marketed in the UK as the Swan Electric.
---
---
Harlé
Harnisch & Lehmann, Mozartstraße 29, Plauener
Built ca 1925-27, Harle motorcycles were mostly fitted with 350cc Bark two-stroke engines, with clutch and two-speed gearbox driving the rear wheel by belt.
Source: freiepresse.de
---
Harras
Manufactured in Berlin by Harras Motoren AG, 1922-1925
The firm produced Berkamo engines under licence, and also constructed motorcycles powered by these. The company was acquired by Paradowski who discontinued motorcycle production in favour of engines.
Source: GTU Oldtimerservice
---
Haruhschi
Manufactured in Neumünster by Wolfgang Uhlig, Harms and Schimkowski 1971-1978
Long-track speedway, ice-racing and motocross machines powered by JAP, ESO and Norton engines ridden by Bobby Schwartz, Kai Niemi and Hans-Otto Pingel, among others. They also built a gearbox which was well received. The firm is still in business as of 2018.
Sources: GTU Oldtimerservice, bahnsporttechnik.de
---
Hascho
Manufactured by Halbritter & Schollmeyer of Mühlhausen, Thuringia from 1923 to 1926 using DKW engines, and from 1925 Villiers. They presented a small car at the 1924 Berlin Motor Show.
Sources: Tragatsch p158, Wikipedia.de, motor-car.net.
---
Haschüt
Manufactured by Motorradhaus Hans Schütze, Dresden A-16, Hammerstraße 6.
Lightweight motorcycles with Bekamo and 173cc Villiers engines
Sources: Tragatsch p158, motor-hist-foto.de
---
Haweka
1923-26
Hamburg firm built sports machines using JAP 348, 490 and 678cc sv and ohv engines, and MAG IOE V-twins of 497cc. Raced by Bremer and Shultz.
Source: Tragatsch p158
---

Heidemann
Manufactured lightweights in Hanover under the HWE marque from 1950 to 1953.
Heidemann-Werke KG, established in Bielefeld in the early 1900s as a bicycle manufacturer, built motorcycles with JLO and Sachs engines up to 125cc. After 1953 they continued in the bicycle trade.
N.B. Motorcycle production may have begun in 1949.
Source: GTU Oldtimerservice, Tragatsch p195.
---
H & W, Heitmann & Wittler
Manufactured by Heitmann & Wittler Fahrad & Maschinenfabrik of Steinhagen in 1938, and then post-war until 1953 using JLO, Sachs and Zundapp engines, and components from other suppliers to produce mopeds and motorcycles of up to 125cc.
Post-war address believed to be Rembertistraße 28 Bremen.
Sources: Moped Archive, GTU Oldtimerservice.
---
Heilo
Manufactured by Motorradfabrik Heilbrunn & Co., Bauerngasse 21, Nuremberg, 1923 - 1925
Apparently based on the Cotton design, it was powered by a 346cc two-stroke of their own design with transmission via a three-speed gearbox and belt or chain drive. Brakes were internal expanding drum front and rear, with girder-style forks.
Source: meisterdinger.de
---
Heinle & Wegelin
---
Heli
Built by Herbert Lindner in Berlin, 1923-1925
The motorcycle had a iquid-cooled two-stroke engine with unit-construction two-speed gearbox. It was quite an advanced machine but being relatively expensive could not survive the chaotic years of the mid-twenties.
Source: GTU Oldtimerservice
---
Helios by BFW
---
Heller
Heller Motorradfabrik, Gibitzenhofstraße 47, Nürnberg, 1923 - 1926
The brothers Hans and Fritz Heller built motorcycles powered by BMW M2B15 sidevalve HO engines, and from 1924 also the MJ 750cc flat twins from Mehne. The machines has a three-speed gearbox and belt drive to the rear wheel and a block brake on the front wheel only.
Sources: meisterdinger.de, Tragatsch p159.
---
Helo
Manufactured by Lommatzsch of Berlin, 1923-1925, it was a 147cc two-stroke which competed in the market with the similarly named Heli.
Source: GTU Oldtimerservice
---
Henkel
1927-32
Manufactured by Paul Henkel at Mäbendorf, near Suhl. Henkel, who previously worked at Cito-Werk, took over their factory when Cito ceased motorcycle manufacture in favour of components. He produced K.G. motorcycles with Blackburne 198cc sidevalve engines, and possibly others from the K.G. range.
It is reported that he committed suicide in 1931, possibly due to despair at the Nazi methods which were certainly having a negative impact on many of his colleagues.
Sources: Tragatsch p160, motor-hist-foto.de, et al.
---
Heos
There were two companies of this name. The first built sidecars from 1924-1926 in Berlin. The second was that of Willi Heitmann who built motocrossers using Japanese engines in 1985 and 1986.
Source: GTU Oldtimerservice
---
Herko
Built between 1922 and 1925 by Herkstroeter & Co of Bielefeld, these were belt-drive motorcycles using their own two-stroke engines of 113cc to 249cc.
Source: GTU Oldtimerservice
---
Herkra
Built by Heinz Blume in Cologne 1922-1923, this was a light belt-driven motorcycle with a two-stroke 141cc engine mounted high in the frame and well forward of the pedal crank.
Source: GTU Oldtimerservice
---
Herma
Manufactured a 148cc Hilfsmotor which could be fitted to either the front or rear wheel of a bicycle.
Sources: Tragatsch p162, motor-hist-foto.de
---
Hermes
Two different marques of this name were built in Germany.
1. IBH (Motorradbau Ing. Berwald Hamburg) built a 123cc two-stroke with Eismann magneto, 1922-1925. A second source says that Eduard Berwald built around 100 machines until 1929. One of these is displayed at the Zweirad Museum Neckarsulm.
2. Hermes Motorfahrzeug GmbH of Berlin built motorcycles 1924-1925, one of which was a 350cc JAP.
Sources: GTU Oldtimerservice, ps-speicher.de
---
Heros (H&R)
1921-1929
Heros of Oberoderwitz, Saxony, built auxiliary bicycle engines and single-cylinder sidevalve engines of 155cc to 247cc, 1921-1929.
These engines were supplied to other manufacturers including Ranzani in Italy.
Originally named H&R (Motorenwerk Zittau, Hartmann & Richter, Niederoderwitz), the firm also built the Ares brand.
Sources: Tragatsch p169, wikipedia.de
---
Heros (Berlin)
Heros Motorfahrzeug GmbH of Berlin built light motorcycles powered by 142cc DKW engines, 1923-1924.
Source: GTU Oldtimerservice, wikipedia.nl
---
Herstelle
Manufactured by Adam H. Herstelle of Bielefeld 1923-1924
In addition to two-stroke and four-stroke motorcycles, one of which was powered by a Hansa engine, the firm produced components for other marques in the Bielfeld area, particularly front suspension.
Source: GTU Oldtimerservice
---
Hertha
Manufactured by Hagemann & Vogler, Leichtmotorenfabrik, Berlin, 1924-1925
Fitted DKW 142cc two-strokes to lightweight machines similar to those from Eichler, also of Berlin.
Sources: Tragatsch p162, motor-hist-foto.de
---
Hesco
Manufactured by HS-Metallbau GmbH of Salzgitter 1984-1988
Powered by a Rotax 504 and fitted with quality components - Marzocchi forks, Koni rear suspension, TZ Yamaha wheels and the like - the Hesco-Rotax 560 sports machine proved quite popular in the German market.
Source: GTU Oldtimerservice
---
Hess
Eberstadt, 1925
Valentin Hess built a remarkable 799cc inline four fitted longitudinally, FN fashion. Available in any colour as long as was red, the cost was 1600 marks. Hess also supplied components to HAG in the way of crankshafts and other engine components. HAG in turn manufactured a new type of steel piston for Hess, of which he was the inventor, but the popularity of steel pistons was fast waning.
Sources: Tragatsch p162, darmstadt-stadtlexikon.de
---
Heuser HMT
Manufactured by Peter Heuser of Troisdorf 1980-1982
The firm produced a variety of off-road machines of 50cc, 80cc and 250cc using modified Sachs engines and mainly Italian chassis components. The firm was associated with the Italian AMR.
Source: GTU Oldtimerservice
---
Hexe (1920s)
Two different German firms built machines of this name. (English: Witch)
A Bamberg firm produced belt-driven Hexe motorcycles of up to 500cc from 1924 to 1926.
Achenbach of Hamburg built Hexe automobiles 1905-1907.
Sources: GTU Oldtimerservice, motor-car.net.
---
Hexe (Amelung)

Carl Amelung Fahrzeugfabrik of Duisburg built 48cc Sachs-powered modeds and lightweight motorcycles from around 1955 until 1966. They were marketed under both the Hexe and Amelung brands.
Models include:
Hexe Mokick Super Sport 1961. This has a pressed steel chassis, dual seat, motorcycle-style fuel tank with tool cavity in top, and conventional tele forks.
Hexe HSL 50MK Sachs 4-speed engine
Hexe 1966, last model.
Source: mo-ped.se, mofapower.de, et al
---
Hiekel
Manufactured by Curt Hiekel Maschinenfabrik of Leipzig-Thekla from 1925 to 1932
Using their own 348cc two-stroke engines driving via a Hurth or Pfeiffer gearbox, the motorcycles remained largely unchanged throughout the production years although some later machines had front brakes. Five are known to have survived.
Sources: motorräder-aus-leipzig.de, Tragatsch p162, motor-hist-foto.de
---
Hirth
---
HMA
The Hennicke Motorrad Anhänger was termed a motorcycle trailer, but was actually a motorized tricycle with one wheel at the front. It sat three, driver in front and two passengers behind, and was provided with a folding cover.
Source: motor-lit-berlin.de
---
HMW
Manufactured by Hasper Motorrad Werk of Westfalen.
1923-1928. Heavy single-cylinder machines with their own SV engines.
Not related to the Austrian marque, nor to the machines built in post-war East Germany.
Sources: Tragatsch, Wikipedia NL
---
Hochland
1926-27
Gebr. Emslander Motorenfabrik of Landshut
The brothers designed and built a 496cc flat twin motorcycle. Production was limited, with stiff competition from BMW.
Sources: Tragatsch p163, wikipedia.nl
---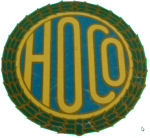 Hoco
Constructed in Minden, Westphalia 1924-1928 by Hohmeyer & Co, a furniture manufacturer, the motorcycles had a woooden frame (probably ash) and were fitted with a variety of two- and four-stroke engines up to 250cc. The motorcycles were originally built by MFB.
Sources: François-Marie Dumas, Tragatsch.
---
Hoffmann & Seidel
Built in Saarbrücken by bicycle manufacturer Hensler in the 1950s. Hoffmann & Seidel was also a clothing brand.
Machines of this marque were almost identical to the Saarperle, also built by Hensler.
Source: saar-nostalgie.de
---
Hoock
Manufactured by Hoock & Co. of Cologne, 1926-28
Hoock was a main agent for Villiers in Germany. Using their 342cc engines and a variety of other British components he built a number of motorcycles.
Sources: wikipedia.de
---
HUC
Produced by Maschinenfabrik M. Hecker & Co. of Berlin, 1924-1926
145cc and 175cc DKW two-stroke engines powered these utilitarian motorcycles which did well on the local market until the financial crisis.
Source: GTU Oldtimerservice
---
Hucke-Rinne
Manufactured by Max Hucke Fahrgestellbau, Berlin-Neukölln. 1924-26
Used 124, 173 and 247 cc engines from Berlin engine builder Rinne
Sources: wikipedia.de, Tragatsch p169
---
Hüffer
Manufactured by Hüfferwerke, Abt. Kraftfahrzeugbau, Münster in Westphalia, 1923-25
Built lightweight motorcycles using 150 to 200cc engines from the likes of DKW, Lorenz (Rapid) and Baumi.
Sources: Tragatsch p169, wikipedia.de
---
Hulla
---
Hummel
---
Husar
Manufactured from 1923 to 25 by
Husar Leichtmotorrad GmbH
Husar Motorfahrzeug AG, Munich
The firm motorcycles using 296cc and 500cc engines which had leaf spring front and rear suspension, quite advanced but not yet popular in with the consumer. They had stiff competition from BMW, also of Munich.
Sources: Tragatsch p169, wikipedia.de
---
Huy
Established by Louis Huy of Dresden in 1923, the firm built 198cc motorcycles using engines from Alba. Albert Thiele became the owner in 1924, but after Alba went into receivership production ceased in 1926.
Source: GTU Oldtimerservice
---
---
If you have a query or information about German motorcycles, please contact us