Motorcycles Built in Germany (M)
Motorräder Hergestellt in Deutschland: Notes on some of the rarer German marques
This page lists brand names beginning with the letter "M" for which limited historical information is currently available.
For a more complete listing visit the German Index.
M
Mabeco
---
Mabret
Operating in 1927 and 1928, the firm used 346 sv and ohv Kühne engines, and sometimes the larger 496cc sidevalve.
Source: Tragatsch p197
---
Maco
Using DKW two-strokes and 198cc sidevalve engines of their own the firm built motorcycles from 1921 to 1926.
Source: Tragatsch p197
---
Mafa
An established bicycle manufacturer, they built motorcycles from 1923 to 1927 using DKW two-strokes and Kühne 348cc ohv and 496cc sv engines.
Source: Tragatsch p197
---
Magnet
---
Maiwald, Mascottchen
Manufactured by Neuköllner Maschinenfabrik in Berlin, 1952-1953
This was a small scooter with a 50cc engine. Apparently it was underpowered and failed to find buyers.
Source: GTU Oldtimerservice
---
Mammut (Bielefeld)
There were three marques of this name built in Germany, as well as the Munch Mammut. Two were built in Bielfeld.
In 1924-1929 Hermann Froböse produced a 249 cc two-stroke motorcycle with a Baumi engine.
Between 1953 and 1956 Mammut mopeds with 50 cc JLO, Zündapp and Sachs engines 50cc were produced. These were identical to mopeds sold by Meister and Phanomen , which were also based in Bielefeld.
Source: GTU Oldtimerservice
---
Mammut (Nuremberg)
Maschinenfabrik Berner & Co, Ludwig-Feuerbach-Strasse 75/77, Nuremberg, 1925 - 1933
Later at Innere Laufer Gasse 20
Early models used 200cc Baumi two-stroke engines, followed by engines of their own produced in capacities from 250c to 350cc, both two-stroke and four-stroke.
Towards the end of the 1920s they used engines of from Blackburne, JAP and Villiers, along with 600cc MAG V-twins. As the depression bit they switched to smaller engines including those from Moser.
They also marketed a preßstahl modell (pressed steel model) with a JAP engine which was a Coventry Eagle re-badged with a Mammut emblem.
An example is displayed at the Museum Industriekultur in Nürnberg
Source: meisterdinger.de
---
Mamof
Built a lightweight motorcycles using DKW 145cc and Grade two-strokes along with their own 155cc sidevalve engines from 1922 to 1924.
Source: Tragatsch p201
---
Mas
Limited production of lightweights with 183cc two-stroke engines, 1923-1924.
There was a well-established Italian marque of the same name.
Source: Tragatsch p202
---
Matador
Manufactured by C. Klose, Staßfurt, 1924-1926
Well-received by the motorcycle press the firm offered two models, the second of 269cc with a tubular frame. Inflation made it impossible to continue and they closed in 1926.
Source: GTU Oldtimerservice
---
Maurer
Ludwig Maurer, Dürrnhofstraße 8, and Bahnhofstrasse 93, Nuremberg
The factory built auxiliary bicycle engines, water-cooled 250cc single-cylinder two-stroke engines, and water-cooled HO 494cc two-strokes. It employed some questionable engineering solutions including tortuous inlet ducting on the flat twins.
Source: meisterdinger.de, Tragatsch p205.
---
---
MAW
MAW Hilfsmotor (bicycle engines) were manufactured between 1954 and 1959 in Magdeburg, East Germany during the Soviet occupation.
Source: buyvintage.com
Sun Oct 23 2005
lowrideriserv.net
MAW Cyclemotor/motorized bicycle
I recently came across a motorized bicycle. This vehicle has a MAW cyclemotor attached to the rear wheel. The rear tire has raised lettered stating "USSR". There is little to no information regarding this machine on the internet. Am looking for anyone that can provide any and all information regarding this vehicle or motor. Thank you in advance.
---
Mawi
Address: Norddeutsche Motorradwerke, Markwardt & Winter, Swinemünde
From 1923 to 1930 the firm built DKW 173cc two-strokes and JAP 198cc to 546cc sv and ohv engines, conventional chassis of sturdy design.
Source: Tragatsch p205
---
---
Max
Manufactured by Auto-Motor-Industrie GmbH in Berlin, 1924-1925
The firm produced 180cc two-stroke and 446cc sidevalve single-cylinder motorcycles.
Source: GTU Oldtimerservice, Tragatsch p205
---
MBG
Manufactured by M.B.G. Heilbronn in Lahr, 1932-1939
Richard Küchen built engines from the 1920s. Complete motorcycles were produced from the early 1930s until 1939.
Source: GTU Oldtimerservice
---
Meteor
There were two marques of the same name made in the same period.
1. 1924-1926 - Meteor Elektrotechnische & Fahrzeugfabrik GmbH of Hanover built lightweights using 172cc two-stroke engines probably supplied by the Thomann concern of Nanterres.
2. 1925-1926 - Hugo and Paul Nimitz of Motorenwerke Meteor, Stettin, Mittwochstraße 18-20, built basic motorcycles with 185cc sidevalve engines built in limited numbers.
An advertisment for the firm reads in part, "liefert eigene 2 1/2 PS Motoren, - Type I mit ohne Getriebe, - Type II mit Krauskupplung, Type III mit separaten 2 Gang-Getriebe, - Die Motoren werden lose, sowie in kompletten Motorrädern geliefert."
(Translation: delivers its own 2 1/2 hp engines, - Type I with no transmission, - Type II with friction clutch, Type III with separate 2-speed transmission, - The engines are supplied loose, as well as in complete motorcycles.)
NB. The German FB marque had machines with the Meteor brand on the tank. There was also a Meteor built in Prague.
Sources: Tragatsch p208, OTTW.
---
Metzger & Schlegel
Metzger & Schlegel K.G., Fellbach, Eppinger Straße 5a. Built from 1955 to 1959, the Motte scooter used 50c to 120cc engines of their own manufacture. Possibly also produced a machine named Moto-Sport.
Source: GTU Oldtimerservice, wirtemberg.de. (NIT)
---
Merco
Manufactured by Mercur Motoren GmbH, Berlin 1922-1924
Also marketed as the Record, these motorcycles had frames built by Hugo Gruhn and engines from Franz Krause.
Source: GTU Oldtimerservice
---
Meybein
From 1922 to 1926 the firm employed DKW 119cc and 142cc two-strokes engines, along with a 269cc two-stroke and another with a horizontal cylinder. Most if not all had belt drive to the rear wheel. The engines were very low slung in the frame, and the machines were of quite basic constuction with rim brake on the rear wheel only.
Source: Tragatsch p208
---
Meybra
The firm built basic machines powered by their own 168cc two-stroke engines, 1922-1926
Source: Tragatsch p208
---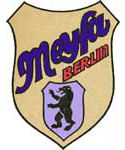 Meyfa
Manufactured by Berliner Mopedbau H. Meyer, Berlin-Reinickendorf, 1951-1955
Designed to be marketed to women, some mopeds were powered by AMO two-stroke bicycle attachment motors.
Models include the Teddy and Troll, both with 50cc JLO FP 50 engines.
They were possibly also marketed under the Teddy brand.
Sources: mo-ped.se
---
M.F.
Manufactured by Max Fischer, Nuremberg-Johannis, 1922 - 1926
The factory built motorcycles using 492cc BMW boxer engines, and 347cc and 497cc side-valve singles from Blackburne.
Source: meisterdinger.de
---
MFB
Manufactured by Gerhard W. Lehmann & Co., Hamburg, 1923-1924, who also built automobiles. The motorcycles had wooden frames and used 198cc Nabob and 293cc SV JAP engines. Hoco of Minden continued construction after M.F.B. ceased trading.
N.B. 1. * 1922-1923 are dates given by another source. 2. There is also a post-WWII Italian marque of the same name: MFB
Source: Tragatsch (p208)
---
MFZ
Manufactured in Berlin by Motorfahrzeug GmbH, 1921-1928
The motorcycles used 200cc, 250cc, and in 1925, 350cc engines.
MOTOR CYCLE DEVELOPMENTS IN GERMANY.
One of the most extensively used lightweights appears to be the M.F.Z., which is fitted with a single-cylinder overhead-valve engine, the valve operation of which is by push rods and rockers. This has the change-speed mechanism combined with the crank case and final drive by belt.
The MotorCycle October 6th, 1921.
Sources:
GTU Oldtimerservice
,
The MotorCycle
---
MGF
Manufactured by Mühlbauer & Co., Berlin, 1923-1931
The firm specialised in high-performance two-stroke engines based on the Ruppe / Bekamo principle which were sold in large numbers to other motorcycle manufacturers.
They built belt-drive motorcycles, both with compressors, of 140cc and 175cc. When production of these ceased they continued making accessories.
Source: GTU Oldtimerservice
---
Mielke
Felix Mielke built racing machines based on the BMW R75 fitted with a Fiat Topolino 500cc engine from 1947 to 1951.
Source: GTU Oldtimerservice
---
Mimoa
1923-1925
Manufactured by Mittelbadische Motorradfabrik, Bruno Felbers & Son, Achern, Baden
Used 142 cc two-stroke Rohöl (crude oil) engines from Julius Löwy
Source: Tragatsch p211, wikipedia.nl
---
Miranda
Built in Dortmund by Pirol Werke GmbH, 1951-1954
Introduced in 1949 as the JLO-powered Schweppe, the Miranda used 150cc Sachs and 200cc Kurchen engines.
See also Schweppe
Source: GTU Oldtimerservice, Tragatsch p211
---
MJ
1925. Built HO twins of 596 and 746cc which they supplied to other manufacturers including Heller. The Mehne firm purchased the company when it encountered difficulties. MJ also built an interesting two-stroke motorcycle which did not enter production.
Source: Tragatsch p211
---
M.J.S.
Manufactured by Schönfeld & Schwarz, Nuremberg
The factory produced limited numbers of motorcycles with 245cc two-stroke engines. Possibly also known as N.I.S.
Source: meisterdinger.de
---
MMM
Produced limited numbers of 148cc two-stroke motorcycles 1925-1927.
Source: Tragatsch p212
---
Mofa
Built 70cc and 148cc bicycle attachment entgins along with complete motor bicycles from 1920 to 1925.
Source: Tragatsch p212
---
Mohr
In the 1960s and 1970s A. Mohr of Hausen built 50cc racing machines, among them Mohr-Kreidler and Mohr-Derbi
---
MON
Manufactured by Maschinenfabrik Oberndorf Neckar in Oberndorf, 1953-1955
Mopeds powered by 50cc Rex engines.
Source: GTU Oldtimerservice
---
Mota Wiesel
Manufactured by Mota-Maschinenbau GmbH of Nagold 1948-1952
Scooters with their own engines of 50cc to 100cc
Source: GTU Oldtimerservice
---
Motag
Manufactured by Eisenwerk Becker & Co. of Leipzig, 1923-1924
Based on a design by Ing. J. Schneeweiß, the company built three models powered by parallel twins of 514, 642 and 804cc.
MOTAG - The "two-wheeler car"

An example of the use of light metal casting is shown in the two-wheeled car shown in FIG. 503. The front part of the wheel body consists of a helmet-like molded half-hollow body, which forms the front fender, the front wheel hub summarizes, cushioning device and also includes the steering device. This part is cast in one piece. The main frame is composed of a strong, cast in a right and a left half lower part. These pieces are flanged together on a ground surface with a few bolts. The lateral lattice girders form the bridge to the casting of the rear wheel body, with which they are also flanged. It consists of the entire frame so six castings, which are connected by bolts. In the front part of the hollow body is the gas tank, opposite to the direction of travel is the completed by a lid tool box. Immediately below the seat is the radiator of the engine, if a water-cooled engine is used.

Flanged directly to the main frame is the cast in two lateral halves rear fender, he takes on the rear hub, also closable in its upper cavity by means of a lid, a spacious container. The lid is upholstered on its lower side and turns upside down as a pillion seat. As the designer emphasizes, he has moved to this peculiar frame training to save on working time. It is questionable whether this framework will be particularly cheap, despite the fact that it saves on wages in the frame factory. The break-free and crack-free production of the individual, after all, considerably large castings is likely to be difficult, but if this is possible even with a very low percentage committee, then only a probation in practice should speak the right word. After all, the idea is in itself at least original and should show ways that should not be ignored for the construction of heavy machinery. The heavy-weight machine, as mentioned earlier, just needs a special careful design, not too weak and not too strong frame sizing. It is most blatantly expressed in this embodiment that the heavyweight machine is closer to the single-track car than the normal and evolutionary normal motorcycle designs. This refers to the frame in a very preferred extent.

Exerpt from Das Motorrad und seine Konstruktion (The motorcycle and its construction), Curt Hanfland, 1924.
Source: GTU Oldtimerservice
---
Motorist
Manufactured by Dobron-Motorist GmbH of Berlin, 1923-1925
The first model used a DKW 150cc two-stroke engine, followed by a JAP 350cc model. The machine was also marketed as the Dobron Motorist.
Source: GTU Oldtimerservice
---
Möve
Manufactured by Walter & Co. in Mühlhausen, 1903-1908
Also known as the Möwe, these motorcycles were fitted with Fafnir 3.5 hp single-cylinder engines and 5 hp V-twins.
Source: GTU Oldtimerservice
---
Müco
Active 1921-1924, the Muco firm built bicycle attachement engines of 118cc which were fitted adjacent to the rear wheel.
Source: Tragatsch p222
---
Mufi (Imperator)
Built a basic motorcycle with 348cc three-port deflector piston two-stroke in 1925-26.
Source: Tragatsch p222
---
Notes
motor-hist-foto.de and das-leichtmotorrad.de are the same.
---
If you have a query or information about German motorcycles, please contact us