Motorcycles Built in Germany (U)
Motorräder Hergestellt in Deutschland: Notes on some of the rarer German marques
This page lists brand names beginning with the letter "U" for which limited historical information is currently available.
For a more complete listing visit the German Index.
U
Ude
Manufactured by F.W. Ude Fahrzeugbau, Bielefeld, 1924-1925
The firm built relatively few motorcycles powered by their own 249cc two-stroke engines housed in an unconventional frame.
Source: GTU Oldtimerservice
---
Uhlig Sidecars
Manufactured by Oswald Uhlig in Eilenburg, near Leipzig.
The sidecars bore a resemblance to Stoye, for whom Uhlig had previoiusly worked.
Source: motorräder-aus-leipzig.de
---
Universelle
1925-29, aka Uni-Rad
Erich Landgrebe designed motorcycles which were built in at the Universelle-Werke Dresden cigarette machine factory using an IOE of 183cc, later 197cc and 347cc engines, and also built three wheel utility vehicles.
1925 brochure lists models ZIA, ZI and ZII, along with a three-wheeler, model ZIIIB.
Sources: Tragatsch p288, contemporary literature
---
Uno Rotax
Manufactured by Robert Rieder of Augsburg, 1985-1993.
The Uno 600 was a streetbike powered by a 560cc Rotax delivered 42hp in standard trim and up to 58hp with various tuning options. There was also a racing verions with a 598cc engine.
Source: GTU Oldtimerservice
---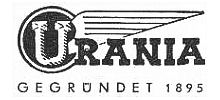 Urania
Produced by Paul Tanner OHG of Cottbus. 1934 to 1939
The cycle firm Urania-Fahrradwerke, founded in 1895, constructed lightweight motorcycles powered by 98cc and 123cc JLO and Sachs engines.
Source: GTU Oldtimerservice
---

Urban Motor
Urban Motor GmbH of Köpenicker Chaussee 2-4, Berlin. Established 2009.
Peter Dannenberg, Michael Schulz-Vollmers and their compadres build tasteful specials based on BMW, Moto Guzzi, Ducati and MV Agusta motorcycles. Two well-known BMW-powered models are the Brown Sugar and Cafe Racer.
They also retail the CR&S brand.
Website: urban-motor.de
---
URS
Helmut Fath of Ursenbach built URS engines from 1961 to 1969. Fath was a veteran international road racer, and he was out to recapture the world championship for Germany. Housed in a Metisse chassis from Rickman, their machines achieved many wins and podium places ridden by the likes of Paul Smetana, Karl Hoppe and Ferdinand Kaczor.
URS 500cc engines were used in Munch-URS GP machines.
Some motorcycles were badged as Fath, for instance the Fath 500.

Sources: GTU Oldtimerservice, et al.
---
---
If you have a query or information about German motorcycles, please contact us