Motorcycles Built in Germany (F)
Motorräder Hergestellt in Deutschland: Notes on some of the rarer German marques
This page lists brand names beginning with the letter "F" for which we currently have only an historical precis.
For a more complete listing visit the German Index.
F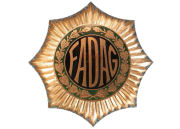 Fadag
Manufactured by automobile firm Fahrzeugfabrik Dusseldorf AG from 1921-1925 using engines of 497cc of their own manufacture and possible from Sarolea. They were better known for their automobiles.
Source: Tragatsch p132
---
Fagard
1923-25
Also marketed as FG, the firm built lightweights with 145cc DKW two-stroke engines.
Source: Tragatsch p132
---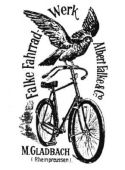 Falke 1899
Albert Falke & Co. 1896-1908
Established as a bicycle factory in 1889 in Mönchengladbach, in 1896 they built a tricycle powered by a De Dion Bouton engine. In 1899 they acquired rights to build De Dion engines, and a series of passenger and commercial vehicles were produced until 1908 when a financial downturn took its toll.
---
Falke 1923
1923-25
Built lightweights with Grade 142cc and DKW 145cc two-stroke engines.
Source: Tragatsch p133
---
Falke 1950s
Seitenwagen manufactured by VEB Falkensee
---
---
Falz
The Falz Sibylle was built by August Falz of Döbeln in the GDR, in 1954. Powered by a 175cc CZ engine, it was the fourth scooter he had built since 1950 and was intended for production, but finding a manufacturer in East Germany at that time proved difficult.
Sources: de.wikipedia.org, nl.wikipedia.org
---
Fama
Manufactured by Fahrzeug und Motoren-Gesellschaft of Friedrichsort, 1923-1925*. The firm is believed to have built the Leifa motorcycle, which was probably also marketed under their own name. Their machines employed 190cc OHV and 420cc SV engines of their own manufacture. The firm also built a small two-seater car.
N.B. * Some sources give production dates of 1921-1925.
Sources: Tragatsch p133, allcarindex.com
---
Famo
Famo built 127cc Fahrrad motoren - bicycle engines, 1923-1926.
See also Forster
Source: François-Marie Dumas, Tragatsch p133
---
Favorit 1933-1938
---
FB
1923-25
269cc two-strokes, then JAP and Blackburne 348cc and 498cc sv and ohv models. Designed by Friedrich Benz, there were at least two models, Type I and Type II, both of 3 PS. They are also known with the Meteor brand on the tank.
Source: Tragatsch p133, motor-hist-foto.de
---
Fechtel
Manufactured by Heinrich Fechtel Motorradfabrik, Gütersloh, 1923-1925
The motorcycles used pressed-metal frames and Boge (or possibly Hansa) engines.
Sources: GTU Oldtimerservice, Tragatsch p134
---
Fels 1931~1955
---
---
FEX
1923-24
Lightweights with DKW and Bekamo engines. Initially used engines of their own manufacture but these proved unreliable.
Source: Tragatsch p134
---
FHG 1927-29
---
Fiamc
1951-53
Built 123cc two-stroke motorcycles and scooters using the same engines
Source: Tragatsch p134
---
FIX
1922-26
Built motorcycles using 3hp two-strokes from the Hansa-Lloyd factory, of whom they were a subsidiary.
Source: Tragatsch p135
---
FKS 1920s and 1950s
---
Flink Hilfsmotor 1950s
---
Flottweg
---
Flux
Manufactured by Flux Kraftrad GmbH, Berlin, 1923-1924
Built a 200 cc lightweight in very small numbers.
Source: GTU Oldtimerservice
---
Forelle
1955-58
An established bicycle factory which built mopeds using Sachs and JLO engines.
Source: Tragatsch p138
---
Fortonia
Manufactured by Fortonia Motoren Werke GmbH, Schloss-Holte, 1924-1925
Fortonia used frames from Hofmann & Imsange of Bielefeld fitted with 226cc two-stroke engines of their own construction. The company closed, as did so many others in that year, due to hyperinflation.
Source: GTU Oldtimerservice
---
Frali
Manufactured by Franz Philipp Motorenbau, Berlin, 1951-1952
The company built a 25cc auxilliary bicycle engine with roller drive similar to that of Lohmann which although technically superior to its rivals failed to compete.
Source: GTU Oldtimerservice
---
Frankonia
1923-25
DKW-powered lightweights of 145cc, and larger machines using JAP sidevalve and 350cc OHV engines. At least one was available in Damen version.
Sources: Tragatsch p139, motor-hist-foto.de.
N.B. There was an earlier firm, Frankonia-Automobilwerke G.m.b.H., 1905-1911. Built cars, cabs and utility vehicles. ~ Axel Oskar Mathieu Archive
---
Franzani
---
Freco
Manufactured in Hanover by Freco Motorradbau, Kurt Freiberg & Co., 1923 to 1925
Built a variety of motorcycles using DKW 145cc and 173cc two-strokes, Runge sv engines, and also competition machines fitted with 173 and 247cc OHV Blackburne powerplants.
As with so many other small companies, they could not survive the hyperinflation of the mid-1920s.
Sources: Tragatsch p139, et al
---
Freital
The DKW factory in Zschopau produced motorcycles using this name in 1925-1926. Models included Type BG.
Source: Tragatsch p139
---
Freia
Manufactured in Greitz, Vogtland, their first machine was a three-wheeler (Dreiradfahrzeug) with a single wheel at the rear (tadpole style) driven by a twin-cylinder two-stroke. The two-seater did not achieve success, and the firm moved on to four-wheelers until the economic crisis brought production to a standstill in 1927.
Source: Oldtimerclub Lachendorf
---
Frima
Manufactured by Friedrich Marquardt, of Friedberg in Bavaria, 1923-1924
Built unremarkable lightweights powered by 269cc two-stroke engines.
The Marquardt name is associated with the Mawi marque, and also with Ge-Ma-Hi. In the latter case it was Karl Heinrich Marquardt and Max Marquardt.
The name "Frimo" was in use by VIS of Munich.
Sources: OTTW, wikipedia.de, et al
---
Frischauf 1928-33
---
FTI
Created in 1947 by French designer Louis Lepoix who later worked with many companies in Germany during reconstruction, this simply beautiful machine is based on a 750cc BMW R12.
See Louis Lepoix
---
FUBO
1923-25
Fuchs and Börner of Falkertstraße 71, Stuttgart, built lightweights with 170cc and 269cc two-stroke engines of their own manufacture and also from Baier, and their larger motorcycles were fitted with Blackburne 247 and 347cc sv and ohv engines. There is also a listing for a machine with a 110cc Cockerell.
Sources: Tragatsch p140, motor-hist-foto.de, wirtemberg.de, et al.
---
Furch
1924-25
Built light motorcycles using two-stroke engines of 1.5ps and 2.5ps. Both were tax and licence free, the larger machine having a two-speed gearbox.
Sources: das-leichtmotorrad.de, et al.
---
Rarer German Marques