Women in Motorcycling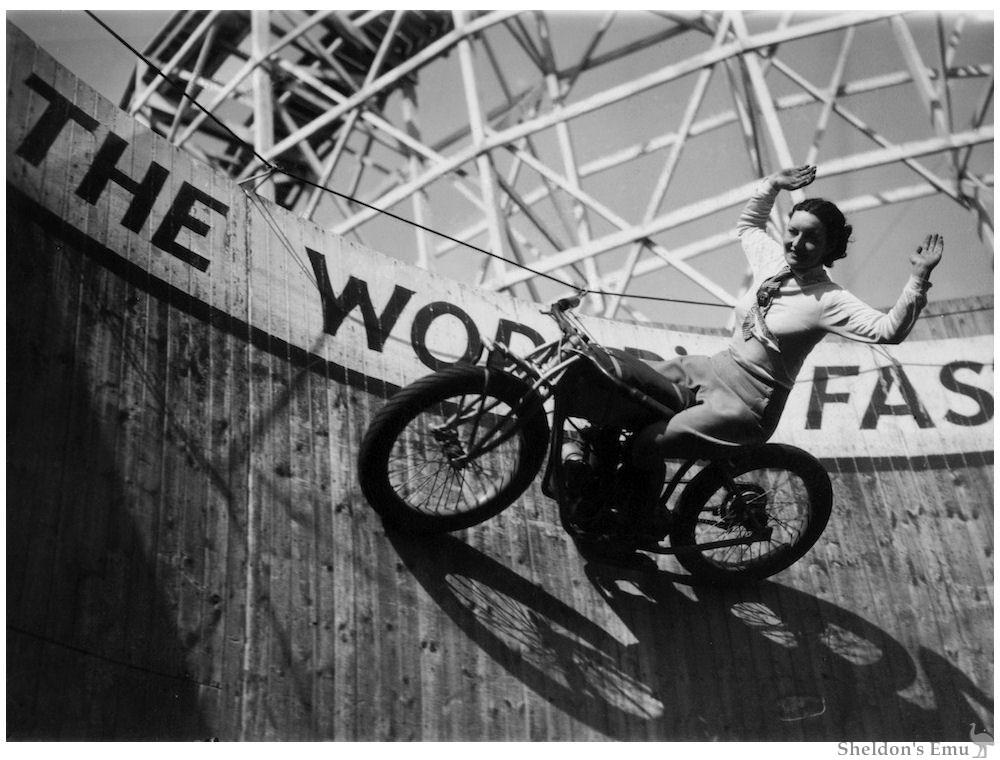 Fast Women: Famous Motorcyclists and Notable Managers
An introduction to some of the great names in motorcycle history.
No Glass Ceiling at Brooklands
Theresa Wallach borrowed a Norton Inter from famed Norton tuner Francis Beart. In the pouring rain, so the story goes, she took it out and cracked the ton at Brooklands, thus become one of the select few to be awarded the Gold Star, joining Tilly Shilling and Florence Blenkiron as the only women to ever do so.
A third woman also did the ton at Brooklands, the redoubtable Beatrice Shilling. She had an uncommon number of letters after her name which, had she been other than a woman, would likely have been preceded by Sir.
The following year Florence and Theresa embarked on a quite extraordinary journey from London to Capetown piloting a Panther with sidecar and trailer.
---
---
Marjorie Cottle
One of the more famous, if somewhat unflattering, images of Marjorie Cottle pictures her on a New Imperial V-twin believed to have been the the fastest motorcycle to race there at the time. The single on which it was based was said to exhibit beastly handling characteristics.
Marjorie was a team rider for Raleigh
More about Marjorie Cottle
---
---
Gertrude Eisenmann
Regarded as a champion motorcyclist, Gertrude Eisenmann's first race was from Stuttgart to Kiel, a distance of 835 km. She finished second. Later she completed the 600km "Eisenach - Berlin - Eisenach" race at the astonishing average speed of 42 km/h.
Her story is quite extraordinary, as are those of her British mother and other members of the family.
http://garethwinrow.org/whispers-across-continents/
https://www.cornwalllive.com/news/history/extraordinary-life-cornwall-woman-who-4380078
---
George Eliot
"... her remarkable transformation from provincial girl — she was born Mary Ann Evans, the daughter of a land agent, in Coventry in 1819 — to one of the preëminent intellectuals of the nineteenth century, and the author of "Middlemarch," widely considered the greatest novel in the English language." ~ The New Yorker, Sept 2013
---
Simona Kossak
A scientist, ecologist and author of award-winning films who owned a terrorist-crow and slept with a lynx.
---
---
Beryl Swain
Beryl Swain was the first woman to compete in a solo Isle of Man TT race, on a 50cc Itom in 1962. She was a talented and intelligent rider.
Beryl Swain
Ida Orsi of Maserati
Obviously a woman of some nous, Ida purchased the well-established Italmoto concern and rebranded their existing models as Maserati. Italmoto had a good sales network, with avenues into markets in Europe, North America and South Africa.... Ida Orsi of Maserati
---
Sophie Opel
As accountant and the primary investor in the Opel company, Sophie was responsible for the growth of the business from a small sewing machine factory to one which by 1895 had over 1000 employees. Opel became the largest producer of bicycles in the world, and their Opel Neander is widely regarded as one of the most beautiful and desirable motorcycles ever built.
---
Gabriella Morini
When Alfonso Morini died in 1969 the reins of company were taken by his daughter Gabriella. Her tenure was beset by problems with unions in the latter years, beginning in 1983 with strikes which added to the already difficult financial situation.
Gianni Marchetti, General Manager of Morini for four decades, said of her during an interview published in Motociclismo Epoca in 1996, "Gabriella, a lawyer. Married to a physician, owner of a clinic, she had no children. Devoted to her father, she really took to her heart the future of the business. No other woman would have had the courage to devote herself to the Firm like she did. Unfortunately, in the 1980s, Morini had become a hotbed of Trade Unionists."
In 1987 she sold the company to the Castiglioni brothers, owners of Ducati. Gabriella Morini had hoped to see the marque revived by Castiglioni, using the new Lambertini-designed 60-degree V-Twin, but despite their initial enthusiasm... Moto Morini
---
Vittorina Sambri of Moto Borgo
Vittorina Sambri raced Motoborgo machines from 1914 until at least 1922 when she won a round of the 500cc Italian Championship. In the 1950s she ran a Moto Guzzi dealership in Ferrara with her brother Romeo, also a champion rider. Moto Borgo
---
Nan Henry
Miss Nan Henry, Motorcyclist, 1915
---
Agnes Muriel Hind
Possibly the first female motorcyclist and famed for devouring her male competitors.
---
Mrs. Hulbert of Putney, 1903
Mrs. Hulbert has ridden her motor bicycle some hundreds of miles without a breakdown of any description, and at the present time, when lady motor cyclists are distinctly rare, her appearance always creates quite a sensation.
---
Minnie Kauffmann
A circus performer who travelled the world, there are suggestions that she may also have been a concert violinist, and later took a degree in law. Married Hugo Doebert 10 October 1907, and seems to have retained her maiden name.
It is becoming the settled recreation of visiting theatrical stars now to take motoring trips. We would not suggest that many of these gay people find Collins-street roadways centres of attraction — or, rather, find that they are the centres of attraction if they stay in Collins-street.
Miss Minnie Kauffmann, the little lady who is making a bicycle do everything but talk at the Opera House, is almost an expert in the management of a motor cycle as in that of her bicycle, and is frequently to be seen in the streets clad in the new motor-cycling dress fashionable now in New York. While travelling in Great Britain or America she always enters for the motor-cycling races at the towns she visits, being quite content to take her chances in men's competition.
At Blackpool she pulled off first prize, leaving nine men disconsolate. Their satisfaction came when at the prize-giving the president complimented her on her speed and skill, and handed her a snooker's outfit. Of course, after the joke was over, they sent her round a gold-mounted umbrella.
Punch (Melbourne, Vic.) Thu 26 Dec 1912
---
Alberto Marini, late principal tenor of the Quinlan Opera Company, should prove a great attraction to local music lovers. Chinko, an exceptionally clever boy juggler, and Minnie Kauffmann, a fearless trick cyclist, are other important features of an attractive entertainment. The boxplans open at The Dresden Piano Co. on Monday morning.
New Zealand Truth. Sat, February 22, 1913.
Vittorina Massano
Born in Genoa in 1934, Vittorina Massano, known as fornarina da corsa from her work delivering for her family bakery, began racing at the age of 16 in hill climbs and soon achieved fame winning many races including three wins in the Pontedecimo-Giovi. She competed against the likes of Angelo Tenconi and Giacomo Agostini, and against her husband, also a racer. She was also an ISDT competitor.
The talented rider is featured as the lead story in MotoCiclismo d'Epoca of November 2007.
Massano died in 2011.
In Memoria Di Vittorina Massano
---
Gwenda Stewart
"... she became exceedingly well-known and famous as Mrs Gwenda Stewart, wife of Col R N Stewart, with her record-breaking and racing achievements..."
Trump Motorcycles

"Fortunately for me, however, that moment has not yet arrived, as I can lift my latest mount, the 247 c.c. Levis, clear of the ground by my own unaided efforts."
Gwenda Jansen
N.B. The image shows Gwenda shortly before she lifted the Levis off the wooden block to chest height. Her surname changed several times - Hawkes, Janson, Stewart and Glubb.
---
Fay Taylour
In the early days of speedway Fay Taylour of Ireland became a champion speedway rider. Born in 1904, she was travelling the world by her early 20s, racing on the incredibly popular speedway tracks in England, Australia and New Zealand.
A rider of considerable talent, she wowed crowds around the world until women were banned from speedway in England in 1930. Fay then became a racing car driver and excelled.
---
Louie McLean "In 1925 [Marjorie] Cottle, together with Louie McLean and Edyth Foley, had won individual gold medals at the International Six Days Trial, an achievement that led to the A-CU grouping them in a semi-official national team for the Vase category in following year's event. They finished equal first with no marks lost, dropping to 3rd place after special tests to determine the winners. Promoted to full Vase status for 1927 but given no chance of success by contemporary commentators, the trio rose to the challenge by winning that category outright, beating Denmark into 2nd place with the all-male Great Britain team finishing 3rd. "
---
Olga Kevelos
ISDT star and party animal who liked "playing with the boys".
---
Eva Marzone
Known as "la Birusa" (the Veloce), she was one of the leading lights at Ollearo in the 1920s and 30s. Eva Marzone
---
Irma de Maere
Irma de Maere of Belgium raced Praillet & Antoine. Her last race was the Grand Prix de Bruxelles in 1929.
---
Betty and Nancy Debenham
No doubt referred to at times as the terrible twins, they wrote articles and books on motorcycling, a subject with which they were more than a little familiar. Nancy took a Gold Medal at Brooklands, and for many years they were mentioned prominently in every issue of every English language motorcycle periodical.
---
Anna Trauth
Ero Sidecars was founded 1934 at the city of Oberursel by Anna Trauth.
Helga Heinrich-Steudel
Helga Heinrich-Steudel raced MZ motorcycles and Formula One cars.
---
Marlene Parker
In her form-fitting all-white leathers she took the miniscule 50cc streamliner to 130mph, shattering the record. Or so some reports stated.
---
Elizabeth Cotton
---
Lore Keller of Munich raced an Imperia Royal combination in the 1920s and was a formidable competitor. She won the 600cc class in the Zirler mountain race of 1926 on an FN 600 solo and was faster than the winner of the 1000cc class.
Sources: motorrad-gespanne.de, feldbergrennen.de
---
Signora Isora Negri owned and ran Meteora of Bolgona for ten years.
---
Maria Aspesi, whose father was a Viberti dealer in Gallarate, founded Moto Aspes which built quite successful sports motorcycles and offroad racers from 1967 to 1982. At the time these were some of the fastest available.
Aspes History
---
Teresa Benelli
The Benelli company was established by Teresa Benelli in Pesaro in order to support her six sons, having been widowed. She produced her first motorcycles in 1921.
---
See also Anny Deim (Calthorpe), Marjorie Dare, Jackie Dare, Maureen Swift (wall of death), Anka-Eve Goldmann, Ilse Thouret, Lore Keller and others.
---
If you have a query or information about this page please contact us