Motorcycles Built in Italy
Notes on some of the rarer Italian marques
This page lists brands for which we currently have only an historical precis. For a more complete listing visit the Italian Index.
See also Obscure Italian Marques.
A
Abarth
In the mid-1920s Carlo Abarth worked with Castagna designing motorcycle frames before becoming a professional motorcycle racer, winning the European Championship five times. He was also a keen sidecar rider, and famously raced and beat the Orient Express over a 1300km route from Vienna to Ostend. He was associated with Tazio Nuvolari and Ferdinand Porsche.
Abarth built at least one motorcycle with his own name on the tank.
Later he formed a company which provided performance exhausts for all manner of sports cars, and the Abarth name became widely known internationally. The company was sold to Fiat in the early 70s and Carlo moved back to Austria, where he died in 1979.
There is an Abarth Museum in Belgium, and several books have been written about him.
Source: Italian Resources
---
Accumolli
Manufactured in Turin in 1950, this was powered by a Piaggio engine, alloy bodywork, 12 x 3.00 wheels.
Source: woiweb.com
---
Adriatica
1973-89
Giuliano and Alvaro Vernocchi ran a GP race team under the name of their agricultural equipment firm Adriatica. They commissioned Dutch engineer Jan Witteveen to build a 250cc tandem twin engine and housed this in a chassis created by Alessandro Strada and Dervis Macrelli.
A later version with a Yamaha engine was ridden by Randy Mamola with considerable success in the 1979 season, limited largely by the lack of adequate brakes for Randy's riding style. This and other issues with Team Adriatica caused him to leave, as discussed in Cycle World, January 1980.
Walter Villa joined the team for the 1980 season.
Sources: ozebook.com, eurospares.com, Cycle World
---
Albertazzi
Manufactured by Luigi Albertazzi, 1945-1967
Address: Via Savenella 40, later Via degli Angeli 14 (from 1950 ca.) Bologna
Prior to WWII Luigi Albertazzi was well-known as a rider in all forms of the sport, often riding Rudge and Moto Guzzi. In 1945 he ran a bicycle and motorcycle workshop in Via Savenella whilst continuing his sporting activity, obtaining excellent placings also in scrambles at Imola in 1948.
Albertazzi, a dealer for Alpino, created sprung frames for Alpino lightweights. Around 1950 he moved the company to Via degli Angeli, and that year he won on a Triumph 350 at Imola, obtaining the National Motocross Trophy.
His racing and motorcycle dealing activities began to take second place to new interests and in 1960 he assumed management of a metalwork factory in Via L. Valeriani.
Source: Museo del Patrimonio Industriale, Bologna
---
All Cars
Manufactured by All Cars of Pianoro, Italy, the three-wheeled Charly microcar was designed by dune buggy manufacturer Autozodiaco of Bologna.
Production began around 1974 with machines powered by a 4-speed 50cc Franco Morini engine. Some were apparently fitted with the BCB 50cc motor.
In France it was marketed by Vitrex as the Snuggy, and was fitted with a Motobecane 50cc engine. It was legal for anyone over 14 to drive it, sans permis.
The Charly III of 1982-85 was available with a 50cc or 125cc engine. A four-wheel version was introduced in 1986 with optional 125cc or 250cc engine, the Charly 4.
Sources: 3-wheelers.com, wikipedia.org, et al
---
Ambrosini
Situated in Passignano, Trasimeno, the firm was best known as an aircraft manufacturer. They built the Freccia AZ 150cc from 1951 to 1953, one of which is displayed in the Sciarpetti collection.
See Freccia-Azzurra
---
Arcellis & Tarditi
Company formed in 1952 in Borgomanero, 60 km northwest of Milan.
Their 125cc two-stroke engines were employed by Aldbert in 1954
Sources: Moto di Lombardia, dati.acs.beniculturali.it
---
Arciero
The chassis for these were manufactured by Italtelai, engines were Franco Morini.
Models included Arciero Eagle, Hawk II, 1978/78 Sea Gull
Sources: myronsmopeds.com, et al.
---
Augusto Bonori
Manufactured in Bologna, in Via Gastone Rossi 13 (formerly Via Rodi), in the Cirenaica district.
A manufacturer of motorcycle tanks, it appears he also assembled motorcycles. Photographs show a mid-fifties style light motorcycle with a Sterzi engine.
Source: collezioni.genusbononiae.it/products/dettaglio/29259
Autozodiaco
Mario Zodiaco established a firm named Autozodiaco in Bologna which built dune buggies powered by air-cooled VW engines from 1969 to 1981.
Their foray into the motorcycle world saw them fit a pull-start JLO-Rockwell two-stroke snowmobile engine into an offroad motorcycle chassis with balloon tyres in 1973 named the Moto Zodiaco. The machine featured in a 1974 film starring Bud Spencer and Terence Hill.
Autozodiaco also produced three-wheeled microcars named Charly powered by Minarelli 49cc engines.

Quite a story - more at: autopasion18
Sources: autopasion18, Wikipedia DE.
---
B
Baldi
Manufactured in Viale Guidotti Beyer, Bologna, in the 1950s
A photograph exists of this moped, which is believed to be the product of a Baldi workshop based in Viale Guidotti, outside Porta Sant'Isaia. The frame is of steel tubing with a double cradle and the engine resembles an F.B.M., with unit construction and an integral pedal crank. It is thought to be a prototype, so possibly very few were built..
Source: Museo del Patrimonio Industriale, Bologna
---
Ballanti
The Ballanti brothers of Bologna were involved with Moto Gori, for whom they built fibreglass components. It is not known if they were responsible for the 1958 Minarelli-powered 50cc moped sold at auction in the Netherlands in 2007. These may also have been marketed as Ballant, with no i. The stylised swallow logo is very similar to that of Bruno Muller who was also based in Bologna at that time.
There was a moped powered by FB Minarelli in 1962.
There is a Roberto Ballanti associated with Ducati in the 1970s, a road racer.
Sources: motogori.it motoclub-tingavert.it et al.
---
Barbiero
---
Binassi
Built in Bologna in 1970s, these were 125cc Grand Prix motorcycles. Luigi Rinaudo raced these when a member of the NCR team.
They were highly regarded, and two examples reside in the Poggi Collection.
(Not to be confused with MB, Moto Benassi)
---
BM
1928-1931, a collaboration between Antonio Baudo and sidecar maker Meldi using JAP OHV 500cc engines. See also Meldi, below.
N.B. Not to be confused with Moto BM, (BM Bonvinci)
Sources: Tragatsch p89, et al.
---
Bombaci
Manufactured 1978-1988 by Claudio Bombaci
Built 50cc and 80cc motocross machines fitted with Minarelli engines. Early in the piece Valerio Gherardi gained limited success with the 50cc machine, and then in 1981/82 he took wins in several regional races and in the Italian championship. Other Bombaci riders did quite well in those years, with the result that some 4 out of 5 machines on the grid at regional races were built by Bombaci.
The spell was broken in '83 when the new model, which had a number of unique features, failed to sell - not because there was anything wrong with them, but simply because they were "different". That didn't prevent them from performing, however, and from '83 to '85 further laurels were gained, particularly at the hands of the Ravaglia brothers. At this point the Bombaci was regarded as the best handing chassis in its class.
Business took a further beating when the rules were changed - the 50cc class was replaced with 80cc, the "ottantini", and sales of 50cc machines plummetted across the nation. Claudio Bombaci tackled the problem with a new machine for the 80cc class but the challenge was too great for such a small company. The last production machines were built in 1988. In total some 50 Bombaci motocrossers were created.
In the following years Claudio devoted his time to suspension, and then, at the age of 63, began seeking out and restoring some of the originals.
Source: mangiapolvereoldirtbike.blogspot.com
---
Bompani
Built in Boano, the Bompani Cross 125 1977 had a Yamaha engine. Few were built, and it has been described as "home-made".
Source: mangiapolvereoldirtbike.blogspot.com, et al
---
Bruzzesi
Manufactured by the brothers Dario and Poerio Bruzzesi of Fabriano (Ancona) 1924-1926
Using a Train 123cc two-stroke engine, they created a lightweight motorcycle with which Poerio Bruzzesi competed in local events, without much success.
The machines were chain drive with Salmson magneto and Amac carburettor, two-speed gearbox, and 26" x 1.75" wheels.
Source: Benelli Museum
---
C
Cariani Gimk
Manufactured in Reno Centenese (10 kilometers from both Bondeno and S. Agostino) in the province of Ferrara.
1960s to the early 1980s. Built a variety of models, mostly mopeds with single and 3-speed gearboxes, almost all with the GIMK marque (for gimkana, most likely) and Minarelli engines. Some were very sporty indeed.
Sources: passione50cc.forumfree.it, motoclub-tingavert.it
---
Carpio
Manufactured 1930-1935
Used 98cc and 124cc Aubier-Dunne and Stainless engines
Source: Tragatsch p101
---
Cavallino
Manufactured by Savi Ferdinando & C. of Via Saffi 69, Bologna.
A small number of inexpensive three-wheelers were constructed in 1953.
Source: Museo del Patrimonio Industriale, Bologna
---
CCE Design
Trials machines designed and built by Emilio Carra, the first appearing around 1983 (or possibly earlier).
These were mostly unique machines hand-crafted using a variety of engines from Ossa, Gilera, and Moto Guzzi, and frames using specialist tubing from Mechanical Steel and Columbus.
They built the Puma Trials with a Tau engine, examples of which are featured in the gallery.
---
Cerbiatto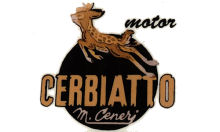 Manufactured in Bolgna by M. Ceneri
Late 1940s to early 1950s, these were cyclemotors using Mosquito engines.
Cerbiatto = fawn
Sources: BuyVintage.com
---
CNA Rondine 1923-1935
---
COM
Manufactured by Carbonero & Schoch, Torino, 1926-1928
Built lightweights using 123 and 173 cc single-cylinder engines.
Sources: Tragatsch p106, wikipedia.nl
---
Cremonini
Manufactured by Augusto Cremonini, 1949 to 1952.
Address: San Giovanni in Persiceto (Bo), Via Pio IX Bologna
Established in 1904 as a bicycle manufacturer, Augusto and his sons Alfiero and Bruno developed the business over the years with around twenty employees in three workshops which did the welding, painting and final assembly.
After the war they built, along with bicycles, mopeds powered by Garelli Mosquito 38 and 38B, Ducati Cucciolo, Industria Torinese and Meccanica ITCM.
Source: Museo del Patrimonio Industriale, Bologna
---
Crevimbar
Crescentini, Vimini and Barilari built a 198cc two-stroke in 1924. Only three examples were built before the partners fell out and production ceased. The motorcycles worked well enough - one of them was still performing on the Wall of Death at Togni circus some 20 years later.

Source: Benelli Museum
---
CR&S
Based in Milan, CR&S was founded by Roberto Crepaldi, a close friend of John Britten. The CRS Vun is powered by a 652cc Rotax similar to that fitted to the BMW F650.
It was imported to the UK by Flitwick Motorcycles of Bedfordshire.
Crepaldi formed a new company in 2016, Record Motorcycles, with the aim of building V8 land speed record machines. One of them is named Tribute to John Britten and develops 294kw from 2500cc.
Sources: Britten Motorcycle Company, amcn.com.au, et al
Facebook Warning!
---
D
D.B.
Manufactured around 1955-1956, probably in Bologna.
Lightweight sports motorcycle with four-stroke Sachs engine. A period photograph demonstrates its existence, but little is known of the marque.
Source: Museo del Patrimonio Industriale, Bologna
---
DE-CA
From 1954 to 1957 the firm built 98cc ohv singles and also a 123cc vertical twin, along with a 49cc bicycle clipon engine.
Source: Tragatsch p113
---
D&C - De Stefani & Conti
Vittorio Conti and Tullio De Stefani built their first motorcycle in their workshop in the Chienti valley near Tolentino in 1923 - it was cobbled together using an elderly Faini engine, somewhat modified, with a variety of chassis parts. The Faini is a 125cc two-stroke with an Eisemann magneto and a Longuemare carburetor. Conti's first race was on 20 July 1924 in Tolentino - he went on to ride many more.
Two years later, after many wins, Fratelli Faini of Lecco offered Conti & De Stefani a dealership, and at about that time construction of their first production motorcycle began. Named the Fabbrica Italiana Ciclomotri D & C (for De Stefani & Conti). Solo and sidecar machines were offered for 4,000 and 6,000 lire, each powered by a Della Ferrera 125cc two-stroke.
For 1927 the Tolentino company added three new lightweight models - The Baby, the Balloon and the KSS, all retaining the Della Ferrera 125. The Baby was designed for ladies and clergymen, the Balloon was the gentlemans' version, and the KSS was a sports model with dual exhausts and drum brakes front and rear.
Towards the end of 1928 Tullio De Stefani left the firm. Vittorio continued, and renamed the brand to Conti.
Sources: Benelli Museum, motoclubstoricoconti.it.
---
DKW-Cavani
Manufactured by Bruno Cavani, Via G. Mazzini 174, Bologna, 1949-1957
In 1923 Bruno Cavani's activity began as the sole representative for Italy of the German car and motorcycle factory DKW, based in Via Mazzini 174, in the area between the current Via Emilia Levante and Via Fossolo.
Due to the fascist government's constraints and harrasment, and then the damage caused by the bombing of 12 October 1944, he was forced to close.
Immediately after the war he enlisted the services of the nearby OMA and Amadori firms to construct the components he required for motorcycle manufacture - light alloy castings, rims, hubs, brakes and the like. Cavani, who in 1949 designed and patented a rear swingarm suspension system, fitted the DKW 125 RT engine to his own chassis. He had a been a DKW representative before the war, and they were pleased to renew the agreements.
Cavani was then in a position to sell both his own motorcycles along with those built in Germany.
Along with the RT 125 W Turismo built in Germany he added other models to the range - the RT125 W Gran Turismo, Sport, Lusso, Corsa, and in 1952 cross-country models.
Early in 1957 Cavani sold the business to his nephew Livio Biagini who has been working with him for some time. Shortly thereafter the company closed. The DKW dealership went to the Motoauto[1] company, headquartered at the same address - Via Mazzini 174.
N.B. genusbononiae.it refers to both Motoauto and Motauto - the former is likely correct. There was a Motauto near Varese in the 1950s.
Sources: Museo del Patrimonio Industriale, Bologna; collezioni.genusbononiae.it
---
E
Energica
The Energica project began in Modena in 2010, and in 2014 the Energica Motor Company was formed and their first electric motorcycle, the Energica Ego, was presented at Monte Carlo that year.

F
Falchetto
Manufactured around 1954-1956, it was fitted with a conventional piston-port 125 or 160cc two-stroke in a modern frame with telescopic forks and rear suspension, possibly both from Testi. It is thought to have been built in Bologna.
Source: Museo del Patrimonio Industriale, Bologna
---
Favari
Manufactured in Treviso in the 1920s using Train engines. An advertisement reads:
"Favari-Train - Filli Favari - Fuori Por'a Manzoni, Treviso."

---
FiM
FIM Chihuahua 50cc Modello 50, Salon Torino 1976
Nothing further is known about this machine.
---
Fini and Ballant - Eredi Fini
Married couple Angelo Fini and Enrica Mazzetti established the Casa del Ciclo - Eredi Fini business in 1940. Both died in September 1946 and their children, still minors, took over with help of a tutor. In 1949 Anna Maria Mazzetti, with her husband Bruno Ballanti, assumed control. They built bicycles, and sold Atala accessories. From 1955 they also marketed mopeds with modified suspension powered by F.B. Minarelli engines (and probably others) under the brand name Ballant, and possibly also used the Fini marque.
From 1959 the company was managed solely by Anna Maria Fini (Casa del Ciclo e Sport) with headquarters in Via Indipendenza in Bologna and many branches in the area (Calderara, Funo di Argelato). They remained active in the cycle-motor sector until 1977, when construction of mopeds and motorcycles ceased.
N.B. A machine by G.B. of Bologna powered by a Veggetti 75 engine is associated with Casa del Ciclo, so it is possible that this was built by Eridi Fini and marketed by G.B., of whom very little is known.
Sources: Museo del Patrimonio Industriale, Bologna; collezioni.genusbononiae.it
---
Fit
1950-1954. Built 123c and 14cc lightweights using their own frames and JLO engines.
Source: Tragatsch p 135
---
G
GAOMA
The firm produced a 65cc scooter named Daino in 1951 with bodywork by Magni of Milan. Later models had 75cc engines, and they remained in production until 1954.
See also Bertoni of Lodi
Source: motoclubstoricoconti.it
---
Ghezzi & Brian
Established in Missaglia, Lecco by Giuseppe Ghezzi and Bruni Saturno from 1995, these are high-end Guzzi-based sports bikes.
They have had good results in competition.
Production began in 1999 with the Supertwin 1100, and this was followed by the unfaired Furia. In 2004 the Fionda appeared. More recent models include the Dr John Tribute.

They were involved in the development of the Moto Guzzi MGS-01 Corsa.
Sources: motorencyclopedie.nl, ghezzi-brian.com
---
Gianca
---
GM
Giuseppe Marzotto was a moto-cross competitor before entering speedway, becoming Italian Champion in 1975-1978 & 1983.
The GM500 OHC 4-valve engine first appeared in 1979, entered production in 1980, and achieved worldwide attention in 1983 when Egon Muller won the World Championship, with Erik Gunderson taking the title the following year, again with a GM.
By the turn of the century the Marzotto-designed powerplants were the one to beat, and appeared in long-track, short-track and ice-racing. In 2015 Tai Woffinden won the World Championship using a GM.
Borile fitted a modified and detuned GM engine to their B500 Cafè Racer in the late 1990s.
More information: The GM Story
Sources: national-speedway-museum.co.uk, cycleworld.com, et al.
---
GP (Griffoni & Piccini)
In 1927 Luigi Griffoni and Libero Piccini of Falconara Marittima (Ancona) built a motorcycle named GP. It had a 216 cc four-stroke horizontal single-cylinder engine of their own design which ran on diesel or petrol. It was only built that year.
Not to be confused with the GP by Guzzi and Parodi, the forerunner of Moto Guzzi.
Source: Benelli Museum
---
Guia
Manufactured by Officine Ettore Buralli, Vanam, Milano, 1950-1954
Built lightweights with two-stroke engines of 98, 123 and 147 cc. A Turismo model was available with a pressed metal frame, and a Sport with tubular frame.
Sources: wikipedia.nl, Tragatsch p153.
---
H
Harlette
According to Wikipedia NL the Harlette was built as a 123cc and 173cc two-stroke at the Puch factory in Austria for Harley-Davidson importers in France, Italy and Belgium and were produced from 1925 to 1928, and that in France they were also sold as Harlette-Géco because they were sold to Gerkinet & Co. in Jeumont.
However, Bretti Brothers differ somewhat, telling us that MAS produced the Harlette as a fourstroke in 1930. Further information here: MAS Harlette
Sources: wikipedia.nl, Bretti Brothers, Tragatsch p155.
---
I
IBIS
Manufactured by Industria Bicimotociclistica Italiana Sperimentale, 1948-1950
Address: Via del Piombo 2 and Via F. Sabatucci 11, Bologna
Founders: Canzio Bonora, Walter Sita, Antonio Ceroni, Anita Frascaroli
Built light motorcycles with two-stroke engines of 50cc and 75cc.
Unrelated to Ibis of Turino
Sources: Museo del Patrimonio Industriale, Bologna, et al.
---
ICEMI
1926-1928, Milano
The firm built motorcycles using their own engines along with 175 to 500cc units from Blackburne and JAP. Production volume was low.
Source: storiadimilano.it
---
IMC
Manufactured by Industrie Meccaniche Calzolari, 1954-1957
Address: Via Emilia Ponente 207/6, Bologna
Founders: Angelo Calzolari, Liliana Gambarini, Marco Pagliano, Alberto Gregorini
Based in Vignola, the IMC firm built their first micromotor in 1949, and patented it in 1951. These engines were supplied to Alfredo Focesi of Milan who presented them under the Gloria brand at the XXVII Salone di Milano in 1949.
IMC 48 engines were also sold to Pietro Negrini, who moved his company from Bologna to Vignola in 1949.
Around 1954 IMC constructed mopeds under its own name. In 1954 he opened a branch in Bologna, in Via Emilia Ponente, but sales were slow and bankruptcy ensued in 1957.
Source: Museo del Patrimonio Industriale, Bologna
---
J
Jada
The Jada 500 GP was built by Jack Findlay and Daniele Fontana using a Suzuki TR500 engine and first raced in 1972. A water-cooled version appeared in 1973. Previously Findlay and Fontana had worked together at Cardani
Jada is an acronym derived from Jack and Daniele.
Findlay's racing career is the stuff of legend and includes 15 finishes at the Isle of Man TT.
Jack was quite the gentleman, and after his retirement from road racing he became Grand Prix technical director for the FIM, a wise choice given his multilingual skills and considerable knowledge of the field. He settled in France and married Dominique, widow of Georges Monneret (a French motorcycle dealer notable for having ridden his Vespa from France to England before there was a tunnel).
Articles on the Jada:
motorcycleheritagefmi.it
ozebook.com
---
Junior
Manufactured by Edoardo Mascagni of Antignano (Livorno), 1924-1935
Son of Italian opera composer Pietro Mascagni, Edoardo built motorcycles using his own frames which housed JAP SV and OHV engines of 173 to 499 cc, Blackburne 248 and 348cc OHV engines, and also built his own two-stroke engines of 174 and 346cc. These were quite possibly JAP Aza engines built under licence.
He died in the Abyssinian war in 1935.
Source: Tragatsch p181
---
L
L'Alba
Manufactured by Giorgio Valeri Alba 1924-1926, these were lightweight motorcycles with German OHV 198cc engines.
Source: motoclubstoricoconti.it
---
Ladetto
The Ladetto brothers traded under the Ladetto marque from 1923 to 1927 at Via Giacosa N° 19, Turino. They sold components to Alato among others, and possibly built their own motorcycles.
Joined by Blatto, the firm's name became Ladetto & Blatto, reverting to the original name when he left in 1930. The company ceased production in 1932.
Sources: Tragatsch p72, amicidellemotobicisottocanna.blogspot.com
---
LGM
The company built GP racers including 50cc machines.
LGM was raced in GP events by S. Zattoni and Ezio Mischiatti in 1978, Massimo de Lorenzi in 1984, and Éric Saul in 1986.
---
Librenti
A four cylinder 500cc GP machine built by Giancarlo Librenti using a frame by Carlo Verona of VRP, it was campaigned by Marco Papa during the 1992 season. The highly regarded "Fuzzi" Librenti, who collaborated with Malanca and was mechanic for Agostini in 1976, suffered a heart attack and died in 1993 at the age of 56. The project was taken over by VRP.
Sources: motociclismo.es, et al.
---
Longhi Sidecars
Manufactured by G. Longhi - Via Arena, 2, Milano (1948)
Built numerous models from the 1920 until 1950 or later.
Search: Longhi
---
M
Maer
Manufactured in Italy c1977~1983
In 1980 they produced a 125mx in two versions, air-cooled and liquid-cooled. Other models included a 250 Hiro and a 380cc MX500.
Claudio Bissaro was a dealer for Maer 1978-80.
The marque is somehow related to Verona, perhaps from the same area.
FB group: https://www.facebook.com/Italcross-Registro-Storico-Moto-Maer-Verona-640680879338192/
---
Mazzilli
Manufactured by Giorgio Mazzili 1970-1975
Off-road machines of 49cc to 248cc were built, models included the RSC 125 using a Sachs engine and in 1976 the LHS125 enduro.
Prior to producing machines for general sale, in 1956 Giorgio Mazzilli of Milan built a batch of five off-road machines using an Aldbert 175cc 4 stroke engine. Mazzilli rode this motorcycle in many off-road racing competitions and also at the Valli Bergamasche.
Sources: wikipedia.nl, Moto di Lombardia
---
MB
Meccanica Benassi, founded in 1953, built mopeds, light motorcycles and road racers from the 1950s to the 1970s. Models include a 1958 125cc two-stroke with rear suspension. Examples of their road racing machine are featured in the Poggi Collection
The company remains actively involved in light agricultural equipment, cultivators and motor mowers. See www.benassi.it
---
Meldi
Manufactured by Officine Meccaniche Giuseppe Meldi, Torino, 1921-1953
Limited production of racing motorcycles using 248, 348 and 498cc engines from JAP and Rudge Python.
The firm produced sidecars, and also built twelve cyclecars using Della Ferrara and other engines. Production of these ended in 1933.
In conjunction with Antonio Baudo the firm produced BM motorcycles between 1928 and 1931. These are not to be confused with Moto BM of Bologna.
Sources: wikipedia.nl, wikipedia.de, et al.
---
Mercury Engines
Tomaselli motorcycles of 1934 used Mercury. Vaschetto motorcycles were powered by 250 and 500cc Mercury engines. FB, Mello and Moto Columbo fitted Mercury.
---
Merli
Manufactured by Medardo Merli Motocicli, Parma, 1929-1931
Built lightweights with 173cc Train two-stoke engines.
Source: wikipedia.nl, Tragatsch p209.
---
Metrakit
Located at Castel di Sette, Mozzagrogna, the firm built a variety of junior competition off-road and road racing machines, and a large range of performance products. They sponsored many races at national and international level, and developed a Mini GP School for which they built 50cc road-racers. The firm had a strong Spanish influence.
Their website's last updates were for 2014.
Sources: civ.tv, metrakititalia.com (archive).
---
Michelini Engines
Manufactured by Mario Michelini of Bologna, much of the factory's output was absorbed by Mondial who suffered considerably when Michelini production ceased following Mario's death in an accident in 1961. Michelini, who had established a good working relationship with Giuseppe Boselli of Mondial, supplied all of their of four-stroke 125 and 175cc engines.
Source: Nunzia Manicardi, Moto di Lombardia.
---
Moretti (Primo Moretti)
Manufactured 1925-1932 [1]
Primo Moretti rode with Frera and Moto Guzzi before building his own motorcycles using Rudge Python engines and his own frames. Forks were from FIT of Milan (Fabbrica Italiana Telai) and the wheels, hubs, brakes and other components were also locally sourced.
Around 10 or 15 machines were built.
Primo served as a motorcyclist during the first war, he raced with Frera from 1920 until late 1924, and then with Guzzi from 1925 to 1940 (by which time he was considered an "old man" by his compatriots). He was a close friend of Nuvolari, and also raced with the likes of Varzi, Bandini, Ruggeri and Bordino. The laurels he received during his racing career would have sunk a ship - the list was very long. During this time he managed a motorcycle dealership.
Immediately after the end of the second war he rode to Mandello to renew his relationship with Moto Guzzi. On the return trip he had a collision with a truck.
Notes. 1. Moretti motorcycles may have been built earlier than 1925 and later than 1932, but they are recorded as being raced in those years. The primomoretti.it website mentions only a 175cc Moretti, but the Benelli Museum site speaks of Rudge Python engines being fitted.
Sources: Benelli Museum, primomoretti.it
---
Monterosa
1954-1958
Manufactured 49cc lightweight motorcycles using Itom engines.
Source: wikipedia.nl, Tragatsch
---
Moto Arnaldi
Arnaldi built some 30 quality motorcycles in Cascina, Pisa during the 1930s. These were also sold in Liguria. Early machines had British engines including JAP, and then when the embargo on English goods was enforced he used German and Italian engines.
A known survivor, possibly the first one built, has a JAP 170cc OHV engine with exposed coil-type valve springs.
Moto Arnaldi Gallery
Source: Renato Paganini
---
Motoplast
Manufactured by Virginio Stanga in the 1970s and perhaps early 80s, these were frame and bodywork kits which transformed a variety of machines into high-performance roadsters.
Stanga was a competition rider who competed in the 1979/80 Tourist Trophy, 1975/76 Le Mans, and the 1978 Bol D'or, among others.
---
MVB
Manufactured by Moto Valla Bologna in the 1950s
Address: Vicolo Alemagna 1 Bologna
Founders: Filippo and Gaetano Valla
Production was limited and only one survives, a Sport model.
Source: Museo del Patrimonio Industriale, Bologna
Another marque with the same name in Milano: MVB 1954-58
---
MZV
Manufactured in Bologna c.1965-c1990
Via Edoardo Ferravilla 10, Bologna (via brochure)
Built 50cc mopeds named Cobra (a tubone), Cambridge, Safari and Montreal. 4, 5 and 6 speed engines were from Minarelli and Franco Morini, frames from Verlicchi. Many of these were imported to the United States by MBI of Pennsauken, New Jersey.
Source: icenicam.org.uk - a very informative and well-written article, with a chuckle or two for good measure.
---
N
Nadia
Mopeds built in the vicinity of Bologna of which images exist but little is known.

Source: Museo del Patrimonio Industriale, Bologna
---
NCR
Giorgio Nepoti, Rino Caracchi and Luigi Rizzi had a workshop in Borgo Panigale in 1967, within cooee of the Ducati factory. There they created racing machines based on production Ducati models.
In close co-operation with Ducati engineers and designers including the likes of Taglioni they produced a string of excellent competition machines, best known of which is the Ducati 900NCR which Mike Hailwood took to victory on the Isle of Man in 1978.
NCR fielded the first official Ducati racing team.[1] Rizzi had left by this stage, so the R stood for Racing. Their performance drew worldwide attention and many high-calibre riders campaigned on Ducati-NCR machines, Wayne Gardner and Freddie Spencer among them.
In more recent years they have released production racing models - the Millona of 2005 the first, designed and produced almost entirely in-house.
Notes. 1. Not quite official. Long story.
Sources: ncrfactory.com, et al.
---
Nello
Manufactured 1977 in Bologna.
It is possible the marque was also known as NF and was built 1972-1977.
Source: wikipedia.nl, et al.
NB. Few references to such a marque have been found.
---
NP
Nerio Pancaldi has been building specials as a hobby since the early 1960s. Typically he will convert a small Italian OHV engine to DOHC, some of which have desmodomic heads.
Several of these are on display at the Collezione Moto Poggi.
---
NSV
Manufactured by Nanni Società Velomotori), c.1940s-1950s.
Address: Via Porrettana 45 Bologna
The firm built a few hundred velomotors using the Grillo engine supplied by brothers Guglielmo and Stefano Marzocchi who had worked with Nanni during the war supplying , like Ducati with precision components.
NSV also produced their own engines in tipo Normale and tipo Sport. These had teething problems which were remedied, but competition in the field was strong and also Marzocchi decided to concentrate on suspension and dropped their engine project. As a result NSV ceased motorcycle production.
Source: Museo del Patrimonio Industriale, Bologna
---
O
O.C.C.
Manufactured by Officina Cocchi & Compagno from the 1940s to c.1953.
Address: San Giovanni in Persiceto (Bo), Via Modena 6 Bologna
Founders: Enrico Cocchi and Alfio Bonasoni
Cocchi joined Ducati as an apprentice and later worked with Officine Calzoni.
Bonasoni was known locally for motorised bicycles which included Ducati Cucciolo, some with front suspension. O.C.C. also manufactured forks, stands and exhaust systems. Motorcycle construction continued until the years 1952-1953, with about 40 units completed, but by this time competition from the larger manufacturers caused them to cease.
Cocchi & Bonasoni acquired agencies for Innocenti and NSU and continued until 1965, with their workshop repairing and servicing automobile engines, trucks, motorcycles and agricultural equipment.
Source: Museo del Patrimonio Industriale, Bologna
---
Ohvale
Manufactured by Ohvale SRL, established 2021
Via Evangelista Torricelli, 25 – 31021 Mogliano Veneto (TV)
Valerio Da Lio created a series of high-quality racing mini-bikes with the aid of Mariano Fioravanzo. The single-cylinder four-strokes were made available with engine sizes of 110cc, 160cc 190cc and 212cc. The 110 has automatic transmission, the others are all four-speed.
Sources: ohvale.com, ohvaleusa.com
---
OMC
Mopeds built at Via Menghini, 8, Budrio, near Bologna.
Manufactured by Odino Macchi Ciclomotor
An example pictured at mondo50cc.forumfree.it showed a lightweight two-stroke of probably 50cc sans pedale with small mag wheels. Another at subito.it is described as "...tubone prototype college Cambridge oemmeci o. M. C. Omc minarelli 4-speed from 1978" has conventional wire wheels, no pedals, vertical two-stroke engine, telescopic forks and swing-arm rear.
Several pages use both OMC and Oemmeci together, but OMC factory advertising of 1987 does not mention Oemmeci.
Sources: mondo50cc.forumfree.it; subito.it; et al.
---
P
Piarino
Folding scooterette with 50cc CR Motori Italia. Manufacturer unknown
Source: klaus-flechsig.de
---
PL
Manufactured by Luigi Piermattei, who had been the accountant for Merlonghi of Tolentino. When it closed he took over the company and in 1927 began production, under the PL brand, of the same 98cc and 132cc models. The new machines were somewhat refined but maintained the appearance of the Merlonghi. Later he fitted Train engines from France. The venture came to a halt at the onset of the depression, in 1929.
Sources: Benelli Museum, ik6cox.it.
---
Puma
Designed and built by Giuseppe Trubiani of Villa Potenza (Macerata) in the 1950s using JLO two-stroke engines. He only made two.
Source: Benelli Museum
---
R
Ribetti
Recorded as being the first motorcycle to exceed 10,000 rpm, only one example of the 1925 125cc machine survives and is displayed at the Bassella Museum in Spain.
---
Rocca
Manufactured by Amedeo Rocca in Bolgna.
From 1956 to 1960 Rocca supplied two-stroke engines to the Boselli Brothers of Mondial of up to 175 cc. Rocca entered bankruptcy for the fourth and last time in 1960, adding to the serious woes Mondial was experiencing.
Source: Nunzia Manicardi.
---
Rondine Motor
Via Cristoforo Colombo 436, 00145 Roma
Established in the year 2000 by Filippo & Marco Nuccitelli. Their prototype RRV1 appeared in 2005.
A new company was formed in 2010, "Industrie Motocicli Nuccitelli S.r.l.", aimed at the electric motorcycle market. The first of these was the "Elettra" followed in 2014 by their "Elettra Motard and in 2015 the Elettra Cafe-Racer.
Website: rondinemotor.com
---
S
Saglietti
Manufactured 1923 - 1924
Giovanni Saglietti, Turin. An established bicycle producer who sponsored a racing team of some 10 cyclists in the mid-1920s.
A surviving example is fitted with a VIS engine by Gazzi, and a photograph exists of Giovanni and his wife with motorised bicycles from around 1950, indicating that the firm may also have produced these.
Source: amicidellemotobicisottocanna.blogspot.com
---
SAM
Manufactured by Società Automobili e Motori, Via Boccaccio N. 9, Legnano, 1922-1928
Their first model was a three-wheeler named the S.A.M. Vaghi, powered by an 1100cc engine. Also available as a four-wheeler, the marque entered the field with to great aplomb, taking the first three places of the 1923 Milan Cyclecar GP. 1
The Vaghi was originally built in 1920 by Motovetturette Vaghi SA.
Subsequently they built only four-wheeled vehicles.
Notes: 1. autopassion18.com says they took 3rd, 4th and 5th.
Sources: Period literature, wikipedia.it
---
S.A.M.E.M.
Manufactured by Società Anonima Motocarri Elettrici Moretti, 1932-1955
Founder: Giovanni Moretti
Address: Torino. Bologna, Via G. Marconi 20 Bologna (offices from 1944)
Source: Museo del Patrimonio Industriale, Bologna
---
S.A.M.P.
Manufactured by Società Anonima Meccanica di Precisione, c.1936-1954
Address: Via P.A. Rappini 29, later Via Galliera 12 (office) e Via Ponte Romano 38 (workshop). Then in 1958, Via Stalingrado 79 (workshop) Bologna
Pre-war they manufactured quality gears of all kinds, and by 1939 were producing worm gears and a variety of other parts for cars, motorcycles and tractors.
Around 1952 they began building micromotors and in 1954 two models were offered of their Farfallino 48cc two-stroke.
Source: Museo del Patrimonio Industriale, Bologna
---
San Cristoforo 1949-1953
---
Sangiorgi
Manufactured by Giuseppe Sangiorgi
Address: Strada Mazzini 47, and from 1957, Via A. Albertazzi 24 (office) and San Lazzaro di Savena, Via Emilia Levante 201/11 (office), Bologna.
Sangiorgi was in business from 1919 to 1959, and built motorcycles from the postwar period to about 1953.
Source: Museo del Patrimonio Industriale, Bologna
---
Saturnia
Manufactured by Alfredo Bondi and Ernesto E. Masina in Bologna, 1927-1928
Later Alfredo built the Bondi motorcycle.
Source: Museo del Patrimonio Industriale, Bologna
---
Serafini
Manufactured by August Serafini in 1950.
A native of Bologna, Serafini built a SOHC Special 250 in Florence. He was well-known for his model aircraft engines.
Source: Museo del Patrimonio Industriale, Bologna
---
S.I.M.A.M.
Manufactured by Società Industriale Motori Accessori Motocicli, 1956-1958
Address: Via G.B. Melloni 3, later Via del Greto 30 Bologna
Founders: Mario Michelini, Bruno Negroni
After the bankruptcy of B.D.B. (Brevetti Drusiani Bologna) the firm moved to a garage in Via G.B. Melloni with Drusiani as part of the staff before he returned to F.B Mondial.
Financial considerations forced the sale of the rights of the Comet motorcycle, and these were bought by Mario Michelini and Bruno Negroni. Paride Bernardi became involved, forming an association with the BERNEG motorcycle firm. Bernardi managed the firm, and was joined by Amedeo Tigli, a former Italian Champion who had built a 175cc named Tigli.
The new company initially operated at Via Melloni 3 before moving to Via del Greto 30, in Pontelungo near the river Reno. There they built motorcycles which differed to the COMET-Drusiani in little other than the colour scheme.
In 1957 S.I.M.A.M. produced the COMET-Drusiani 175 Turismo, a SOHC 125cc single, and a twin-cylinder 250, Plans were afoot for a 125 two-stroke but it did not eventuate, and production ceased in 1958.
Source: Museo del Patrimonio Industriale, Bologna
---
Silvani
Moped manufactured in Bologna in the 1950s, as evidenced by a photograph. Currently no further information is available.

Source: Museo del Patrimonio Industriale, Bologna
---
Snark
The Snark Moped company of Carteret, New Jersey marketed a series of mopeds built by Italvelo & Italtelai. Powered by Minarelli and Franco Morini engines, models included Snark Satellite (1978), Bianchi Satellite and Bianchi Snark, and there were also Benelli mopeds.
The Satellite models, built by Italtelai, were also sold by Arciero and Pacer under their own brands.
Source: myronsmopeds.com
---
Spaviero
1954-1955
The small company built motorcycles fitted with OHV 98cc parallel twin engines.
Source: Tragatsch p276
---
Stella
1924-1927
Built by Max Türkheimer, these were fitted with 173cc Blackburne engines.
An O.T.A.V. catalogue of 1907-08 mentions the Stella engine, implying that it was built by Türkheimer.
See also Astra
There was also a long-established French Stella marque - see Disambiguation
Sources: wikipedia.nl, period advertising.
---
T
Terra Modena
Founded in 2003 in Modena, the firm built single-cylinder four-stroke supermoto machines in limited numbers.
The motorcycles have 450cc engines with a 98mm bore, and are fitted with carbon lenticular wheels and a carbon handlebar manufactured by Strawber. Most of the other components are of aluminium, titanium and magnesium.
Source: it.linkfang.org
---
Thunder
1952-1954
Thunder Motori Srl, Reggio Emilia built motorcycles using parallel twin engines of 173cc.
Source: wikipedia.nl (NIT)
---
Totaco
Manufactured in the early 1950s, these were bicycle attachment engines.
They were also built under license in Denmark by BBE in Esbjerg, 1954.
Sometimes incorrectly spelled "Totako".
---
V
Vaghi
Ditta Ludovico Boltri di Mezzi, Ganna Cia. of Milan began producing Vaghi cyclecars in 1920, two of which were sold in England. The company name was changed to Motovetturette Vaghi SA, and was later sold to Società Automobili e Motori (SAM) who continued production of the SAM Vaghi.
The Vaghi tricycles were powered by V-twin engines of 970cc, and 564cc and 1099cc engines were also employed. It is possible that one of these was a flat twin.
Sources: wikipedia.it, wikipedia.de
---
Veggetti
Manufactured by Società Industrie Officine Veggetti
Address: Via D. Calvart 4, Bologna
Born in 1904, Carlo Veggetti, former head of the turning department at SASIB, in 1941 founded with Vincenzo Mignani the firm Costruzioni Meccaniche Mignani, in Via D. Calvart. Those premises became the headquarters of the Società Industrie Officine Veggetti, established in 1946, with Veggetti as President. In the following years, employing about 15 people, they produced components for SASIB and the Boselli brothers. They built telescopic forks and 75cc engines for motorcycles. These engines were designed by Veggetti and around 7 or 8 units were produced each week. They were supplied to several motorcycle manufacturers including Cimatti, Invicta and Müller. There were other engines including a 125 of which little is known.
Carlo Veggetti died in 1955 and the firm ceased activity.
Source: Museo del Patrimonio Industriale, Bologna
---
Verona
Motocross machines built in the 1970s and 80s. Related to Maer, some were fitted with Tau engines, others with Minarelli. They used the full floating rear suspension patented by Donald Richardson and some used the Simons forks from America.
Models included the watercooled Verona 125 Tau; 125 CR TAU, 1979; 125 Sachs, 1978; Verona Sachs 50.
It has been suggested that Verona built their own engines, and these may have been supplied to Intramotor Gloria.
Sources: woiweb.com, et al
---
Vertemati
via Brovada, 4, Triuggio (MI) Italy
1997~
The Vertemati brothers Alvaro and Guido built 500cc MX machines in conjunction with Bimota, and then until 2008 with Benelli. There has also been an association with VOR, who bought the rights to early project developments.
Vertemati Moto srl was established in the year 2000.
Sources: vertematiracing.it, facebook.com/vertematiracingteam/
---
Victory
1950-1955
Motocicli Giovanni Francesconi of Padua (Padova) built lightweight motorcycles powered by Villiers 98cc and 123cc engines.
Source: wikipedia.nl
---
Villa
Manufactured by Amleto Villa of Strada Maggiore 10, Bologna, c.1953 to c.1959.
Established before 1928, Amleto Villa built and sold bicycles, accessories and spare parts. The young Marco Cimatti won a Gold Medal on a Villa bicycle at the Los Angeles Olympics in 1932. After the war, Villa built mopeds; at least one type in 1953 and two others released in 1959. Competition from larger manufacturers made it impossible to compete, and moped construction ceased. Villa continued with his bicycle business.
The marque is unrelated to that of Walter Villa
Source: Museo del Patrimonio Industriale, Bologna
---
VOR
1996~
VOR Motori, Ronco Briantino, Milan
Associated with the Vertemati brothers, the firm built large capacity motocross and enduro machines. The brand was acquired by Mondial.
Source: wikipedia.nl
---
Vyrus
Ascanio Rodorigo was a member of the Bimota race team, working with Massimo Tamburini on projects which included the Tesi. Rodorigo left Bimota to form his own company, and the Vyrus is the result. It is widely regarded as one of finest sports machines ever built.
Website: vyrus.it
W
WRM
Manufactured in Almenno San Bartolomeo, Bergamo, 2004-2007
With extensive use of carbon fibre and light alloy, the 450 MX1 model appeared in motocross events and in the Supermoto World Championship.
Sources: wrm-motorcycles.com, it.wikipedia.org
---