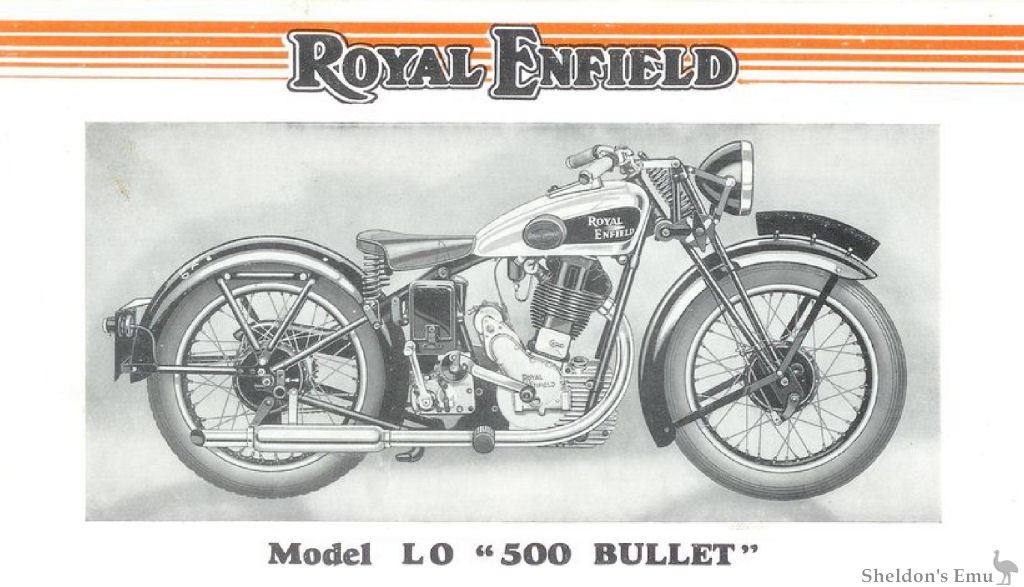 Royal Enfield 488cc Bullet
| | |
| --- | --- |
| ENGINE | 488 c.c. single cylinder. Bore and stroke 85x85m/m. Tuned engine with high compression piston. Over-head valves rocker gear and push rods totally enclosed and automatically lubricated. |
| LUBRICATION | Royal Enfield dry sump circulating system, oil container in crankcase. |
| CARBURETTOR | Twist grip control to throttle, handle bar lever control to air slide. |
| GEARBOX- | Heavyweight four-speed with positive change foot control. Hand-controlled four-speed gear, if desired, without extra charge. Standard ratios : Solo, 5, 6.5, 9 and 13.9 to 1. Sidecar, 5.8, 7.6, 10.4 aand 16.1 to 1. |
| IGNITION AND LIGHTING SET | Lucas 6-volt |
| BRAKES | Internal expanding, front and rear, 6½ in. diameter. Ribbed drums. |
| TRANSMISSION | Front chain totally enclosed in cast aluminium oil-bath case. |
| REAR WHEEL | The rear wheel on this model has a knock-out spindle. On withdrawal of this, a distance piece can be removed leaving a gap sufficient to enable an inner tube to be changed without removing the wheel. |
| TYRES | Dunlop cord, 26x3-25in. |
| STAND | Patented central prop stand. |
| FINISH | Best quality black enamel. Bright parts, Including tank,, wheel rims and handlebar, chromium plated. |
Model LO "500 BULLET"
INCLUDING ELECTRIC LIGHTING SET
Adapted from a catalogue available at Barnstormers NZ
---
Royal Enfield 1935 Model L.O.2 488cc OHV
Distance is annihilated - every mile is an added joy on a speedy. smooth-running Royal Enfield. See England. Visit the beauty spots you have always longed to see. Mountains - all within your reach at little cost.
Model L.O.2. the latest example of Royal Enfield value has a most attractive specification, including 488 c.c. O.H.V. engine with totally enclosed valves and rockers, dry sump lubrication, foot-operated 4 speed gear.,duplex frame Of great strength. patent cush drive rear hub. cast aluminium oil bath case to primary drive. detachable rear mudguard, etc.
MotorCycling June 5th, 1935