The Aberl / Alfenbeck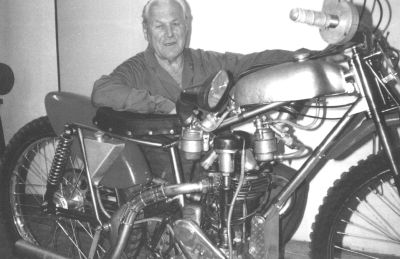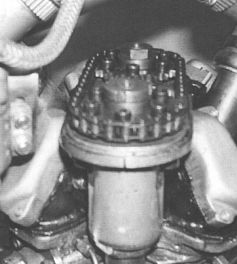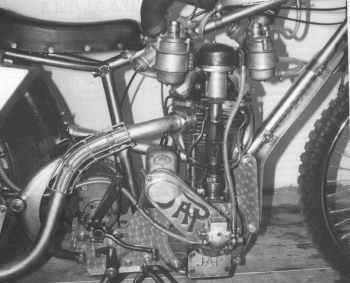 Long before Weslake hit the headlines with their four-valve engine which revolutionised speedway and grasstrack in the mid-1970s, German engineer Fred Aberl had produced a unique four-valver. Unlike Harry Weslake and Ron Valentine's simple pushrod unit however, Aberl had come up with a most complex although extremely interesting design.
Aberl was himself a talented international racer from the small picture postcard town of Muhldorf, Bavaria - which however has a top-class 1,000 metre longtrack stadium where the final round of the 1998 world championship was held and which also saw the birth of Peter Zollner and Alois Wiesbock.
(LEFT): Fred Aberl pictured with his unique 1965 Aberl - Alfenbeck Longtracker.
Wiesbock went on to win the world longtrack championship in 1979, after being second to Egon Muller the year before. He also had several rostrum places in the following years, retired, then came back only to suffer horrific injuries from which, happily he is now making a good recovery. Peter Zollner still races, be it in old timers' events.
Apart from his own engine tuning business, Aberl also supported leading German rider Josef Seidl, had a heavy racing programme himself, and was always searching for more power. The search brought the building, with his friend Ludwig Apfelbeck, of a very special engine, the likes of which had not been seen before.

The motor had an extremely complicated valve gear, a combination of pushrod and overhead cam design. The bottom end of the unit was based on the (then) all-conquering British- built JAP, but there the similarity ended. from the crank to the head which then drove a double camshaft via sprockets and chain. The cams were mounted vertically and drove four short horizontal pushrods which in turn operated the valves.
(RIGHT): The Aberl - Alfenbeck Longtracker in detail that must have had the pits "Buzzing" back in 1965.
Their own cylinder heads were cast, and carried two enormous, methanol-feeding carburetors, one facing forward and one to the rear, like the two exhaust pipes.
The ambition was for Seidl to win the 1965 championship, and certainly the bike was amply fast enough, but unfortunately far from reliable. And with Fred's own tuning and bike preparation to run, his support of Seidl, and his own racing programme. the time to develop the all-important reliability was just not available and the project was eventually shelved.

Today in his mid-70s, Fred still lives in his beloved Muhidorf and continues his tuning work in his spotless workshops. The bike is a proud exhibit, along with a Weslake-engined roadster machine he has built. He is still seen daily riding round the village, waving to just about everyone. But his bike today is a 50cc moped - tuned of course!
(LEFT): The Horizontal Cam Chain arrangement.
Muhldorf is something of a mecca for track racing enthusiasts. Lew Coffin, Gerry Goodwin, John Priest and Phil Ashcroft are regulars, one-time Cradley Heath speedway rider and grass star John Bostin lives there, and the stadium hosts an annual "oldies" race meeting, apart from its modern role. The town and a visit to Fred Aberl should be high on any track racing buff's priorities. Mug up on your German first though - he doesn't sneak too much English.
---