Featured Pages
---
Matchless Flat Twin 1916
An Outstanding Design by Harry Collier
Matchless 732cc HO Twin
---
Clement Ader
The Stuff of Legend
Pioneer in Telephony, Aviation and Motorcycling
Moteurs Ader
---
Guzzi's Grandpa
A shaft-drive transverse V-twin from 1904, another deft touch from Clement Ader.
Moto-Cardan
The Cole Story
Howard Cole Senior was the Midlands distributor for JAP Speedway and Grass Track engines and also operated a repair and tuning service. Through his wealth of experience he knew all the strengths and weaknesses of the engine. The speedway JAP was prone to oil leaks and dirt could easily find its way inside the engine, often leading to a major mechanical breakdown? so, Cole designed and built his own speedway engine, based on the JAP unit.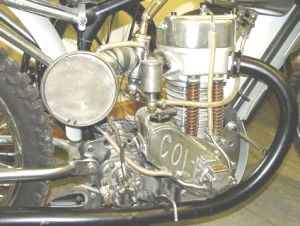 He set himself a brief to make the engine more reliable than the JAP and to make an engine that needed less servicing. The Cole engine featured fully enclosed valve gear, stronger castings, a redesigned barrel with liners for the piston and the push-rods and a stronger steel con-rod, which had always been a weak spot on the JAP engine. Many of Cole's new parts were interchangeable with the JAP items.
Cole had three different cam profiles available for his engine and there was an option of having magneto or coil ignition. The coil equipped engine had a different timing case to house the points. The compression ratio could also be changed to suit the conditions by using one of three compression plates between the barrel and cylinder head .
The engine was readily available for the start of the 1972 season and cost ?185 for the coil ignition version or ?195 for the magneto version. The Cole engine found infamy in following years with the revelation that some engines actually measured 600cc!
In previous years, Howard Cole Senior had produced a number of mini-speedway bikes for his motorcycle mad son, Howard Cole Junior. The first of these, produced in the 1940s, was a perfect scale replica of a post-war speedway chassis, right down to the miniature Webb forks. The most interesting feature of the bike though was the "lay-down" engine, a good forty years ahead of its time.
Howard Junior was the mascot at Birmingham and Wolverhampton speedway in the 40s and 50s, and would ride his mini-bikes wearing full leathers and a helmet bearing his initial "GHC" (his full name was George Howard Cole). Howard junior progressed to full size bikes and actually took to the track at the age of 15 under the assumed name of "Kid Bodie". Unfortunately for him, his headmaster was a keen speedway supporter and rumbled him. Once he had turned 16 Howard Cole Junior fulfilled his ambition to become a speedway rider, turning out for Wolverhampton, Stoke, Long Eaton (1965), Cradley Heath (1966), Kings Lynn (1967-1972) and back to Cradley again (1973-74) before retiring from the sport. His spell at Kings Lynn was his most successful, becoming a recognised heat leader and reaching the World Final in 1969. I have it on good authority that Howard Cole Junior has since emigrated to Australia where he works as a schoolteacher, I wonder if any of his pupils "bunk off" to race motorbikes?
Seen as a challenge to the JAP and JAWA engines, but the COLE machine never became a great speedway success. Many riders however, were to use the illegal COLE 600cc motors
The Elstar machines are probably better known for their grasstrack machines, but they made also very good speedway machines. This one (right) is mounted with a British COLE engine.
Engineering maestro Neil Street turned his attention to the Grass Circuits and fitted his four valve conversion unit (as fitted to the JAP 350, 500 Short stroke and 4B motors) onto a 350cc Cole motor.

The picture (LEFT) shows Neil alongside his converted Cole motor at the 1977 Midland Motorcycle Show and was kindly sent to me by Mike Robinson.

About the Speedway Workshop Archive