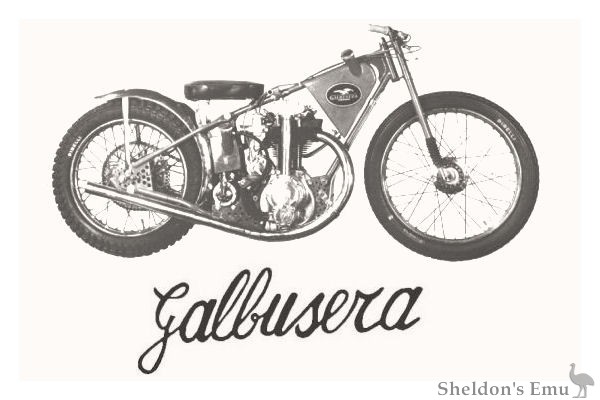 Galbusera Speedway
Franco Oliani kindly sent in this picture of the Galbusera machine that was produced in 1953.
It's a 500 cc O.H.V. entirely built in Galbusera's firm in Brescia (Italy). It was a stout, extremely manageable bike which gave its builder some satisfaction.
We are currently seeking to unearth more material about this particular machine.
A short while later, Franco Oliani managed to unearth a little more information for us and he writes:
I managed to find further details of the Galbusera machine produced in 1953 after posting a message to the Italian magazine 'Legend Bike'. They told me very little documentation remains of this particular bike. Anyhow, the engine used methanol fuel and gave about 40 horsepower. Strangely enough it had a 'salvage' lubrication system, instead of the usual total-loss one.
I have to add that, first in Italy, Plinio Galbusera had already built a speedway machine in the 30's. It was powered with a NSU 250 cc engine and 2-speed gearbox. The interest in dirt track racing put Galbusera in touch with Marama Toyo, an Egyptian-born engineer who pioneered speedway in Italy. Some extraordinary motorbikes sprang from this collaboration, which came to a sudden end in 1946, when Toyo lost his life in a track accident.¹
Notes
1. For more information on the accident see the page on Toyo Marama.