The James "V" Twin
One Of The Early "Works" V-Twins to appear in Speedway.
The James, the only Dirt Track mount employing a V-Twin engine, incorporated its OHV Super Sports Engine that had a comp. ratio of 9 to 1.


Lubrication was by a mechanical pump; a gear ratio of 9.1 to 1; and cut-out ignition was supplied and the twin carburettors were installed in a most neat and cunning manner, Price: £85.
The James V.Twin was not the only V.Twin works machine, others included Husqvarna and Indian.
In the 1932 season, Al G Crocker sold an OHV conversion kit for the V-twin scout engine, in accordance with USA rules which matched 30.5 cubic inch (500 cc) OHV engines against 45 cubic inch (750 cc) side valve engines.
The excellent colour pictures of the "James" were kindly sent to me by Ben Ludolphy, together with the information regarding Crocker conversion units.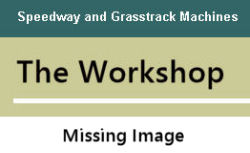 About the Speedway Workshop Archive