The Kermond Machine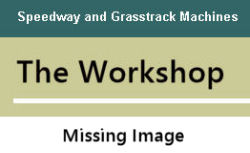 A very special machine too me - for this was built in my home town and the City's emblem is imprinted on the tank.
Vic Kermond was an Australian engineer who custom built speedwayframes and complete machines. He rented part of a property known as Peamore Garage at Alphington near Exeter and the machine had a small enamel badge on the fuel tank which depicted the Exeter town crest and the words Peamore Garage Alphinton Exeter.
Graham Warren was amongst the riders who had a Kermond in the early fifties.
We then received a series of pictures and information from Barry Davison who needed some help in identifying a machine that formerly belonged to Bob Jones, who himself was well known for his building of Speedway machines. Indeed, you can view one of Bob's machine At this link. Barry writes:

I have been associated with, restored, and raced Morgans with JAP twin engines for many, many years, and have recently had the good fortune to acquire a very nice speedway bike with some good history. It was a bike belonging to Swindon's Bob Jones, who passed away a few years ago and I believe it to be a Rotrax.
He evidently used the bike in the fifties and last rode it age 72 in a demo at the track. The bike was in the hands of a dealer and was destined for the USA, but I realised that it was something special and dived in. Many of the main components are stamped with his name, and the bike seems to be in excellent order, although I have only recently got a grip on it and really need to do my research before I touch it.
The whole thing appears very well built, and the lugs seem particularly neatly done. Small details like the deflector which inhibits dirt getting into the chain/rear sprocket junction are lovely. The only "damage" is evidence of many handlebar straightenings....which is as it should be.

Its odd, but when we lived in London and were first married, we often went to Speedway, mostly Wimbledon, and sometimes Wembley, in the sixties and early seventies. It is conceivable that we unwittingly saw the bike run. After some close scrutiny, and many pictures later, I was of the opinion that this particular machine held a few differences from that of a standard Rotrax.
The fact that it had "Bob Jones" stamped in several places together with the fact that it looked very much like the machine featured on the Bob Jones page, it led us to beleive that this was one of Bob's machines - and indeed it may well still be. Sadly we aren't in possesion of a series of photographs of the qaulity and resolution such as the ones Barry sent in to make a fair comparison, but the mystery was to take yet another twist.

Imagine our surprise when Barry delved under the paintwork that covered the tank and found a badge soldered onto it, he wrote:
The emblem might get you going ! It is EXETER ! The badge is clearly not an addition as it is neatly soldered onto the tank under many layers of paint, and the tank certainly looks as if it has always been there.

Clear for all to see was the badge associated with the work of Vic Kermond. Now Vic was reknowned for his custon built frames, so is this such a frame built especially for Bob Jones or even work together on it ? There will no doubt be some debate about this one, and maybe someone out there has the final answer.
In the meantime, a collection of pictures of this machine that Barry has kindly sent in.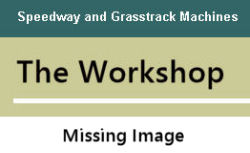 About the Speedway Workshop Archive