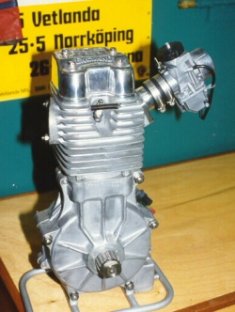 The PPT
The PPT engine was designed by Phill Pratt in England in 1985.
Bore x Stroke = 86 x 86 (85 x 87 for the longstroke engine).
Compression = 13.5 : 1
Inlet Valve diam = 1.5/16"
Outlet Valve diam = 1.1/8"
Weight = 27 Kg
BHP @ RPM = 62 - 63 BHP @ 6000 RPM
Camshafts = 3 variants 164, 165, 166
The specially designed Omega piston is both short and light and stronger to cope with the short conrod used in the PPT. The engine is 45.5 mm narrower and 15 mm shorter than the Weslake.
My thanks to Bennie Ludolphy who supplied the above pictures and information.
The Pinfold Page shows the PPT engine mounted in a Pinfold frame.