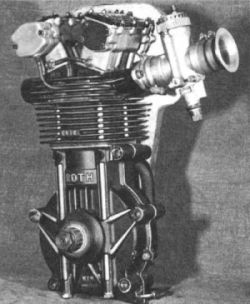 It comes as no surprise that many people think of such machines as the Street, ERM, JJM etc, as being the pioneers of the Jawa 4 valve conversions that appeared around the 1974 period. But in actual fact, the very first ones were being developed in both Holland and Germany almost at the same time.
In Holland, it was Jan Vos who, in the winter of 1971/72 designed an OHV 4V conversion for a Jawa longtrack-machine, whilst in Germany, it was a gentleman called Willy Roth who also made a 4V conversion for a Jawa longtrack engine.
But the Roth conversion was a very modern design for that period, as the camdrive for the DOHC system was with a toothed belt, (for the first time ever), and a new MKHZ (Bosch) ignition system. In the head of this prototype, Roth installed 3 sparkplugs.
Following the Prototype, Willy set about building a completely new design of motor that incorporated its own crankcase and the pictures on this page are of that particular engine. The first of these Mk2 engines had two spark plugs fitted, whilst slightly later models had just a single plug. Following on from the Mk2, the head was again redesigned, and although still opting for the single plug, it had a very steep inlet port.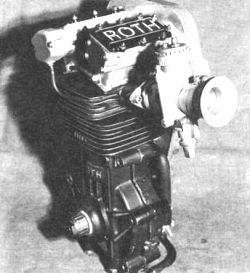 In 1978 at the World Longtrack Finals at Muhldorf, International American star Scott Autrey rode the Roth, beating Ole Olse in the opening Heat to set a new track record. In a recent mail, Scott recalls it had a good 5 to 10 mph over everyone else and describes the machine as a handcrafted work of art.
My deep thanks to Scott for bringing this motor to my attention, and also to Ben Ludolphy in the Netherlands for the details as listed on this page. The pictures came from the pages of Franz Peter Baer who kindly gave me permission to use them here in the Workshop.
The Roth Conversion
The ROTH conversion based on a JAWA crankcase.
Please note the 3 sparkplugs in the head.