AMC Motorcycle Engines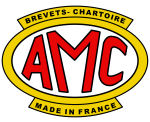 A Brief History of the Marque
Ateliers Mécanique du Centre,
9 Rue Agrippa d'Auvigné,
Clermont-Ferrand, France.
Established in the 1920s by Henry and Louis Chartoire, the latter a fighter pilot during WWI, the firm produced paillons (straw packaging for wine and mineral water bottles). In the 1930s they had four factories which made 100,000 paillons per day, along with commercial cold storage equipment.
Louis built his first engine at the age of 16 and maintained his interest in engines throughout the 20s and 30s. He was also an aviation instructor at the Auvergne aero club, of which he was co-founder.
During the occupation AMC began developing motorcycle engines and the marque became a major force in the French motorcycle industry in the post-war years.
Louis died in 1992, the last surviving French WWI ace.
According to the French AMC Moto Club (previously at acqs.free.fr), the following machines were equipped with AMC motors:
Ambassador
Atlas
DMW (1954)
Evycsa (Fita-AMC)
La Française Diamant
Lucer
Nervor
Rieju
Roman
Sicraf
Vallée

AMC Engine Types include:
Mustang 98cc, 50 x 50mm, mid-1950s

Isard 125cc 54 x 54mm horiz. 3 speed 2T, 1956-

Elan 125cc 4 speed 2T

Type 99

Type 108

Type 118

125 3 speed

125 Series A

125 Series B

125 Series C

125 Series G

150 Series A

150 Series B

150 Series C

150 Series G

175 Series C

175 Series G

250cc.

1

.
Notes
1. 1350 250cc engines were built between 1953 and 1960, of which some 800 went to Gima
Sources: Cycle Memory, acqs.free.fr, moto-collection.org, lesmotosgima, et al.
---
Mon Jan 04 2016
bill at earlyamericanautorepair.com
rocker lubrication
AMC 1949 170cc
How do the rocker arms get lubricated?
VA USA
Reply in the Emu Forum (currently offline).
Thu Dec 31 2015
bill at earlyamericanautorepair.com
Atlas Babycar
1949 170cc? 175cc?
Engine burns a lot of oil. Am searching for information and parts to repair piston/cylinder
VA USA
These machines were fitted with AMC 170cc engines. Ed.
---
Sat Nov 07 2009
liarces at hotmaildot com
Repuesto
AMC JEFREE 2006
Quiero saber si tienen el cilindro, la empaquetadura de arranque y el piston de la moto amc jefree 125 cc
Ibague-Colombia
---
Thu Apr 28 2005
acqs92 at voila.fr
AMC website
Hi this is to inform you that a new website exits dedicated to AMC french motors, and bikes that used at engines : Alcyon, New-Map, Huin, Radior etc.
acqs.free.fr (404)
regards
Pierre
---
NB: The French AMC marque is not related to Associated Motor Cycle (AMC) UK
If you have a query or information about AMC motorcycle engines please contact us