Ducati M900 Monster Special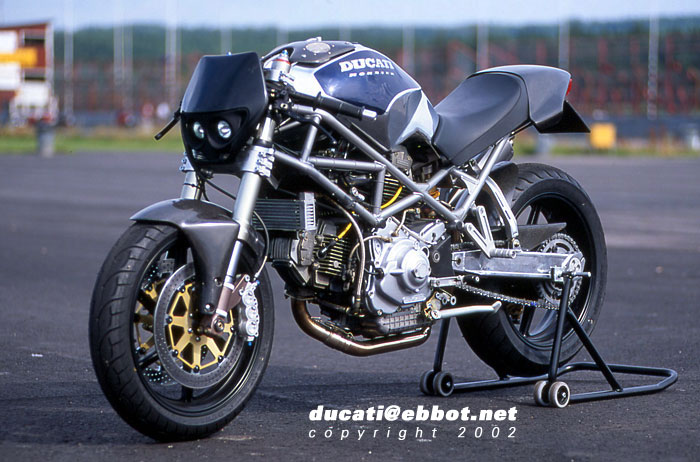 Ducati Monster 900 CR Sp
by Tobbe Sjoberg[1]
This is the true story about a man and his Monster. It all started out with a set of exhaust pipes... Then someone slipped a few funny pills into my cup of morning tea. Bummer! In the end it all comes down to the fact that sometimes a man's gotta do what a man's gotta do! If you have to ask why then I can't explain.
Creating a true Monster
The designers at Ducati made a few compromises when creating the Monster. Now I know I'm no motorcycle engineer, designer or even an exceptional rider... But I do know this - you should accept NO compromise when riding a Ducati!
I bought this Monster back in October 1997, imported it from the German market. However, even before I bought it I knew that I wanted to take the Monster concept one step further. It has been several steps taken during the past 4,5 years but now I feel I'm getting close to my idea of Monster Nirvana.
Il Mostro - an Italian trendsetter
The stunning looks of the Monster re-invented a trend of naked motorcycles. The chassis was based on the awesome Ducati superbikes, the 851 and the 888. It had the good old air/oil cooled 900 desmo due engine and it was stripped clean of all the fairings. The low clip-ons from the superbikes were replaced with a more traditional handlebar. The suspension wasn't as good on the Monster as on its ancestors, but the intention from Ducati never was for the Monster to rip the opposition apart on the track but rather to intimidate J*panese crotch rockets with its brutal look when cruising down the boulevards.
The Monster wiggle
I've never been a power junkie when it comes to motorcycles. Sure, a whooping 200 bhp is always interesting (Doh!), but the 80 rear wheel ponies on the Ducati is more then enough for real world riding. Mind you, the next phase for my Monster could very well be an engine upgrade now that the chassis is sorted. Because the chassis is the area where Ducati cut a few corners. A Monster is not a very stable bike, especially in high-speed corners. The "Monster wiggle" is a well-known treat for its owners. The upright riding position doesn't put enough with pressure on the front end, on a chassis originally designed for a "flat-on-the-tank" riding position. Combined with a, let's say, "less than optimal" rear suspension the bike feels nervous and vague under circumstances where it should be stable and predictable. A chassis upgrade is a "must" for Monster owners (this goes for the Monsters before the change to the "ST" frame. I haven't ridden any of those models - so I can't comment on them).
The route to a better handling Monster
The cheapest modification, most "bang for the buck", is a conversion to clip-ons. It completely transforms the Monster! That should be followed with a suspension upgrade. First get yourself a decent back shock, then match the fork settings with the rear suspension. A good set of wheels is the next logical step. But before that you should always make sure you're riding with proper rubber - tires that is! When this is sorted you can start to look at the brakes. The Brembo radial front M/C is actually a rather cheap upgrade, but with a real performance gain. Stainless steel braided brake lines is a "no brainer", if they're not already installed from the factory. Fully floating cast iron discs is also a "natural" way to go when upgrading the brakes. With these modifications the Monster transforms into a superb B-road tool.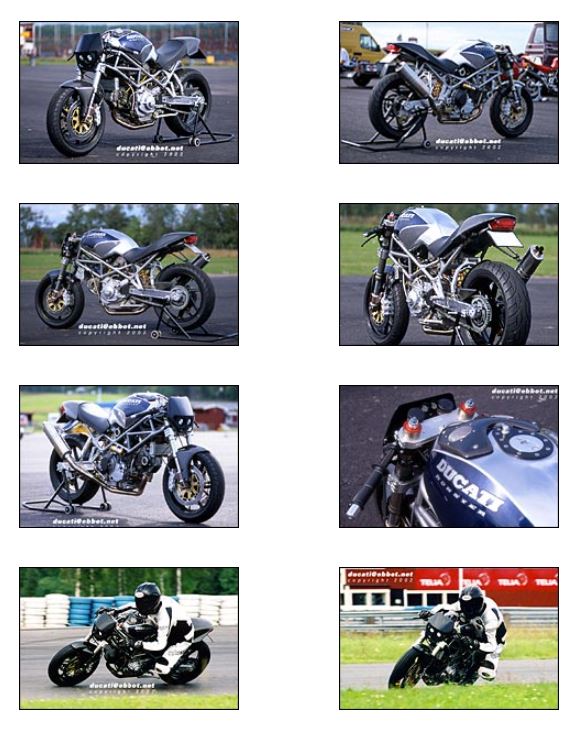 Ducati Monster 900 CR Sp
What's in a name!? Well, I always was a sucker for the raw look of the old Café Racers. My ambition from step one was to create a modern version of a Café Racer, hence the "CR". Not a bike for commuting or long distance touring, even though I do +450 miles per day on it during some of my road trips. It's rather a bike for the small twisty favourite roads on a sunny afternoon - naturally it also had to make a good impression down by the local hang out. Over the years my attention has turned to the track. With the latest modifications the Monster has grown to become a proper track day tool, hence the "Sp" as in Sport production. I know it might sound silly to come up with a name like that - but I figured I wanted it to "stand out a bit"... Eeh, yeah right!
Getting function back...
My '95 Monster came with non-adjustable forks. I managed to locate a set of used 996 fork legs. This fork leg swap is a fairly popular conversion, but many prefer to keep the Monster triple clamps, after some modifications. I didn't want to keep the stock triple clamp as I thought the chassis would benefit from a good set of racing triples, which are stronger, lighter and made with more precision. To make sure I got the best out of the Ohlins rear shock I swapped the swing arm and suspension loop for more rigid items. In an attempt to bring the frame back to 888 specs I had the frame braced. When converting the 851/888 frame to make room for the Monster air box Ducati cut off a frame tube from behind the headstock. I've put it back. I admit there are a few "overkill items" on my Monster (that's Ducati-holism for you), and the biggest overkill must be the brakes. World Superbike performance on a street bike! But then again, they do look cool - and the Monster always was about making a good impression. Naturally the brakes are powerful enough for the Monster (-Doooooh!!).
...but keeping the form
I often compare building my Monster to preparing a nice dinner. You put in the ingredients you want and need, then you let it simmer down until the unnecessary bits have vaporised and you are left with all the right flavours. I've added parts to the Monster during the creation of this Café Racer, but most importantly - I've removed all the parts not directly necessary for riding the bike. Granted, I'm not sure if the highway patrol boys would appreciate the stripped functionality of my Monster... But then again, I didn't build it for them - this is MY toy!
Parts and modifications list.
Detailed information about the various modifications on my Monster
| | | |
| --- | --- | --- |
| Parts & Modifications | Manufacturer | Supplier |
| Chassis: | | |
| Braced frame, 888 style | Morani teknik | Morani teknik |
| Adjustable 916 forks | Ducati | (Bought used) |
| Fork springs | Ohlins | Ohlins |
| Rear shock, hydraulic pre-load | Ohlins | Ohlins |
| Racing triple clamps | ISR | ISR Brakes |
| Front brake, 6-pots + floating discs | ISR | ISR Brakes |
| Rear brake, modified to shimmy mount | Design-by-me | Blackebergs Mek. |
| Radial brake M/C (front) | Brembo | Ducati Stockholm |
| Swing arm | JMC | JMC Engineering |
| Rearsets | Design-by-me | Tonnby Perf. + ZEKE |
| Clip-on | LGO + ISR | ISR Brakes |
| Billet suspension loop | Rizoma | Spareshack |
| Wheels, Honda CBR 600 | Honda | (Bought used) |
| 996 sidestand | Ducati | Biscaya Racing |
| Steering damper | Ohlins | MotoSpeed |
| Engine: | | |
| 2-1 Race exhaust system | Ducati Perf. + URM | Action Sports + URM |
| Keihin FCR 41 carbs | Keihin | (Bought used) |
| Individual air filters | Pipercross | Dalhems |
| Clutch basket, aluminium | ZEKE | ZEKE |
| Clutch springs, Racing | Ducati | Biscaya Racing |
| Cylinder studs, Heavy Duty | Ducati | Biscaya Racing |
| Ventilated clutch cover | Design-by-me | Made-by-me |
| Spark plug boots | NGK | Biscaya Racing |
| Spark plug wires | Accel | Biscaya Racing |
| CNC'ed oil plug | ZEKE | ZEKE |
| CF sprocket cover | Ducati Perf. | Biscaya Racing |
| CF cam belt covers | Ducati Kaemna | (Bought used) |
| Cam belt covers inspection windows | ZEKE | ZEKE |
| 900 SL clutch M/C | Ducati | Biscaya Racing |
| Bodywork: | | |
| Aluminium gas tank | Road Racing | Iron Velocity |
| "Nose fairing" with spotlights | UFO Plastic | MC-varuhuset |
| CF fenders + tail piece | Ducati Perf. | Biscaya Racing |
| CF "under tray" (on sub frame) | Design-by-me | Made-by-me |
| Cleaned up tail | Design-by-me | Made-by-me |
| Misc.: | | |
| Shift minder control module | Dyna | MB Racing |
| "Dash board", LED style | Design-by-me | Made-by-me |
| CF heat/dirt shield for carbs | Design-by-me | Made-by-me |
| CF battery box | Design-by-me | Made-by-me |
| Racing battery, 748 RS (3 amps) | Ducati | Biscaya Racing |
| Wiring loom, Racing | Design-by-me | Made-by-me |
| Bicycle computer | Sigma Sport | MC-varuhuset |
Thanx to:
Alex Ortner, BCM Ducati, Bike, Biscaya Racing, Christer "Sehlis" Sehlstedt, Corien "Loco-Coco" DeJong, Dag "Kolfiber-Dagge" Bolenius, Ducati Stockholm, Fredrik Sundvall, Hakan Sandén, Johan Berg, Mattis Berg, Micke Larsson, Niclas "Mr.Nice" Cederlund, Niclas "Bus-Nicke" Pettersson, Ohlins, Per "Generi-Pelle" Engstrom, Tonnby Performance and finally a whole bunch of members of the Swedish Ducati Club.
A Special Thanx to:
ISR brakes, you rock! Zeke Petrovic, the master of the lathe and a man with endless patience (almost). Anders Fryk, best buddy ever! The crew at TYFRI MC. The Ducati Renegades, without whom life would be boring. PING!!! Mom, Dad and my sister with family (bring out the onion for chrissake!). Last but not least a special thanx to the Big-Guy-upstairs, for providing outstanding life insurance - Joh 3:16.
Notes
This is an archive of portions of www.ebbot.net/ducati by Tobbe Sjoberg, which went offline around 2005 or possibly early 2006. More on the MIA archives
(Some minor edits to this version, Nov 2020)
There is another Monster pictured with the caption "Eats Anything, Loves Children". It is mentioned on the Spondon page.
If you have a query or information about Ducati motorcycles please contact us
---