Velocette Scrambler & MSS 1967
The SCRAMBLER 350 O.H.V, and 500 O.H.V.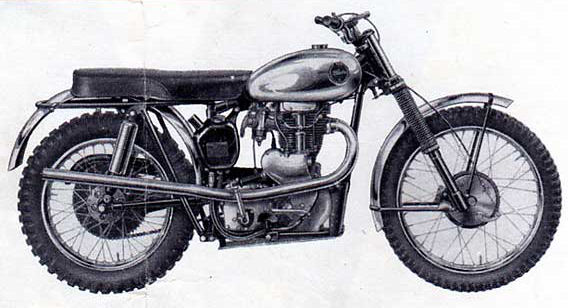 Standard finish in Black with narrow plated tank giving increased steering lock and small turning circle. Non-slip pads fitted to footrests. Special Scrambler handlebar (American upswept type to choice). Left-hand oil tank and double capacity air filter extra.
Finished in Black/Chrome, Red/Black or White/Black. Handlebar Chromium-plated American type optional. When specified in Red or White the engine fairing, petrol tank and mudguards are finished in this colour (unless advised to the contrary).
The high performance overhead valve engines are developed from the well tried Viper and Venom engines. Set to give the maximum power which an open exhaust system, and with monobloc Amal carburetters, in appearance the machines are almost identical and they differ only in engine and carburetter sizes, compression ratios, and overall gear ratios. Crankcase protected by undershield. Velocette four-speed gearbox and which the special driving sprocket and 60 tooth rear chain wheel, provides low overall ratios for scramble work. Rear hub and brake drum has six-stud wheel mounting for extra loads. The front fork has two-way damping; sliders are protected from mud by rubber gaiters. Rear swinging arm of standard Velocette design with specially designed suspension units. Mudguards in polished aluminium which large tyre clearance; front arranged co prevent mud clogging the wheel.
MSS 500 O.H.V.
HIGH PERFORMANCE TOURING MODEL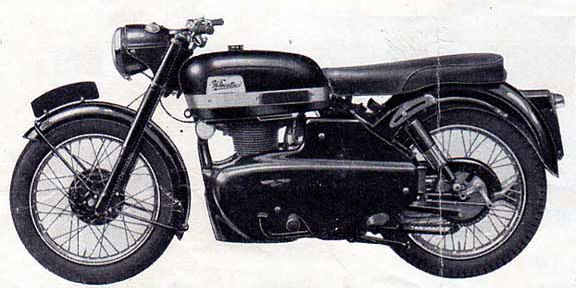 This sturdy machine has enclosed overhead valves and aluminium alloy cylinder head. Dry sump engine lubrication and renewable filter. Automatic ignition control. The engine includes all worthwhile Velocette features, such as the close-spaced main hearings, and narrow rigid flywheel-assembly.
Quickly detachable wheels with chromium- plated rims. Central and prop stands fitted. Lighting by 7 1/2 in. headlamp in streamlined cowl. Automatically regulated 60 watt dynamo driven by enclosed car type "V" belt. Sidecar fork springs and lower gear ratios arc obtainable without extra charge.
If you have a query or information about Velocette motorcycles please contact us