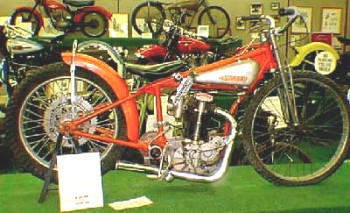 The Crocker
Information from the Book "American Racing Motorcycles"
Author: Jerry Hartfield.
Available from MBI at 800-826-6600.
Albert H. "Al" Crocker was one of the more successful Indian dealers, operating the Los Angeles agency from 1928 until 194. During this period he began taking on contract work for the Indian factory on such items as crankpins and other small components. Having both a large machine shop operation and a skilled foreman, Paul A.Bigsby, as well as his strong interest in sporting motorcycles, Crocker decided to build his own speedway machines.
Interest in European-style speedway had exploded after its introduction by Sprouts Elder during 1931. Several high school athletic fields in the Los Angeles area had been turned into speedway courses during the summer vacation periods. The speedway project, accordingly, appeared promising. For the 1931 season Crocker built a special frame into which he installed a regular 45 cubic inch (750cc) sidevalve Indian 101 Scout engine. Satisfied with this frame design, Crocker next turned his attention to a better engine.
For the 1932 campaign several Scout engines were converted into 30.50 cubic inch (500 cc) overhead valve units. Quoting from a 1934 Crocker catalogue: "These machines competed continually at Long Beach, San Diego, Los Angeles, and Santa Ana. In the winter they were sent to Mexico City for a series of eighteen races, where practically every event was won by a Crocker machine. Competition with the imported equipment forced the decision in favour of a newly designed power plant - a type which would have acceleration, the right power output, low cost of maintenance plus a low first cost. A single cylinder type was decided upon."
The First of the Crocker-powered overhead valve singles debuted on November 11, 1933 at Emoryville motorcycle speedway in California. Out of his twelve starts, Cordy Milne took nine firsts and one second during the meets of November 11 and 14. During the same stand, his brother Jack won four first places. (Just four years later, on JAPs, Jack and Cordy were destined to place first and third in the World Speedway Championship at England's Wembley Stadium, with fellow American Wilbur "Lammy' Lamoreaux taking second.) Another top rider on the first of these Crocker dirt trackers was Minv Waln. Earl Farrand and Snooky Owens also rode Crockers, so the marque did not suffer for the lack of good jockeys.
Unfortunately for Al Crocker, the JAP-powered British bikes were coming on strong and were rapidly replacing the Rudge machines which had been dominant in the sport for several years. The 40hp Crocker proved itself the equal of the Rudge, and was superior to the Harley-Davidson CAC. However, the JAP machines were good for 42-43 hp, so Crocker's new baby needed further development to be competitive. He therefore had two overhead cam motorcycles built during 1934, one of which was ridden a few times by Minv Waln.
Meanwhile, Crocker's attention was turning to a long cherished dream of building the fastest road-going motorcycle in the nation - perhaps the world. Facing stiff competition from the JAPs, and not being a true factory owner, he abandoned his shop-built speedway bikes at the end of 1934 to launch the far more famous Crocker v-twins which debuted in 1936. During the speedway project, the Crocker machine shop had built between forty and fifty of the pushrod speedway motorcycles.
Key specifications of the 1934 Crocker speedway machines were:

Bore: 3 1/4 in (82.55mm)
Stroke: 3 5/8 in (92.085mm)
Displacement: 30.06 cubic inches
Compression Ratio: 14 : 1
Crankpin: 1 1/8 in, drilled for oil
Main Shafts: 1 in, with 7 degree taper
Bearings: roller for mainshafts and crankpin
Valves: 1 3/4 in, set at `close angle' in `shallow domed interior'
Valve Springs: three coil springs per valve
Ignition: gear driven Lucas magneto
Carburetor: two bowl Amal
Power Peak: at 6,000 rpm
Fuel: alcohol
Frame: chrome molybdenum tubing
Gear Ratio: for 1/5 mile track, 8.75 : 1
Weight: 235 pounds
Finish: blue frame, forks, and fender; polished aluminium
tank; rims, bars etc, chromium plated
Cost: $385
Nevertheless the twenty-ones were now circling the tracks much faster- than the thirty-fifties of a decade ago. In October of 1932, Charles B. Franklin died at the age of 46 while on a medical leave of absence from the Wigwam. As he had been the man behind the most successful of the 8-valves, the surprisingly powerful Indian sidevalves, and a few later ohv special, one can but wonder at what might have been Indian's competition future had Franklin lived a normal life span.
By 1933, racing had been reduced to a local amateurish exercise. Many races were `outlaw' events, that is, unsanctioned. It was also about this time that the European style of speedway racing became popular, and as the most successful of the speedway bikes were JAPs or- Rudges, Indian's racing interest was at an all-time low. Moreover, such racing interest as there might have been was killed by economics. The giant Wigwam was now operating at only five percent of its production capacity.

At the end of 1931, Indian discontinued the famous model 101 Scout because of severe financial constraints. During the following season, they offered a 45 inch Scout which was admittedly a Scout engine in a Chief frame, and consequently essentially unacceptable as a sporting motorcycle. To fill the gap left by the 101's departure, and to make use of existing surplus stocks, the Wigwam decided it was sufficiently healthy to bring out a new series for the 1933 season. This new series consisted originally of a 30.50 inch V-twin, which was announced in the early summer of 1932 and joined by a 45 inch version in the autumn. The smaller version was initially termed the Scout Pony, and survived until World War II under two more labels, the Junior Scout and the Thirty-Fifty. The 45 inch job was given a rather uncharacteristic name, Motoplane. Both machines-were based on the defunct 21.35 inch (350 cc) Prince single.