The Harley Two Port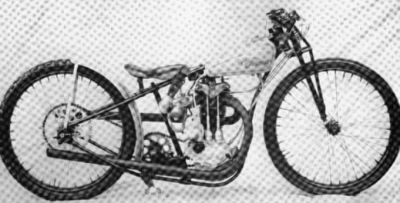 Maybe not so well known as the famed "Peashooter", is this 1934 Two-Port 30.50 cubic inch Speedway model. This picture was kindly sent in by Bryan Lambert.
Equipped with Webb DT forks, small fuel tank and 500cc capacity, it would mark it as an English-market model. Other variants were built over the next few years, but production was limited.
The Harley CAC
Yet another lesser known Harley machine, this time sent in by Rick Newlee who found this particular model featured in a Las Vegas Motor Cycle Auction catalogue. It has been established that this is the Harley CAC 500cc single port machine, and whilst there, Rick was able to track down the owner who offered the following story.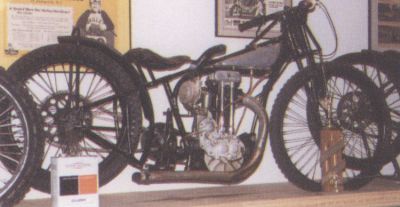 He told me that there were 12 of these machines built, and up until the Auction, he owned 3 of the original 12. He was sure where 9 of the remaining bikes were, and uncertain of the whereabouts of the other three.
It appears that Joe Petralli was the man instrumental in getting these machines built. Joe had more or less begged Harley to build the bikes, but they were not really interested. Joe hung around the Harley plant and pestered the people that he thought would be able to help him see his project through. It then seems that the powers that be finally gave in to Joe's wishes, but told him that he would either have to build it himself, or hire his own people.
Harley allowed Joe to use the plant on the weekends to build his Speedway bikes, as long as the Plant was back in shape for manufacturing the regular Harley line come Monday. He was to put the Harley name on the bike just in case it became a success, and because it was actually built in the H-D plant. After a few of Joe's machines were built and tested Joe tried to interest Harley again in building these bikes. However the tests did not go as well as expected and the engines didn't make the hoped for power.
The gentleman concerned went on to say, that as the story goes, it had something to do with the cam timing. Joe had to some degree copied the JAP engines, but had a problem with the cams. Harley decided not to get involved and the project ended.
The authenticity of this story has not been verified, so until we can find hard evidence.
Shown LEFT* is a better shot which was sent in to us by Terry Linebarger.
* One or more images missing (×)
---