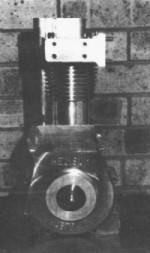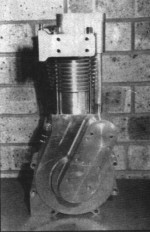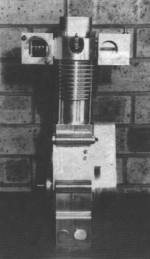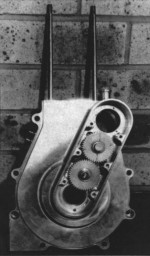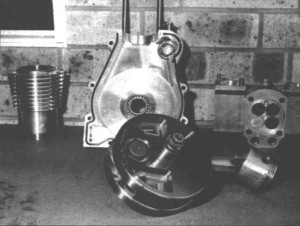 The Hejisun
Courtesy Mike Heath in America

Mike Heath kindly sent me the following article taken from the Speedway magazine dated February 1984.
A new Australian-made speedway and dirt track engine is about to be launched in New South Wales that could, in the words of a former Australian Speedway Champion, "explode the superiority of the Weslake, Godden, Jawa and GM engines on the world market".
The ex-titleholder is 1972 sidecar National Champion Geoff Grocett - who also competed for some years in dirt track racing, rode a speedway solo for a spell, owned a motorcycle shop and retailed the Jawa speedway bike at the zenith of its performance and popularity.
Manufacturers of the Hejisun - Hector (left) and Jim Sunderland.
Grocott, who is therefore well versed in all facets of speedway engines, is the only person, apart from veteran leg trailer Billy Lamont, to have viewed the prototype engine which has been quietly, but not secretly, built in an engineering factory at Guilford, a Western Sydney suburb.

And Grocott's hunch, before the engine has even been tried in a bike, is that Australia could be onto a winner. " A number of Australian engines have failed to come up to expectations in the past so one has to be cautious, but this new engine certainly looks to have great potential for success", said Grocott.
Track test will soon tell all, of course, in respect of its performance and reliability, and final judgement must be reserved until then, but in the minds of its manufacturers there is no doubt that it will be a big and successful challenger to the world's existing speedway/dirt track engines.
The engine is known as the Hejisun - from the Hejisun Engineering Company in Sydney. It takes its name from its owners, developers and manufacturers, brothers Hector and Jim Sunderland. They are two of five brothers from the Sunderland family who have been involved in motorcycling all their lives. Colin Sunderland is a former speedway rider from the Westmead (Sydney) era of Bob Sharpe and Jim Airey (when he was just beginning his career) and Bob Sunderland rode speedway at Kembla Grange (Wollongong) before moving to Wagga where he is a motorcycle retailer and sponsor of Michael Stormonth.
The prototype will be sent down to Bob to have it track tested by Stormonth. It is scheduled to make its public Dirt track meeting on January 29th in the hands of Stormonth. Its introduction to speedway is about certain to be handled by MGW touring team captain and former Australian test rider Dave Mille.
The engine is revolutionary in that it does not have a total loss oil system like the traditional makes on the market, it has a return to tank. This makes it also suitable for road - racing. It has been built only from its owners knowledge and is not a copy in any form of any other engine. "It is", said Jim Sunderland, "10lbs lighter than the Weslake engine and much simpler. There are less parts - no bronze bushes, just needle roller bearings."
The Hejisun's vital statistics are:
Engine Type: 4-Valve pushrod, air cooled single cylinder alloy engine.
Bore: 79mm
Stroke: 101.6 mm
Swept Volume: 498cm3
Compression Ratio: 18 to 1
Engine Output: 80bhp
Maximum RPM: 9,500rpm
Ignition: Interspan ignition box or coil
Ignition advance: 45deg
Fuel: Methanol
Carburetor: 40mm fuel injection (to be brought back to 34mm for speedway)
Weight: 24.5kgs (54lbs)
In all cases the performance figures are greater than the claimed factory levels for the Weslake.
The engine has fuel injection and no external oil pipes. It is a very neat and clean looking model which will not develop oil leaks because the entire engine is fully "O"- ringed. "If a rider falls, he will not have the worry of breaking an oil line since there is nothing to knock off " said hector Sunderland. "It is entirely different to anything manufactured before"
"The main bearings don't run on the drive shafts. The Hejisun has two ball bearing races. We have reduced the number of parts so it will be more reliable and less expensive to maintain than the existing engines", said Jim.
The brothers are confident it will "annihilate" the opposition because they have designed it to suit both heavy tracks and slick tracks - a vital requirement in the Speedway world. "Heavy tracks need good torque so we've given it more stroke so it will have the greater acceleration necessary, and it also has the revs for the light, slick tracks", said Jim. The brothers, who are fitter mechanics, said their engine would retail for around $2,300 to be competitive with the Weslake and Godden engines. But they are confident the performance, reliability and low maintenance cost of the Hejisun will bring it into demand irrespective of the price tag upon which they finally settle.

The Sunderlands embarked on the project after a fall off in their engineering business and are now gearing up for an immediate manufacture of at least one engine per day, plus parts. Parts will of course be readily available through their factory.
The engine was conceived in March 1983 following 11 years of developing performance engineering in motorcycle engines. The brothers put their design of the engine into mathematical formulae and used a computer to formulate their plan. Uniquely, no plans drawn on paper are in existence. The plans are stored in a box in small, neat computer tape rolls. "Every piece in the engine that moves has been mathematically calculated in the computer" said Jim, "no castings are involved". Their experience in constructing engines comes from making their own JAP parts years ago when spares for the English speedway engine fell into short supply. "We made and built up whole JAP engines of our own", said Hector. "But this Hejisun has nothing to do with the JAP".
"Most of the other Australian engines have been a basic copy of something from an overseas country, and we didn't want that. We admit we've looked closely at the workings of a Weslake too." "But we made sure we didn't copy anything from anyone. The Hejisun is totally our own ideas, design and manufacture - a completer Australian made product of which we are proud". The engine is designed to fit straight into the existing engine mounts for Weslake's and Godden's.

The Sunderland brothers say they have no immediate plans for the construction of frames in order to produce complete bikes, but if the demand comes, then they have the facilities and will launch themselves into that facet as well. For the moment however, their first priority is to track test the engine and then quietly, in their unsung but efficient manner, slip it onto the dirt and speedway scene - after which it may be case of "move over Weslake, Godden, JAWA and GM - here comes the Aussies.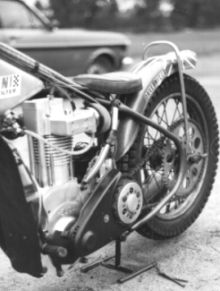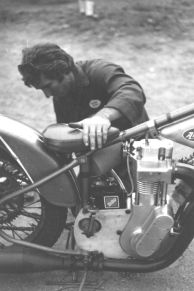 Bennie Ludolphy kindly forwarded the following two photographs (Below) of the Hejisun mounted into a frame and also shows Test rider Dave Mills seen making a few adjustments.