A New Page Where people can leave pictures of Engines that need identifying or even leave questions in the hope someone out there knows the answer.....Over to You
Latest Mystery that requires identifying was kindly sent in by Glyn Poole. Glyn writes:
I have recently acquired a Street motor but on a JAP crankcase. I can't see it listed in your archives, and it looks very prototype, with a fabricated chaincase of sheet aluminium. The timing chest and cover are magnesium. It has a BTH type magneto. The barrel is machined away to give access to the studs and looks nothing like a Street Jawa barrel. It has three plates under the barrel making up 30mm in total.
The chap I purchased it from said he spoke to Neil Street about it a number of years ago and he admitted responsibility. He has had it for a very long time and never used it. The engine was in a Speedway bike that I also bought, I think it is a Hagon but I don't really know anything about Speedway at all. It is all in very good condition, but hasn't been used for what must be 20 years.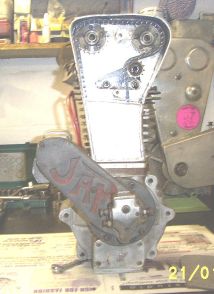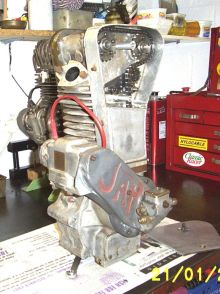 So was this a forerunner of the 4-Valve conversion or maybe a straightforward change from pushrod to Overhead Cam? .... Any thoughts on this would be gratefully appreciated. The pictures shown have been reduced greatly in size for easier web access, just email me for a larger version if it might help.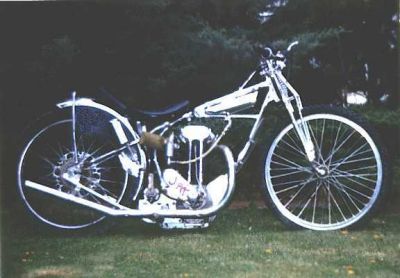 Something of a real puzzler that has us stumped is this picture of a machine sent in by Dave Thompson of his JAP machine, which incidentally is a 1935 5-Stud motor.
Note: There are now more and better pictures of this machine which can be found on The Dave Thompson "Mystery JAP" Page.
But it's the frame we are interested in. Not much is known about it, although Dave thinks that the frame may have been made by an Andy Mindy, and may have been ridden by a man called Red Andre (American ?) ...
With an odd looking fuel tank and curved rear down tube, any help on this machine is appreciated.
Dave adds ... In 1972 My father wanted to get me a motorcycle that I could not out grow so this is what he came up with. In 1976 I raced one season 4th was my best. But in order to race I had to make some modifications to the bike. I changed the handle bars from the old swept back bars to the uprights and the old gas tank was to wide so we made a new one. I crashed one time and bent the front rim bad and had to put a new one on but kept the old spokes and hub, I still have all the old parts to put back on. I'm sure the bike still runs though I haven't started it in about 8 years.

Do you recognise this Carburettor?.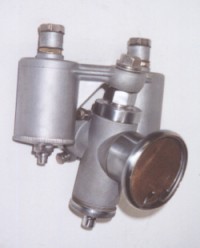 You may have seen this carb in the "Workshop" that can be found mounted on the 1955 ESO machine. A copy of an AMAL carb, we do know it is Czech made and carries a marking.

If you recognise the carb or indeed the name associated with this particular Logo, we'd be glad to hear from you.


---
The Mysterious Chainstay.....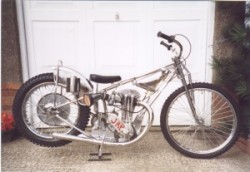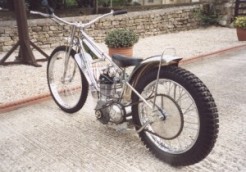 Not much of a mystery here you might say, it looks like an Erskine or maybe a Rotrax JAP - indeed it does - but look closer at this machine.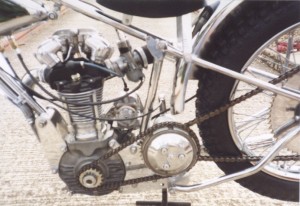 Several experts have been mystified by this particular bike and the puzzle is the crank in the rear left Chain Stay - something very unusual for a machine of this period which is dated around the Late 1950's or early sixties.
One theory put forward is that this might just be the work of the Late Bob Jones or "Mr Swindon" as he was well known. Enquiries are being made through contacts at Swindon .. but maybe someone seeing these pictures will also recognise the work. ........ Who can identify this bike ?.....


---
More help Needed On The "Aspin".....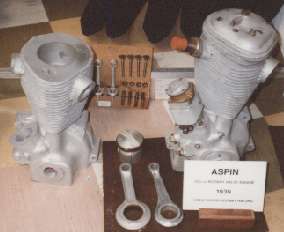 This photo was taken at the Sammy Miller Museum and we know it is an ASPIN 500cc Rotary valve engine used in speedway back in 1939.
But we need more information on this one and hopefully maybe a picture of a complete bike with this engine installed ........
Who can help On this One ?.....
Well Gerry Langley did just that when he informed me of a Website that just about charters the entire History of the Aspin.
John Wood has clearly spent a lot of time researching the story behind the Aspin and his Website The Aspin will be sure to be of great Interest.
The Seat That Holds Fuel.....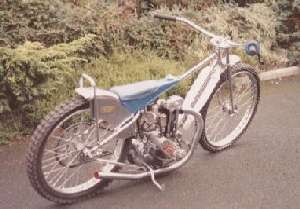 Yet another JAP powered machine and made in around 1950.
Interesting thing about this one is the seat - which is also both the fuel tank and the oil tank.
This particular machine was ridden by Jack Biggs........

Who can identify this one ?.....


---
Help Track Down A Machine.
In 1979, Neil Street and Ivan Tighe worked together on a Rotary Valve Jawa Conversion, ... and in a recent conversation with Neil, he said that such an engine was owned by a Reg Gellick who lived in Frome, Somerset, UK.
I was able to track down Reg's old address - only to find that he had moved away over 12 months ago. So does anyone out there know of the whereabouts of either the machine or Reg Gellick ? .... any help greatly appreciated.

---
Any Japanese Translators?.....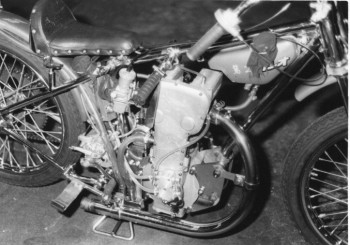 Ben Ludolphy from the Netherlands has added this Japanese machine to the growing list, anyone put a name to this one ? ..
Maybe someone who can translate Japanese could make out what is written on the tank ... any help most welcomed.
At last it seems that some light has been shed on this particular puzzle, which was the first to be entered on this page.
Wayne Muddle thinks he has solved the mystery behind the machine depicted. He mailed in with the following explanation:
Hi Chris , got into a conversation the other night with an old mate of mine. Bens engine is a Japanese built Tiger Singh, one of which appeared at a short circuit meeting in a Hagon at Taree N.S.W Old Bar circuit 1967 or 1968 it was a British Lions v Australian match, the bike was owned by an Aussie but we can not remember who. The engine that we can remember was an over head cam two valve, slightly different rocker cover, but looked the same and also had Tiger Singh cast in top right side of cam box.
Hope this info will help - Wayne Muddle.
Help it most certainly does Wayne, and anyone with more information or pictures of a Tiger Singh motor, please do get in touch.

---