Magnum Laydown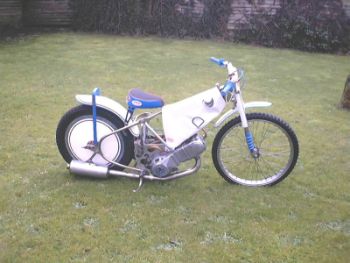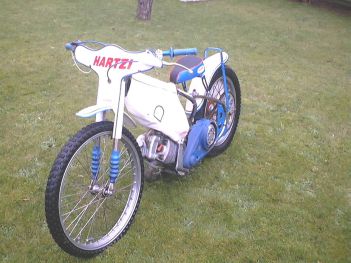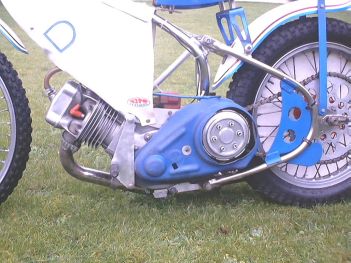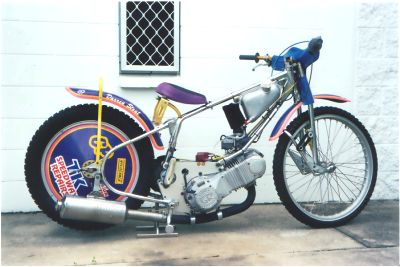 Our thanks to Thomas Irming who has kindly sent in details of the Magnum Laydown machine, together with a set of excellent pictures. Along with Thomas Hartzberg, Thomas tells us about their creation.
The story of this bike is this: The engine had belonged to former WM under 21 2nd place finisher Morten Andersen. I think this is the engine he used for the final in 1991. Was that in Coventry? But anyway it has switched hands a few times since then, but in the end my good friend Dane Thomas Hartzberg bought it. I am not quite sure were the frame came from (when it was still a normal frame).

In the winter 1998-1999, we thought it could be fun to transform the bike into a laydown. We wanted to make it as cheap as possible, so only the engine plates, exhaust pipe and carburettor was new. It took us a few months to rebuild it. Engine plates are of my own design, where I have tried to place the clutch as high as possible. This is done to make the primary chain as long as possible. The frame is build using the old one. It´s a Godden Wiggly frame. We sawed of the pipe under the tank, and replaced with 2 smaller ones. The tank was cut, and a plate welded on so it would leave space for the air filter.
The engine is more or less standard. I have only changed the balance factor and made some changes to the oil system. The carburettor is a Dellorto/Jawa.
As often happens within these pages, machines such as these prompt others to send in similar machines. This one was no exception as Darren Stout also owns a Magnum Laydown machine.
Darren writes: "I was just viewing your website, when I noticed a Godden Magnum laydown. I >also have one, it was converted in Australia by a fellow by the name of Terry Brett. Mine runs in a Stuha chassis with a standard round slide Dellorto.
Thanks Darren, makes you wonder if any more will appear after viewing these pages.