The Italian Villa
Like so many other machines featured in the Workshop, the Italian Villa ( made around 1979/80) has been added, courtesy of Bennie Ludolphy who has kindly supplied both the pictures and Technical information.
Pictured Right is the Pushrod 500NE Speedway engine.
Technical Specifications.
Type = 1 cyl; aircooled; OHV 4V
Bore x stroke = 86 x 85 mm
Capacity = 493.5 cc
Power = 55 Bhp @ 700 rpm.
Compression = 13.5 : 1.
Carb = Dell'Orto 34 mm
Ignition = Battery and contactbreaker.
The other type Pictured Left is the 500 SP. The prototype (not the one in the photo) was made by Walter and Francesco Villa.
The combustion chamber and the camprofiles are designed by famous Ferrari (F1) engine designer Mauro Foghieri.
The angle between the inlet - and exhaustvalve is only 25 degree. Therefore you find a very steep inletport and further a very flat (Hepolite) piston. Also very interesting is the drive for the DOHC system. This is with a so called gear train just like as on MV Augustas. The primairy drive is with a duplex chain.
Technical specifications for the (production) model 500 SP.
Type = 1 cyl, aircooled, DOHC 4V
Compression = 13.5 : 1
Bore x Stroke = 86 x 85 mm
Power = 60 bhp @ 8000 rpm.
Carb = Dell'Orto 38 mm
Ignition = Motoplat electronic.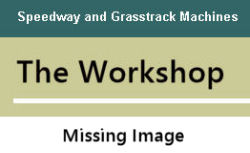 About the Speedway Workshop Archive