The Williams
Ken Williams resides in California, just East of Los Angeles, and back in 1979-80, along with his father, built 11 Williams Speedway frames, 9 of which still remain today.
Ken has kindly sent me pictures of a Williams/Hynes (pictured left) and also of a Williams/JAP (pictured Below). The forks on the Williams/Hynes are not the correct type, temporary ones being fitted whilst the originals are repaired. The Forks on the Williams/JAP however are of the correct type, although the machine itself has yet to undergo restoration. For interest, the JAP motor is a 1947 long 5.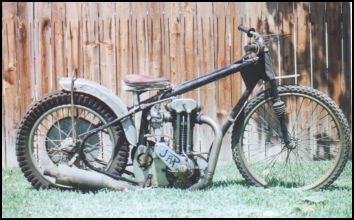 Williams Speedway Frames
The Williams frame is constructed from mild steel tubing, jig welded using heliarc and high tensile strength welding rod.
The top tube is of 2 inch O.D.1/16 wall swaged down to 1 1/2 inch at the headstock. The headstock and front down tube is of 1 1/2 inch O.D.1/16 wall tubing. The rear down tube is of the same 2 inch O.D.as the top tube. Gussets are welded between the top and front down tube at the headstock.
The top and rear down tube serve as the fuel tank with dual petcocks at the base of the down tube. The front down tube serves as the oil tank with the filler tube passing through the top tube. The early frames had this tube in front of the fuel filler with the later version having it behind. Fuel capacity is 2.5 liters, oil capacity is 1.5 liters.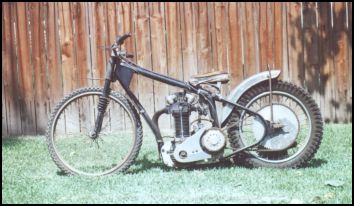 The front forks are 11/4 inch tube telescopic type with 2 inches of travel. The rear section is of 7/8 inch tubing and is comparable to other such rear sections. There was a second type of rear section of our own design with a larger loop and the wheel mount and adjusters forward of this loop. This proved too weak and would break just forward of the wheel mounts. The purpose of the design and building of this frame was to provide a light weight yet more rigid frame than was available at the time. It proved to be more rigid than the Jawa while also having less weight, so in that area the design was successful.
Some other features on some of the Williams are our own counter shaft assembly and clutch, which is a 6 spring with 5 aluminum plates. For more pictures and information on the Hynes Engine, visit the Hynes Page