Manufacturer: Royal Enfield
Model: J
Year: 1931
Displacement: 500 cc
Cylinder: 1
Engine type: 4-stroke ohv single
Bore / Stroke: 80.50 x 99.25 mm
Frame number: 10019
Engine number: J4138
In 1927 the Enfield company introduced its own 500cc 3½hp engine which shared the 85.5x85mm bore/stroke dimensions of their v-twin, giving a capacity of 488cc. An overhead-valve version joined the sidevalve original for 1929 and both used Enfield's own four-speed gearbox. In 1931 Royal Enfield the model J was the top model in the 500cc class.
This machine is fitted with an Amal carburetor, Bosch MagDyno and electric lighting.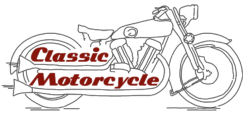 Classic Motorcycle, Austria
Classic Motorcycle specialises in high quality vintage machinery from Europe, the UK and the United States.
More information: Classic Motorcycle