Spanish Makes (P)
Notes on some of the rarer Spanish marques
This page lists brands for which we currently have only an historical precis. For a more complete listing visit the Spanish Index.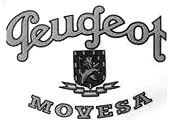 Peugeot-Movesa
Manufactured by MOVESA (Motores y Vehículos S.A.) based in Vitoria, 1952 to 1983
A prototype was displayed at the 1952 Barcelona Fair, and the first production machine was the much improved 125cc 55 TC, based on a Peugeot.
In 1957 the 57 TC appeared in several versions - the TT, TTC and TTL.
By then the machines were commercially successful, with 22,000 produced.
1959 saw the introduction of a slightly more powerful machine, the 150 TB. However, Spain was suffering from a financial crisis during the 1960s and sales plumetted. Movesa continued with the manufacture of mopeds until 1983, when all motorcycle production ceased.
Peugeot-Movesa 1955 Type 55 125cc
Source: patrimonioindustrialvasco.com
---
---
Piqueres
Jenaro Piqueres of Alberique modified Montesa machines which he rode in regional races from 1952 to 1955.
Source: lasprovincias.es
---
Pons
Built in Barcelona 1951-1955
These were two-stroke engines of 125cc supplied to Taber, Kapi, Lifante and others, but were not superior to the Hispano Villiers.
Source: wikipedia.es
---
Pony
Manufactured in Barcelona 1954-1955, these motorcycles were fitted with Gnome & Rhône 125cc two-stroke engines. The firm is understood to have also built three-wheelers.
In 1956 the name of the marque changed to Rekord.
N.B. 1. Another source gives dates of 1952-54.
Sources: wikipedia.es, et al.
---
If you have a query about these vintage Spanish motos please contact us