Motorcycles Made in Spain
Notes on some of the rarer Spanish marques
This page lists brands for which we currently have only an historical precis. For a more complete listing visit the Spanish Index.
A
A.Badia
Built by Antonio Badia in Palautordera, 1928, this was a 100cc racing motorcycle.
Source: OTTW
---
Abad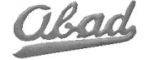 Manufactured by Triciclos Abad in Madrid, 1940~1969.
Norberto Abad built tricycles for the disabled powered by small capacity Moto Guzzi, Piaggio and Villiers engines.
Source: OTTW
---
Acedo
Manufactured by Autos Acedo in Madrid from 1941, this was a powered tricycle. Apparently only one prototype was built.
Source: OTTW
---
Achice
Manufactured in Murcia from the early 1950s until at least 1965, the firm built motorcycles and motocarro using Hispano Villiers engines. The firm was still in business in the same location in the mid 1990s.
Source: OTTW
---
ADP
Built in Madrid by Angel de Pozo in the 1980s this was a GP racer fitted with a Derbi 125 engine.
Source: OTTW
---
Aida
In 1955 production was planned for a motorcycle but it did not get to prototype stage.
Source: OTTW
---
AISA
Manufactured in Cervera, Lleida, the firm was founded in 1954 to built powered tricyles using engines from Iresa. These engines proved to be problematical and production switched to Hispano Villiers.

Source: OTTW
---
AJR
Built in La Garriga, Barcelona, these are replicas of famous racing machines such as the Bultaco TSS. The first machines appeared in 1994 and the company has thrived.
Visit AJR Motos
---
Alce
Scooters equipped with Narcla engines built in the early 1950s, probably in Girona.

Source: OTTW
---
Alonso
Built in the early 1950s, these were autocycles fitted with 48cc Ducati Cucciolo T2 engines.
Source: OTTW
---
Alpha
Manufactured by Nilo Maso i Miró in Barcelona, 1924-1957.
Motorcycles were built using 175 and 250cc two-stroke engines from Villiers and DKW, and became a market leader in the years preceding the Civil War.
Subsequently the firm reconstructed military machines and built powered bicycles.
In 1949 they obtained a licence from MV Agusta and built the MV Alpha until 1951 in 98cc and 125cc capacities. The MV was fast evolving and Alpha did not have the technical resources to continue, resulting in the licence being passed to Avello.
In the following years the firm built utility tricycles and a 175cc motorcycle, and worked with Evycsa building four-stroke motorcycles.
They closed in 1957.
Source: wikipedia.es.
---
Altosen
The firm built Gnome & Rhône engines under licence in Barcelona during the 1950s.
Source: wikipedia.ca
---
AMF
A.M.F. were built in Barcelona 1951-1955
These were mopeds powered by Iresa and Cucciolo engines, along with tricycles and off-road motorcycles using engines from Hispano Villiers, OSSA and Pons.
Source: wikipedia.es.
---
Antras
Built in Barcelona by Bidaburu and Calvet, this was a bicycle attachment engine made in 1901. The partners then designed and built another larger engine which could run on any fuel, and this was fitted to their a number of automobiles they built. Production ceased in 1903.
Source: OTTW
---
Anvian
Manufactured 1980-1982 in Rubi, Vallès Occidental
These were MX motorcycles powered by Villa 125 and 250 cc engines.
Jesús Romero, one of the three company owners, purchased the other shares and moved to Sant Adrià de Besòs with the new name of A.R.M.
Source: wikipedia.es
---
Arbizu
Manufactured by Toni Gutierrez Arbizu in Terrassa, Vallès Occidental, 1981-1989
These were roadracing machines using components from Siroko and Rotax. In 1989 Arbizu began working with Metrakit of Italy.
Sources: wikipedia.es, et al.
---
Ardilla
Built in Barcelona by Industrias del Plata SA from 1950, these machines had 3 speed 125cc two-stroke engines believed to be manufactured in-house. In 1952 swing-arm suspension was adopted, and that year the company changed its name (or was purchased), moved to Madrid and the marque became the Raid, fitted with Hispano Villiers engines. In 1956 the company returned to Barcelona and continued to market the machines under the Raid brand.
Sources: OTTW, caferacerclub.org
---
Arisco
Miquel Tàpies built 230cc road racers based on his MTK kart engines (Miquel Tàpies Karts) from 1977 to 1980. Early models had air-cooled engines, later water-cooled. The aim was to provide a cheaper alternative to the Yamama for privateers.
Source: Mike Rickets
---
A.R.M.
Jesús and Pedro Romero built competition motorcycles in Barcelona from 1982 to 1989 for enduro and motocross. These were fitted with Tau engines.
The firm was the successor to Anvian of Rubi.
Source: wikipedia.es.
---
Aster
Manufactured by Bruno Hettore, formerly an engine designer with Rondine of Madrid. The Aster bore some similarity, understandably, and was produced from 1954 to 1957. Lack of financing and distribution network brought an end to the venture.

---
Astur
Ciclomotor manufactured in Asturias from 1951 to 1953. The diminutive machine had some unusual features - belt drive ran from the engine to the extended steel rim of the rear wheel, and the the carburettor and the exhaust were located at the front of the four-stroke engine.

Sources: OTTW, et al.
---
Autisa
Manufactured competition motorcycles in Les Franqueses del Vallès during the 1980s, and ran an 80cc road-racing team. The firm also offered tuning kits.
Source: wikipedia.es
---
Avia
Manufactured by Aeronautica Industrial, S.A., of Carabanchel Alto-Cuatrovientos, Madrid. The firm, which was established in 1927, had produced aircraft in collaboration with ENASA, and after WWII, trucks.
From 1956 or 57 to around 1964, and probably other years the produced Avia Model 200 motocarro three-wheelers powered by 197cc Hispano Villiers engines. These were fitted with bodywork and fittings in various styles including parcel delivery, garbage collection, transportation of butane gas, tipper trays, refrigerated vans and more.
In the early 1960s they began producing trucks and vans, and later built buses as well. In the early seventies, Aeronautica Industrial became part of Motor Ibérica, S.A., with its main factory in Barcelona.

Sources: jacques-leretrait.blogspot.com, et al.
---
Avispa
Light motorcycles thought to have been built in Valencia in the 1940s and 50s.
Sources: wikipedia.es
---
B
Badia
Competition machines built by motorcycle racer Vicenç Badía of Barcelona using a Soriano engine from 1949 to 1951.
Source: wikipedia.es
---
Batlló
Built in Barcelona during the 1960s and 70s, these were competition motorcycles and engines based on the Derbi 74GS and OSSA 250cc.
Source: wikipedia.es
---
Belfi
Manufactured in Barcelona between 1955 and 1960 by Belart and Fibla, these lightweight machines were also marketed using the Belart, Velfi, Fibla, Camello and Gacela brands.
Using a pressed-metal steel frame and a 75cc engine mounted alongside the rear wheel, they were aimed at the burgeoning scooter market.
Source: ca.wikipedia.org
---
Beneti
Motos del Sureste of El Palmar, Murcia (Motomur) reached an agreement in the mid-1970s with the Gimbernat brothers to take over manufacture of their Gimson mopeds. These were produced under the Beneti brand, and then were once more sold as Gimson.
Source: Wikipedia
---
Beta Trueba
Based in Esparreguera, Baix Llobregat, the firm is a subsidiary of Beta Italy which builds Spanish versions of the machines. Established by Antonio Trueba during the 1960s who became very well-known for his work in enduro and mx, and particularly in trials, the firm came to an agreement with Beta with proved fruitful for all parties.
Source: ca.wikipedia.org, betatrueba.com
---
Bety
This was a rebranded Fénix moped fitted with a 48cc Iresa engine. It was marketed by a firm in Eibar from 1949 to 1950.
It is unrelated to the Betty from Doubs, France.
Source: OTTW
---
BH
Beistegui Hermanos built lightweights in Barcelona using Mistral engines from France, 1956-1960.
Source: wikipedia.nl
---
Bibiloni
Founded in Palma de Mallorca in 1906, A. Bibiloni SA was involved in many aspects of the automotive industry. From 1952 to 1960 they built mopeds with Cucciolo 48cc OHV engines, and later employed Mosquito cyclemotors. Some 1500 to 2000 machines were built.
Source: OTTW
---
BJR
Construcciones Mécanicas, Bantista Esplagues, Algemesi, 1942-1962*.
From 1942 until 1950 the Esplugues brothers built a scooter and motocarros under the Baesal marque.
In the mid 1950s the marque became BJR, producing a variety of machines powered by 50cc to 175cc two-strokes.
Models included the XZ125 and VZ175, both with 4-speed two-stroke engines and swinging arm rear suspension, these remaining basically unchanged until end of production in the early 1960s.
* Notes: Sources vary on production dates.
Sources: wikipedia.nl, wikipedia.ca, lasprovincias.es
---
Blanco
This was a single-cylinder 500cc motorcycle raced by Francisco Blanco. In 1926 he competed in the "Cuesta de las Perdices", achieving second place at an average speed of 75.27 km/h behind the Douglas of Federico Salgado.
Source: OTTW
---
Blitz
Established in 1965 by Spanish champion Miguel Escobosa, Moto Blitz of Barcelona built modified Montesa Impala 250 and Enduro 360 machines. The company is still active.
Source: OTTW
---
C
Cedrón
These motorcycles were created by J. Cedrón in his workshop at Calle Montesa in Madrid using restored war surplus machines in 1951.
Source: OTTW
---
Cil
Luis Iriondo of Eibar, Guipúzcoa, built motorised bicycles named Cil and Super Cil using Terrot engines from 1948 to ca 1950.
Source: OTTW
---
Carbonell
Manufactured in Barcelona between 1924 and 1927 by Antoni Carbonell, a bicycle firm, these were fitted with 175cc Villiers engines. Production was limited.
Source: ca.wikipedia.org
---
Cimera
José Bolinches of Valencia began producing scooters in 1948 powered by an OHV 250cc engine. The gearbox was of dual range type to better cope with steep inclines and rough roads. They were of decidedly unusual appearance and were presented at the 1953 Valencia Trade Fair in two versions, Touring and Rural, the latter having power take-off for pumps and the like and a tow hitch.
The influx of cheaper Italian scooters affected sales.
Cimera produced a number of three-wheel microcars with a single wheel at the rear. These were also marketed under the Boli marque. Manufacture ceased in 1955.
Source: OTTW
---
Coronat
Manufactured by James Llobera of Inca, Majorca in 1955
This was a remarkably advanced machine for its time, a 200cc four-stroke. Unfortunately a disagreement between the partners prevented more than half a dozen machines being built, one of which is in the Bassella museum.
Sources: ca.wikipedia.org, Phil Aynsley
See also Coronat Gallery
---
Cremsa
Manufactured by Construcciones Radio-Electro Mecánicas, S.A. in Barcelona between 1958 and 1966.
The firm built motorcycles, motocarros and tricycles. The first three-wheelers were powered by a fan-cooled Hispano-Villiers 6M engine and had utility tray behind the driver seat. It was named the Pato (Duck), and later the same year another machine with a carrier box at the front was built, also named Pato.
The first motorcycle was developed in 1958 and entered production in 1960. The Rally was offered with either a 197cc Hispano Villiers engine or and 250cc twin.
Cremsa entered the moped market in 1965 with 50cc Hispano-Villiers engines and 2 or 3 speed gearboxes.
Source: ca.wikipedia.org
---
D
Derlan
Construcciones Meccanicas Derlan, Zarauz, 1953-1962.
The Sorazu brothers built a variety of mopeds and lightweight motorcycles fitted with their own engines modeled on the German Sachs at the Bastarrica y Sorazu (BASOR) factory in Zarouz, some 50km west of Bilbao in the Basque region. Models were available with dropped frames for ladies and clergy, the Gaviota had an enclosed engine and looked rather like a scooter, and the 125cc Gavilan of 1959 was quite conventional with a large chainguard and plunger rear suspension. Late in the piece a 250 was created, but few of these were sold. In total some 700 machines were built.
When the firm ceased production, one of the members (Antonio Azkue?) created a new brand, the Boar, and a further 198 of these were built.
Source: OTTW
---
David
1913-1957
Established in Barcelona as La Fabrica Nacional de Cyclecars David and trading as Autociclos David, despite the name the firm built four-wheel cyclecars and was never involved in the motorcycle industry. The founder, JM Armangue, a doctor of medicine, died in an aviation accident in 1917. Subsequently the firm became David SA and vehicle production ceased around 1923.
The brand resurfaced in 1939 building electric four-wheelers. Post-war they produced a variety of three-wheeled vehicles with a single front wheel powered by a 345cc two-stroke. Some were motofurgone style, others were rather sporty little convertibles, and there was a 5-wheel version. Between 60 and 75 were built, production ending in 1957.
N.B. The firm was related to neither the Spanish David-ASB nor the Casalini David.
Sources: OTTW, wikipedia.ca, motorgiga.com, autopasion18.com
---
Delfin
Manufactured by the Fábrica Española de Motocicletas y Triciclos firm of Juli Fusté in Barcelona from 1955 to 1962, these motocarros were powered by Hispano Villiers 125c and 197cc engines. The company also built Olympic motocarros under licence, and these were identical in all but minor detail to the Delfin.
Source: ca.wikipedia.org
---
Dian
Manufactured by Llobé SL of Barcelona, 1959-1961. The firm also made Betor suspension units.
The motorcycles were powered by a 125cc Barbacil engine built in-house under licence.
Sources: wikipedia.es
---
Dunjó
Arcadi Dunjó, formerly an aircraft engineer, built motorcycles and sidecars in Santa Perpètua de Mogoda , Vallès occidental during the 1950s. He was also a supplier of major components, and designed motorcycles for Derbi, Dusco, Iso, Kapi, Mavisa, Mymsa, Reina, Rieju and others.
A Dunjo 32cc two-stroke engine with variable compression of 1951-52 was designed to run on a variety of different fuels including diesel. It did not enter production.
In 1956 they built three different microcars powered by ISO 125cc engines.
Dunjó-Castells
1957. An 80cc scooter was built with this name for Motobic in Barcelona.
Dusco
In 1957, Dunjó, along with Solans and Corominas of Hispano Villiers created a 125 cc motorcycle under the Dusco brand fitted with Earles suspension. Only 30 were built before the project was cancelled.
Sources: wikipedia.es, raco.cat, jacques-leretrait.blogspot.com et al.
---
E
Echasa
Built lightweight motorcycles with 75cc engines in 1957.
Source: wikipedia.nl
---
Edeta
Manufactured by Edeta Industrias Mecanicas, Barcelona, 1955-1961
Known as Semior from c.1951 to 1954 (SErra, MIró and ORtolà, who also built sidecars and three wheelers), the first Edeta models were quite similar and used the same Gnome & Rhône 175cc engine (built under licence by Altosen of Barcelona) before changing to Hispano Villiers.
Sources: Tragatsch p125, wikipedia.ca
19-Nov-2019
stephencarson50 at hotmail.com
Semior sidecars
Dear Sir/madam
I have 2 Semior sidecars from Barcelona. I would like to know what models they are. Can send pictures
Stephen Carson
Cairns Australia
---
Elig
Motocicletas Elig, Elche (near Alicante), built by Candela Mas Francisco 1953-1966*
Built motorcycles using 123cc and 198cc two-stroke Hispano-Villiers engines.
NB. Dates are from wikipedia.es, other sources differ.
Sources: wikipedia.nl, lasprovincias.es, wikipedia.es.
---
Evycsa
Motocycletas Evycsa, Barcelona, 1954~1959
Built motorcycles using Fita-AMC 169cc four-strokes and Fita 175 and 250cc engines, also four-strokes.
Source: wikipedia.nl
---
F
Febo
Motocycletas Evycsa, Barcelona, 1954~1959
Built 125cc two-stroke scooters.
Source: wikipedia.nl
---
Fénix
Established in 1940 in Eibar, Guipúzcoa, the firm Echave, Arizmendi y Cia manufactured velomotors fitted with auxiliary bicycles engines.
Production of mopeds began in 1950 using engines from Iresa of 48cc and 53cc. In 1951 the Echasa 65cc model was presented. The last of these were built in 1954.
Source: OTTW
---
Fité
Manufactured enduro motorcycles in Castellar del Vallès, 1990s
Source: ca.wikipedia.org
---
FSM
Francesc Sanz Marco built motorcycles in Valencia from 1949 to 1955
Initially built 65cc lightweight racers which he himself rode, followed by twin-cylinder 125cc sports machines. During the the years 1950 to 1954 his machines did particularly well in regional racing eventsl in the 75cc, 100cc and 125cc classes.
Source: ca.wikipedia.org
---
Fusté
Manufactured in Barcelona between 1924 and 1929 by Julius Fusté, a well-known motorcycle racer , these were powered by engines from DKW and Villiers mainly. Around 50 were built in total.
From 1930 to 1936 the firm built motorcycles under the JFC marque, and after the end of the Spanish Civil War they used the Fusté brand again.
Fusté was also involved with the Olimpic brand until 1953, and Delfin after 1955.
Source: ca.wikipedia.org
---
G
Gamo
Gamo engines were produced by the Parés brothers in Barcelona between 1950 and 1955. The 49cc and 65cc two-strokes were fitted to Gimson mopeds.
Source: Wikipedia
---
---
Golondrina
Crédito Ciclista of Barcelona built mopeds powered by a 56cc Galgo engine between 1953 and 1954.
Source: ca.wikipedia.org
---
Gorrion
Motocicletas Gorrion, Barcelona, 1952-1955
Built lightweights using Sachs 49cc to 174cc engines.
Source: wikipedia.nl
---
Gubern
Only one motorcycle was built by the Barcelona firm before problems within the company prevented production. This 175cc two-stroke machine with swinging arm rear suspension is in the collection of the Museu de la Moto de Barcelona.
The brand name is sometimes written as Gobern.
Source: ca.wikipedia.org
---
H
Huracan
Huracan Motors, SA of Barcelona was established by Duran Valet. The firm produced motorcycles and motocarros from 1955~1965.
These were powered by Hispano Villiers engines of 125cc to 250cc. Some 2000 were built.
The firm also built microcar prototypes in conjunction with Nilo Masó of Alpha but the project did not come to fruition partly because, it is said, of obstruction by the Francoist government and that this was par for the course at the time.
Source: wikipedia.es
---
Husor
Félix Huarte formed a partnership with Soriano and built a modified version of the Soriano Puma named the Husor. Soriano left the motorcycle business in 1954, whilst Huarte went on to create a new motorcycle named the Iruña 202
---
I
INESMO
Built bicycle attachment engines mounted within the bicycle triangle which drove the rear wheel by friction roller.
Source: lasprovincias.es
---
Inmotec
Oskar Gorría Soteras created the Inmotec company in 2007 and has produced a number of MotoGP machines.
The company has collaborated with Ecomotion to produced the LEMev Stream electric motorcycle, first marketed in 2011.
Sources: wikipedia.es
---
Iresa
Constructiones Meccanicas Iresa, Madrid, 1956-1959
Built motorcycles fitted with Villiers 200cc engines, and were possibly involved with the production of Hispano-Villiers engines.
The firm also built 48cc and 53cc engines which were used by other manufacturers, among them J.Y.M.B.
Source: wikipedia.nl
---
Iruna
Manufactured by Industria Metalicas de Navarra SA, Navarre 1953-1961
Félix Huarte, who had previously built the Husor in partnership with Soriano, went on to create the Iruña, a 123cc two-stroke scooter using an engine built in their factory.
Sources: GTU Oldtimerservice, et al.
---
J
Jimbell
Jimenez Bello imported, probably without the knowledge of the authorities, British Bown and Sun lightweight two-strokss which he rebranded. Based in Málaga in 1953, most of the machines were sold in the Levantine region.
Source: OTTW
---
JJ Cobas
---
Joyca 1950
Manufactured by Jover i Carreras of Sant Victòria Street Maó, Menorca. Their main products were engines for fishing boats. During the 1950s they produced an inverted two-stroke auxiliary bicycle engine which attached to the rear wheel.
An example has been displayed at the Bassella Motorcycle Museum.
Menorca is well off the Mediterranean coast of Spain, almost half-way to Sardinia. The Colomet was built on the neighbouring island of Majorca (Mallorca).
---
JP
Manufactured by Albert Juvanteny and Quico Payà who had been team riders with OSSA. Based on the Ossa MAR and fitted with a Villa engine, they were built from 1987 to 1991.
Sources: wikipedia.es
---
J.Y.M.B.
JYMB built a miniature sidecar combination along the lines of a pre-war Harley-Davidson using a Iresa 53cc engine. Designed for children, only three were produced.
Source: ca.wikipedia.org
---
K
Kapi
Federico Saldaña Ramos founded the company in Burgos, and after moving to Barcelona production began in 1950 with a 4-wheel microcar powered by a Montesa 125 engine.
The Kapiscooter was introduced in 1951, a three-wheeler using 125cc Hispano Villiers and 175cc Fita AMC four-stroke engines.
When production ceased in 1956, the remaining stock went to Pinguy.
Other vehicles included the Kapi JIP, modelled after the Jeep and powered by a 197cc HV.
Sources: wikipedia.nl, autopasion18.com
---
Kobas
The JJ Cobas firm was acquired by Tecom SA and was renamed Kobas in 1982. Both marques are associated with that of Siroko.(1)
Kobas continued to build road-racing motorcycles powered by Rotax engines, and competed in the 1983 250cc GP championship with Sito Pons, Carlos Cardus and Luis Miguel Reyes.
1984 brought international recognition when Sito Pons took the Kobas to 4th place in the 250 GP. Angelo Nieto also rode one that year.
Production ceased in 1984.
N.B. The relationship between Kobas and Siroko is unclear, various pages giving conflicting information. The JJ Cobas name re-appeared on a Rotax roadracer in the 1990s. (Dec 2018).
Source: wikipedia.es, wikipedia.org
---
L
Lambretta ES
Manufactured by Lambretta Locomociones S.A. 1953-1989
Florencio Irigoyen Berrondo established the firm in Eibar, Guipúzcoa, and moved the facilities to Amurrio in 1984.
The factory produced Lambrettas similar to the Italian models. In 1967 they began building Honda mopeds under licence and continued to do so until 1978, when the arrangement with Honda ended. Workers from the company along with a major shareholder formed a new concern, Orbar, in 1985. It was not successful.
Source: wikipedia.es
---
LBM
The L.B.M. was a prototype built by Luis Bejarano Murga (1900 - 1993) around 1943.
Bejarano was a successful competitor in the 1920s and worked with the Douglas firm in Bristol. In the early 30s he imported Douglas machines with the aim of manufacturing them in Spain, a project which was curtailed with the advent of the Spanish Civil War. In 1947 he founded Lube.
Sources: wikipedia.es, et al.
---
Lifante
Manufactured by Triciclos Lifante in Barcelona and L'Hospitalet de Llobregat 1953-1966
Usine 197cc Hispano Villiers engines the firm built motorcycles, tricycles and motocarros in fairly limited numbers, rarely exceeding 20 or 30 units per annum.
This was quite creditable, given that the founder, José Lifante, was wheelchair bound. The firm focussed on disability vehicles, and although the motorcycle-related product vanished from the catalogue, the firm continued in the same vein. In 2005 a substantial stake in the company was purchased by the German company Meyra, long established in the field.
Source: wikipedia.es
---
Lutetia
Manufactured in Barcelona by José Sugrañés, 1924~1925
The firm was the importer of Lutetia auxiliary bicycle engines from France, and built a complete motorcycle of the same name using the French engine. No more than 25 were built of which only one remains, on display at the Barcelona museum.
Source: Barcelona Motorcycle Museum
N.B. For other marques with the name Lutetia or Lutece see Disambiguation
---
LZ
In 1948, at the age of 18, Lorenzo Zabala developed an auxilliary bicycle engine, a 59cc two-stroke mounted within the frame's triangle. Before long he was producing 8 of these per month, and went on to form a company - Motobic.
Source: OTTW
---
M
Macbor
Manufactured by Motos Bordoy SA of Rubí, these are junior motorcycles and quads first produced in 1999.
Numerous models for youngsters have been built using mostly Motori Franco Morini engines until 2003 when four-strokes of 50cc and 100cc appeared.
The firm was established in the early 1970s and has imported and distributed MV Agusta, Cagiva, Husqvarna and other brands.
Sources: wikipedia.es
---
M.A.F.
The MAF was manufactured between 1958 and 1964 in Figueres (Alt Empordà). Having taken over from Evycsa, they produced 150cc and 175cc models and had plans to continue with the the Evycsa 250 but these did not come to fruition. The Fita engine company was involved.
Source: ca.wikipedia.org
---
Maquitrans
Manufactured in Barcelona by a firm established after the Civil War, they built around 20 three-wheelers in 1957.
Sources: wikipedia.es, et al.
---
Mavisa
Manuel and Vicenç Vila built a transverse 250cc twin from 1953 to 1960.
Designed by Mecánica Mavi, S.A., with its Earles forks the motorcycle was quite similar in concept to the BMW flat-twins of the day.
The brothers, with no prior training, embarked on a study of motorcycle engineering and a year later submitted drawings to Dunjó, a company which had considerable experience designing for Spanish motorcycle firms.
The engine was constructed and tested in the family garage, whilst the chassis was built by Dunjó. By 1957 a second prototype was displayed at the Fira de Barcelona, this time a Sport with 14in wheels in place of the 18in on the Turismo.
In an extraordinary turn of events, a member of Franco's security forces purchased the sole prototype, against the protestations of the Vila brothers, and later placed an order for one thousand motorcycles. They approached Francesc Xavier Bultó to take on the project; he studied the project and a month later rejected the proposal as he had only very recently developed his first Bultaco, the Tralla, after splitting from Montesa.
The Vila brothers abandoned the project in 1960.
Sources: ca.wikipedia.org, Tragatsch p205.
---
Mecatecno
Established in 1978 and steeped in Spanish motorcycle history, the firm was founded by Jordi Rabasa, son of Josep Rabasa (Rabasa) and nephew of Andreu Rabasa of Derbi.
Mecatecno built Franco Morini-engined motorcycles for children, mopeds, and a trials machine in the 1980s which performed creditably at a national level. Production ceased around 1989.
The marque was revived in 2011 by the Stalber Corporation which resumed production at the original location in Martorelles building electric trials motorcycles for young riders.
Sources: wikipedia.es, et al.
---
Mondial Spain
Mòndial motorcycles were manufactured in Catalonia under license to the Italian firm by Construcciones Mecánicas Españolas, S.A. from 1956 to 1962.
The factory address was 345 Rosselló street in Barcelona until 1959 when they moved to Carrer Floridablanca de Mataró, Maresme.
Source: ca.wikipedia.org
---
Monfort
Metálicas Monfort, 1957-1958
Established as a manufacturer of motorcycle frames, the firm took over Aleu and began building complete machines in 1957. The project did not blossom but the firm continued in the motorcycle industry and produced the Alfer brand.

Source: Mike Ricketts, wikipedia.ca
---
Montpeó
Josep Montpeó was a motorcycle importer based in Barcelona who, in addition retailing motorcycles and bicycles, built sidecars and limited numbers of motorcycles between 1912 and 1929.
The family business built more motorcycles in the post-war years when a grandson created the Orix brand.
Source: wikipedia.es
---
Montesa Honda
Manufactured by Montesa Honda SA at the Montesa factory in Esplugues de Llobregat from 1986 until 2000 when a new factory was established in Santa Perpètua de Mogoda , Vallès occidental.
See also Montesa, and Montesa Honda.
---
Motobic
Manufactured by Motores Ciclomotores y Motocicletas Motobic of Eibar
Production began in 1949, with 49, 74 and 98cc models. By 1955 the range was a single 80cc machine, recovering in 1957 with mopeds and motorcycles of 49cc to 100cc. The Saeta range and the Stela scooter appeared in the early 60s.
Production ceased in 1963, and seems to have restarted as there are models listed from the mid-1960s and possibly into the 70s. A Spanish page says, "The factory was in Eibar between 1948 and 1966 and then moved to Abadiño."
Sources: wikiwand.com/es/Motobic, et al.
---
---
Moto Vespa SA
The company formed in 1952 by Piaggio and Instituto Nacional de Industria (INI), the largest automotive producer in Spain.
Over the course of 50 years they built a considerable variety of motorcycles and scooters using in addition to the Vespa brand, those of Puch, Gilera and Piaggio.
Production ceased in 2003.
Sources: wikipedia.es
---
Mymsa
P.O Torras y Bages, 29-33 Barcelona
Built 125cc motorcycles and three-wheelers (furgoneta) in the 1950s
Source: lamaneta.com
---
N
Narcla
Manufactured by Narcla Industries, SL., in Girona 1952-1964
Production began modestly with the 123cc 3A model, revealed in 1953, followed two years later with the 4A with a 4 speed gearbox. 3B and 4B models followed, and in 1964 3D and 4D appeared, the last of their production.
An example has been displayed at the Ciutat de Girona Museum.
Narcla engines were used by the Alce marque.
Source: OTTW
---
O
Orbea
Established in 1860, the famed and progressive family firm split up in 1926, with one part going on to produce bicycles and motorcycles.
In 1935 they agreed to manufacture motorcycles for the Simo firm, which were to be produced in 250cc and 500cc versions.
Orbea began production of Velosolex cyclemotors under licence in the 1950s, in addition to the bicycles they had been building for some time. They also built cyclomoteurs with Mosquito engnes, and used the Iresa 48cc and 53cc engines.
In the late 1960s the firm experienced severe financial difficiculties. The factory workers formed a consortium and bought the company, which today is thriving.
Sources: OTTW, orbea.com
---
P
---
Piqueres
Jenaro Piqueres of Alberique modified Montesa machines which he rode in regional races from 1952 to 1955.
Source: lasprovincias.es
---
Pons
Built in Barcelona 1951-1955
These were two-stroke engines of 125cc supplied to Taber, Kapi, Lifante and others, but were not superior to the Hispano Villiers.
Source: wikipedia.es
---
Pony
Manufactured in Barcelona 1954-1955, these motorcycles were fitted with Gnome & Rhône 125cc two-stroke engines. The firm is understood to have also built three-wheelers.
In 1956 the name of the marque changed to Rekord.
N.B. 1. Another source gives dates of 1952-54.
Sources: wikipedia.es, et al.
---
R
Rabasa
---
Reddis
Between 1952 and 1973 almost 500 motorcycles were built by Gamot SA in Reus, Camp de Tarragona.
The story begins in 1945 when the 17 year old Sentís created a motorcycle from a disused DKW industrial engine and a photograph of an Italian scooter. By 1952 he had formed a company and had a presentable motorcycle, obtained finance from established businessmen, and entered production in 1955. He built mostly 125cc models using his own engines and those of Hispano-Villiers.
The firm also built agricultural equipment, and a small number of cars powered by a Reddis 250.
Source: ca.wikipedia.org
---
Regia
Manufactured in Mataró, Maresme, 1953-1955, these motorcycles were powered by a 175cc engine built in-house.
Source: wikipedia.ca
---
Reina
In 1955 and 1956 the Reina company built motorcycles and motocarros powered by Cucciolo, MYMSA, Villiers and its own engines. Located at 80-84 Mallorca Street Barcelona, the workforce included the manager, Antonio Casa and five others.
They also built the Junior microcar from 1955, powered by Hispano-Villiers 125 and 197cc engines. Only 16 or so were built and were distributed by the Marcom company.
Sources: vehiculosclasicos.com, OTTW
---
Rekord
Manufactured by Manuel Peix from 1956 to 1960, the Rekord had previously been marketed under the Pony marque.
The motorcycles were powered by Gnome & Rhône 125cc and 175cc two-stroke engines.
Source: wikipedia.ca
---
Rex
Manufactured by Construcciones Mecánicas Rex, SA of Barcelona, 1953-1959
Built auxilliary bicycle engines, and complete mopeds. The machines were designed by Vilfred Ricart, an aviator and designer with a long and illustrious career who worked with the likes of Tazio Nuvolari and Enzo Ferrari.
Source: wikipedia.ca
---
RMH
Rafael Mira, an established dealer in automotive and agricultural equipment with premises at 8 Avenida de José Antonio, Valencia.
Setter built motorcycles for the firm badged as RMH in the 1960s powered by Hispano Villiers engines of 125cc and 197cc. Around 750 machines were produced.
Sources: wikipedia.es, et al.
---
ROA 1952-1967
---
Romar
Manufactured by by Jesús Roig Martí in in Meliana, Horta Nord 1940-1948
Believed to be the first Spanish motorcycle built after the end of the civil war, it used a converted stationary engine mounted on a bicycle frame. Around 20 were built, four-strokes of 74 and 125cc.
Sources: wikipedia.ca, et al.
---
Rondine
Manufactured in Madrid 1951-1957
The firm's first production model was a 125cc scooter which did not do well when Vespa arrived a year or so later. This was followed by a number of motorcycles, the first a 125cc model designed by Bruno Hettore who left to form the Aster company.
The motorcycles performed well on the racetrack and during this period won more races than Montesa.
A 250cc machine was on the drawing board when the company failed in 1957. The firm reappeared shortly thereafter at the same address under the name Trimak.
Source: OTTW
---
Rovena
The Rovena was a Sanglas product created to counter the slump in motorcycle sales caused by the increasing popularity of cheap cars, notably the SEAT. With a name derived from the Italian city of Verona, the machines were produced in three 250 versions: the Reuben 250 and the Reuben 250 Sport, powered by Hispano Villiers 249cc twin-cylinder engines, and a 325cc model.
Sources: wikipedia.ca, et al.
---
Ruter
Industrias Ruter was established in Figueres by a Frenchman who had been bansished from France during the Great War. Motorcycle production took place between 1952 and 1959, the machines having 90cc and 125cc engines built in their factory.
Source: ca.wikipedia.org
---
S
Sadrian
Adrían Luis Viudes Romero began operations in Murcia around the turn of the 20th century. In the 1920s he sold DKW automobiles and in the 1930s marketed Reiju motorcycles, BJR and ISO in the 40s and Elig in the 1950s.
In 1955 the family began manufacturing their own machines under the company name Adrírio Viudes e Hijos S.R.C., still in Murcia. These were lightweights powered by 125cc and 197cc Hispano-Villiers engines. Production ceased in 1965.
Source: OTTW
---
Salvador
Manufactured by Industrias Salvador in Barcelona 1923-1930
Motorcycles of 125cc to 350cc were built using engines from MAG, Moser and Train. Around 200 were built.
Source: wikipedia.ca.
---
Sanromà
Manufactured in Barcelona during the 1950s, these were initially re-badged imports. They then built mopeds and tricycles powered by Gamo and Cucciolo engines.
Source: wikipedia.ca.
---
Sanson
Manufactured in Barcelona between 1958 and 1965 by Talleres Arau.
Best known for their motocarros, motorcycles were introduced in 1959. Engines were mostly Hispano Villiers 197cc two-strokes and Matacàs diesels. They also used Diter engines and a handful of Villiers 250 twins.
Source: wikipedia.ca.
---
Santoja / Setter
1951~1970
Based in Elche Alicante, Miguel Santoja is best known as the manufacturer of Setter. He also built RMH motorcycles using 122 and 197cc Hispano Villiers engines for Rafael Mira e Hijos, the distributor of the brand located at José Antonio Avenue in Valencia. Santoja supplied engines for the first models of the Ducson.
The first machines were Santoja 55cc bicycle attachment engines of 1951, and these were followed by complete motorcycles with Setter engines of 45cc, 49cc, 60cc, 74cc and 125cc.
The 74cc machine in particular was very popular on the racetrack, and achieved numerous laurels in the hands of privateers and the factory team.
Motorcycle production ceased at the end of the 60s and the factory turned to building machinery for the footwear industry.
N.B. The reason for the name change to Setter is explained on motos-setter.com, which has a bit of a chuckle about it.
Source: lasprovincias.es, motos-setter.com, et al.
---
SB
Manufactured in Valencia between 1948 and 1963
The firm branded their products as David, AS, ASB and SB, and produced diesel engines, auxilliary bicycle engines and, under the SB marque, complete motorised bicycles.
SB autocycles had engines of 76cc to 98cc capacity and were available in ladies and gents styles.
NB. There was also the unrelated Autociclos David (1913-1923), and the Davis SA (1949-59) which was possibly built by by S.B.
Sources: wikipedia.ca, jacques-leretrait.blogspot.com
---
Silence
Manufactured by Scutum Logistic of Barcelona, these are electric scooters. The company was formed in 2012 and the first production models were presented in 2016. The firm is run by a group with considerable experience in the motorcycle industry, led by CEO Carlos Sotelo.
The company is owned by Repsol, La Caixa and the Center for Industrial Technological Development (CDTI).
Sources: wikipedia.ca, silence.eco.
---
Simó
Manufactured by Miquel Simó, 1925-1933.
Simó was a well-known GP rider whose motorcycles were highly regarded for their quality. Much has been written about both the rider and his machines.
Sources: wikipedia.ca
---
Siroko
Manufactured 1978-1981, the firm was established by Antonio Cobas who built road-racing motorcycles using engines from Yamaha, Bultaco, Montesa and Rotax. Sito Pons campaigned a Siroko-Rotax in the 1981 GP season, and the working relationship between Cobas and Pons lasted many years and proved enormously fruitful. See JJ Cobas

Sources: wikipedia.ca, et al.
---
SSS
Built in Barcelona from 1941 to 1944 using an interpretation of the 1930s Sachs engine.
Sources: wikipedia.ca
---
T
Taber
Manufactured in Barcelona between 1952 and 1955, the Taber was a good looking machine which was technically quite advanced. It was fitted initially with a 125cc Pons engine and later with one of its own manufacture.
Source: wikipedia.ca
---
Trimosa
Manufactured by Triciclos, Motocicletas, SA of Manresa, Bages in the mid 1960s.
Built 50cc powered tricycles and motorcycles in ladies and gents configuations.
Source: wikipedia.ca
---
Triver
Construcciones Acorazadas, SA of Bilbao, who also built the Fraso 24cc diesel autocycle engine. Triver was better known for its microcars powered by a 334cc horizontally opposed two-stroke, of which some 75 were built from around 1953 to the early 1960s.
It is thought that when Rondine foundered, their ciclomotor was resurrected by Triver shortly thereafter.

Sources: autopasion18.com, OTTW.
---
TRS
Manufactured in Barcelona by a company founded in 2012 by world champion trials rider Jordi Tarrés with a group of experienced business partners, TRS produces very attractive trials machines.
TRS homepage: trsmotorcycles.com.
---
V
Vázquez-Abati
Vázquez y Abati of San Vicente 86, Madrid, built Vespa sidecars named Baby and Super Baby in the 1950s and 60s.
Sources: OTTW
---
Vertigo
Manufacturer of trials motorcycles, the company was founded in founded in 2012 by Manel Jané of Jané Group and quickly established the marque's presence with wins by Doug Lampkin and other well-known riders in major trials competitions.
Vertigo homepage: vertigomotors.com.
Source: wikipedia.ca
---
Villof
Manufacturer: Vicente Llorens Ferrer, Valencia, 1949-1965*
A workshop which repaired DKW machines, Vilhof built attractive lightweight motorcycles along similar lines. The first machines were 96cc velomoteurs using frames built by Vicente Vercher. A 125cc model followed, and subsequently all models used much the same engine, closely modelled on the DKW 125.
Note: Factory production ceased in 1961 but motorcycles were assembled from existing stock.
Source: lasprovincias.es
---
Vicente Esteller Planell
Manufactured in 1950, it was fitted with a Cucciolo T3 60cc engine. The Cucciolo engine was the basis of the first complete Ducati motorcycle.
The marque is possible referred to as VEP.
Source: Phil Aynesley.
---
Vipo
Established in 1979, Cortiplas SA built three-wheeled microcars with fibreglass bodies between 1980 and 1989.
Source: OTTW
---
Volta
Established in 2010 by Figueres Marc Barceló (formerly of Gas Gas) and others with the aim of producing electric motorcycles.
The first machines were presented at the Milan Fair in late 2011, and currently (Dec. 2018) four models are available. The street machines are capable of up 120km/h with a range of around 80/90km between charging, which takes 2 hours.
Volta homepage: voltamotorbikes.com.
Source: wikipedia.ca
---
VSC
Built by the automotive division of Vañó Sánchez y Cía these were lightweights built in the 1950s using a variety of engines including the Cucciolo.
Source: wikipedia.ca
---
X
Xispa
Based in La Selva, the company built trials machines and motorcycles for young riders. Established in 2005 by Enric Meseguer and Andreu Tuzón, the company was named for the almost legendary Bultaco Chispa. Unfortunately the firm did not prosper and ceased trading in 2011. The company assets and property were purchased by Torrot Electric, a company in which Meseguer also played a substantial role.
Source: wikipedia.ca
---
Y
Yamaha Motor España
YMES was a subsidiary of Yamaha Motor Corporation (Japan) which had been a partner in SEMSA, the company which was formed to take over Sanglas in 1981 after it had entered bankruptcy.
Production took place in the original factory in L'Hospitalet de Llobregat until 1987 when they moved to a new facility some distance away.
YMES produced numerous models until the bankster frauds brought the GFC of 2008/2009, and with it financial difficulties. Production ceased in March 2012.
Source: wikipedia.ca
---
If you have a query about these vintage Spanish motos please
contact us