Motorcycles Made in Spain
Notes on some of the rarer Spanish marques
This page lists brands for which we currently have only an historical precis. For a more complete listing visit the Spanish Index.
A
A.Badia
Built by Antonio Badia in Palautordera, 1928, this was a 100cc racing motorcycle.
Source: OTTW
---
Abad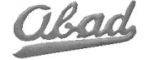 Manufactured by Triciclos Abad in Madrid, 1940~1969.
Norberto Abad Prieto built tricycles for the disabled powered by small capacity Moto Guzzi, Vespa and Villiers engines. He also built non-motorised vehicles, folding wheelchairs, delivery tricycles and trailers.
The Abad invalid carriages achieved considerable attention in Spain in 1960 when it featured in the film El Cochecito, directed by Marco Ferreri and starring José Isbert.
Sources: OTTW, Autopasion18.com
---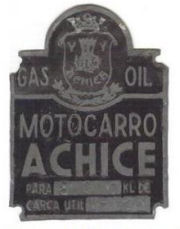 Achice
Manufactured in Murcia from 1951 to 1996, the firm built motorcycles and motocarro using Hispano Villiers engines. Founded by Andrés Chinchilla Cerezo, one of the firm's clients was Cartagena City Council, to whom they supplied tipper trucks for garbage collection. Later machines had four wheels.
Sources: OTTW, Autopasion18.com
---
ADP
Built in Madrid by Angel de Pozo in the 1980s this was a GP racer fitted with a Derbi 125 engine.
Source: OTTW
---
Aida
In 1955 production was planned for a motorcycle but it did not get to prototype stage.
Source: OTTW
---
AISA
Manufactured in Cervera, Lleida, the firm was founded in 1952 by Marti in partnership with brothers Josep and Antoni Morell to build three-wheeled microcars. The first machine was produced in 1954 using an engine from Iresa but these proved problematical and subsequent machines were fitted with Hispano Villiers two-strokes.
The firm changed the name of the machines to Jurka in 1955. One of the three-wheelers had bodywork by Capella of Barcelona, and was very attractive. Development ceased when an arsonist destroyed the workshop. In all, it seems that 5 prototypes were built.
Shortly before the Spanish Civil War, in 1935 Marti built an aeroplane.
Sources: OTTW, Autopasion18.com
Autopasion18 has published interesting articles on the subject by Claudi Roca and Xavier Santesmasses.
---
AJR
Built in La Garriga, Barcelona, these are replicas of famous racing machines such as the Bultaco TSS. The first machines appeared in 1994 and the company has thrived.
Visit AJR Motos
---
Alce
Scooters equipped with Narcla engines built in the early 1950s, probably in Girona.

Source: OTTW
---
Alonso
Built in the early 1950s, these were autocycles fitted with 48cc Ducati Cucciolo T2 engines.
Source: OTTW
---
Alpha 1924-1957
---
Altosen
The firm built Gnome & Rhône engines under licence in Barcelona during the 1950s.
Source: wikipedia.ca
---
AMF
A.M.F. were built in Barcelona 1951-1955
These were mopeds powered by Iresa and Cucciolo engines, along with tricycles and off-road motorcycles using engines from Hispano Villiers, OSSA and Pons.
Source: wikipedia.es.
---
Antras
Built in Barcelona by Rafael Antras de Bidaburu and Arnaldo Margarit Calvet, this was a bicycle attachment engine made in 1901 which sold quite well. The partners, who began working together around 1899 on electric motors, then designed and built another larger engine designed for agricultural use which could run on any fuel, and this was fitted to the 5 or 6 automobiles they built. They could not compete with the imported machines, and automobile production ceased in 1903 in favour of agricultural equipment. Rafael Antras fell ill and died in 1904 whilst still in his 20s.
Source: Autopasion18.com
---
Anvian 1980-1982
---
Arbizu
Manufactured by Toni Gutierrez Arbizu in Terrassa, Vallès Occidental, 1981-1989
These were roadracing machines using components from Siroko and Rotax. In 1989 Arbizu began working with Metrakit of Italy.
Sources: wikipedia.es, et al.
---
ARC
Manufactured in Valencia by the Bonet brothers between 1954 and 1955.
Following three years of development in road trials and racing, the brothers began marketing two versions of their motorcycle named Popular and Luxe, both powered by 125 cc two strokes. These were of modern design with telescopic forks and hydraulic rear suspension, but sales were poor due in no small part to a lack of distribution network, and production was discontinued in 1955.
Sources: ca.wikipedia.org, et al
N.B. There is a much earlier mention of the name Bonet
---
Ardilla 1950-1952
---
ArianeTech
Based in Madrid, ArianeTech built Moto2 and Moto3 racing motorcycles named Ariane from 2011 to 2015, and have developed numerous road a racing projects for major manufacturers including Rieju, Yamaha, Derbi and Hero. They have also created very attractive pocket racers.
Website: arianetech.net
---
Arisco
Miquel Tàpies built 230cc road racers based on his MTK kart engines (Miquel Tàpies Karts) from 1977 to 1980. Early models had air-cooled engines, later water-cooled. The aim was to provide a cheaper alternative to the Yamaha for privateers.
Source: Mike Ricketts
---
A.R.M. 1982-1989
---
Aster
Manufactured by Bruno Hettore, formerly an engine designer with Rondine of Madrid. The Aster bore some similarity, understandably, and was produced from 1954 to 1957. Lack of financing and distribution network brought an end to the venture.
Other Aster marques.
---
Astur
Ciclomotor manufactured in Asturias from 1951 to 1953. The diminutive machine had some unusual features - belt drive ran from the engine to the extended steel rim of the rear wheel, and both the carburettor and the exhaust were located at the front of the four-stroke engine.

Sources: OTTW, et al.
---
Audenis
Manufactured by Francisco Audenis Rimundi (b. 1896) of Barcelona in the years 1930 to 1936.
In 1924, he established a workshop under the name of Talleres Francisco Audenis. A keen racing driver, he competed in many Spanish events piloting various sports cars including Salmson.
Audenis three-wheelers first appeared in 1930 powered by Villiers 350cc and JAP 600cc engines, and later also used DKW engines with electric start. In total around 50 machines were produced before the civil war brought a halt to proceedings in 1936.
The firm was also a specialist for Auto-Union motor cars.
Source: Autopasion18.com
---

Autisa
Manufactured competition motorcycles in Les Franqueses del Vallès during the 1980s, and ran an 80cc road-racing team. The firm also offered tuning kits.
Source: wikipedia.es
---
Avia Motocarro, 1960s
---
Avispa
Light motorcycles thought to have been built in Valencia in the 1940s and 50s.
Sources: wikipedia.es
---
contact us
---