Spanish Makes (T)
Notes on some of the rarer Spanish marques
This page lists brands for which we currently have only an historical precis. For a more complete listing visit the Spanish Index.
T
Taber
Manufactured in Barcelona between 1952 and 1955, the Taber was a good looking machine which was technically quite advanced. It was fitted initially with a 125cc Pons engine and later with one of its own manufacture.
Source: wikipedia.ca
---
Trimak
Manufactured in Madrid and later Barcelona, 1959 to 1974
The the firm produced commercial tricycles with enclosed cabins and typical microcar controls. These were powered by a LEW 250cc two-stroke engine which was closely based on the DKW design and had a differential sourced from the Fiat Topolino.
After Rondine failed in 1957, Trimak apparently took over their premises. Indications are that in 1958 Trimak produced motorcycles fitted with a 250cc engine which delivered up to 14 horsepower, and that this was a Rondine engine.
Sources: Wikipedia, all-andorra.com, et al
---
Trimosa
Manufactured by Triciclos, Motocicletas, SA of Manresa, Bages in the mid 1960s.
Built 50cc powered tricycles and motorcycles in ladies and gents configuations.
Source: wikipedia.ca
---
Triver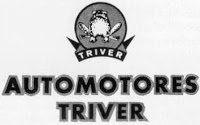 Construcciones Acorazadas, SA of Bilbao, who also built the Fraso 24cc diesel autocycle engine. Triver was better known for its microcars powered by a 334cc horizontally opposed two-stroke, of which some 75 were built from around 1953 to the early 1960s.
It is thought that when Rondine foundered, their ciclomotor was resurrected by Triver shortly thereafter.
Sources: autopasion18.com, OTTW.
---

TRS
Manufactured in Barcelona by a company founded in 2012 by world champion trials rider Jordi Tarrés with a group of experienced business partners, TRS produces very attractive trials machines.
TRS homepage: trsmotorcycles.com.
---
If you have a query about these vintage Spanish motos please contact us