During 1979, Don. V. Godden built his brand new GR 500 engine, whilst Weslake and Jawa came with their newly designed OHC and DOHC 4V engines. These latest machines were selling like hot cakes, but from the GM Workshops we heard nothing for a couple of years, Marzotto and Galiazzo soon finding out that between a prototype and a fully developed engine, a lot of test work must be done. But things were to change......
It was Swiss longtrack rider Marcel Gerhardt that started to test the engine in longtrack racing, and he also he took along a GM engine to show "super tuner" Otto Lantenhammer in Germany. Otto Lantenhammer found it a most interesting engine with lots of potential, and he became the first official dealer for GM. For the 1983 season Lantenhammer prepared a GM for German rider Gringo Brandt, and on this GM he won the European grasstrack championship. (See Photo's at Foot of This Page).
For the 1983 Speedway World Final, Lantenhammer and Egon Muller together built a specially tuned GM engine, and so Egon Muller was to become the first World Champion riding with a GM engine. Only a year later it was Erik Gunderson that won the Speedway world title, again GM mounted, and all of a sudden, everyone wanted a GM engine.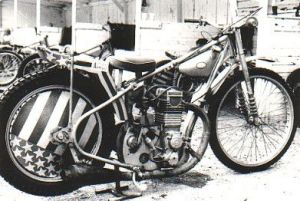 The first type of GM engine was the SP. The engine is made from alloy and aircooled with a SOHC 4V system. All bearings in the SP engines are needle bearings with one exception, the camshaft bearing on the chain side is a ball bearing that takes the radial forces from the camshaft and camchain. In the SP there is steel conrod and a Corworth slipper piston.
The 2 inlet valves are 33.5mm and the exhaust valves 29 mm, the valve stems being chromium hardened. The SP is with a total loss oiling system and a conventional oil pump. Bore x stroke are 86 x 86 mm, or 84 x 89 mm for the longstroke. Ignition by electronic box and contact breaker. Power 58 bhp @ 8500 rpm. Engine weight 26 Kg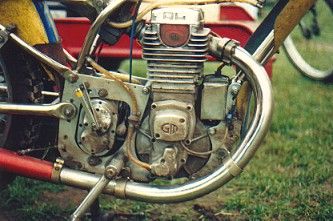 All the casting is done by the firm Gillardoni in Mandello and the cams and cranks are made by Mazzucchelli in Varese.
Pictured is a coloured photograph of the GM SP engine, but this one differs slightly in that it has a square housing cover for the contact breaker.
Pictured below is the Special Longtrack machine as ridden by Gringo Brandt. You will see it has extra cooling fins welded onto it, and originally it boasted a twin exhaust pipe, although it is fitted with a single system in these photographs.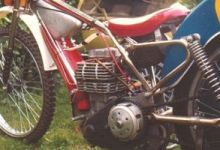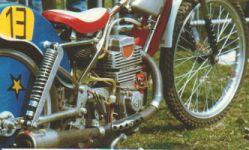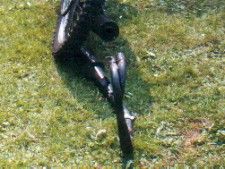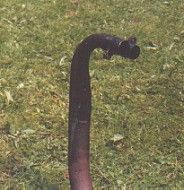 We mentioned above, that the Long Track machine originally had a Twin exhaust which was a special one built by Otto Lantenhammer. Although difficult to see in the pictures below, it is in fact a twin pipe, and it was very quickly deemed illegal.