Manufacturer: BMW
Model: R11 Combination
Year: 1933
Displacement: 740 cc
Engine type: 4-stroke sv horizontally opposed twin
Bore / Stroke: 78 x 78 mm
Power: 18hp @ 3400 rpm
Compression Ratio: 1 : 5.5
Weight: 162 kg
Top Speed: 100 km/h
Production years: 1929 - 1934
Units: 7500
Frame number: 5430
Engine number: 69524
BMW introduced a major innovation to its motorcycle range in 1929. The transverse flat twin engine was already a recognisable BMW feature but for the first time it was installed in a pressed-steel frame, the first models to incorporate this landmark of motorcycle design being the 735cc R11 and R16. BMW's relatively vibration-free engine was already a byword for smoothness and refinement, and this, coupled to a three-speed shaft-drive transmission, made the R11 sidevalve one of the finest touring motorcycles of its day. Progressively improved, the R11 was built in five series up to 1934.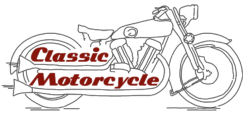 Classic Motorcycle, Austria
Classic Motorcycle specialises in high quality vintage machinery from Europe, the UK and the United States.
More information: Classic Motorcycle