Manufacturer: BMW
Model: R2
Year: 1933
Displacement: 198 cc
Engine type: Four-stroke ohv single
Bore/Stroke: 63 x 64 mm
Power: 6hp @ 3500 rpm
Compression Ratio: 1 : 6.7
Weight: 110 kg
Top Speed: 95 km/h
Production years: 1931-1936
Units: 15.200
Frame number: P89695
Engine number: 11088
The Depression years of the early 1930s brought with them the need for a simpler - and cheaper - model to compete with the lightweight two-strokes dominating the lucrative up-to-200cc market. BMW responded with the R2 which appeared early in 1931 and sold well despite the difficult trading conditions. The R2's 198cc overhead-valve engine was housed in a pressed-steel frame similar in design to that of the twins, and employed the cardan final drive fitted to the larger machines in the BMW lineup.
The R2 progressed from Series 1 to Series 5 with a number of improvements over the years.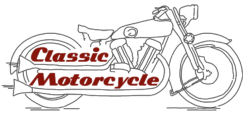 Classic Motorcycle, Austria
Classic Motorcycle specialises in high quality vintage machinery from Europe, the UK and the United States.
More information: Classic Motorcycle