PARILLA RACING HISTORY
Here are in no particular order, some of the people who raced Parillas in the United States in the late 50's to the mid 60's.
Norris Rancourt

--Started racing Parillas on the West coast in 1960 and won the most victories on a Parilla in the states. Norris was the primary rider for Orin Hall, who was a master tuner of high-cam engines. He took on and beat factory built race Hondas and nearly pulled off a win at Daytona, until a spilt megaphone forced him into second place.
Vic Norton

-- Raced Scramblers in New York and in the New England area from '61 to '63. He won most of his New York races in the expert class. He also had a short career in road racing ('62-'63) with wins at Laconia, NH, and Marlboro, MD.
Dick Gariepy

-- An East coast motocross rider that raced Parillas for the 1962 season. He picked up wins at the Canadian Nationals, AMA National TT Motocross Championship, and the North-South Challenge TT Motocross. All done aboard a 250 Wildcat.
Tony Woodman
-- Tony was the only fully sponsored Parilla racer of Cosmo Mtrs. for entire seasons. He raced the East coast circuits with astounding results. He either won or crashed. He was the first person from America to compete in the FIM 500cc World Championships in Europe.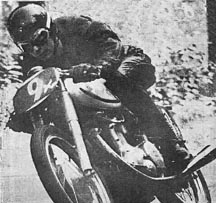 Jody Nicholas

-- Ran dirt track races on Parillas in 1958-59. He was primarily an East coast rider. Here he is on a BSA in 1961.
Rod Guy

-- First started racing in Motocross in NJ, PA, and the New England area around 1957. Bought a 250 GS in 1960 and raced it at tracks up and down the East coast until 1967. Rod modified his GS with the help of Joe Rottigni and Tony Woodman.
George Rockett

-- Raced Parillas up and down the East coast between 1958 to '64. He was the Canadian champion in 1962 aboard his GS.
Giuseppi Rottigni

-- Raced for Parilla in the 50's before coming to the U.S. He nearly won every race he entered in 1958. Later, the factory told him to concentrate less on racing and more on building engines for Parilla's U.S. 250cc production racing. Tony Woodman, Dick Mann, Hal Burton, George Rockett, and Dick Gariepy, all raced with Rottigni built engines.
---